Cats don't like change
People tend to say that they can handle change very well. However, practice has shown that the vast majority of people are not at all interested in changes. Once something is good, it is comfortable to keep it that way. Actually, that also applies to cats. The difference is that you may notice that cats have difficulty with change. Changes are inevitable, but you want to keep this process on the right track, as it is your beloved pet after all. How do you deal with this?
Different than usual
When a kitten comes to live with you, the kitten grows up with that environment and the people who live there. At some point, that is a familiar and familiar environment for the cat. After all, the cat particularly attaches to the environment where it lives. The cat is, perhaps more than other animals, a creature of habit par excellence. In fact, anything can be routine disruptive to cats and can be stressful for that reason.
Strictly speaking, stress is a survival mechanism and is therefore not necessarily bad. So, being face to face with something fierce that can encourage you to fight or flee cannot lead to an informed decision. There is no time for that, action must be taken now. In this case, the body ensures that the cat is ready. is to make that choice in an instant. This concerns short-term stress. Stress that lasts longer is never good, not for humans and therefore not for your pet.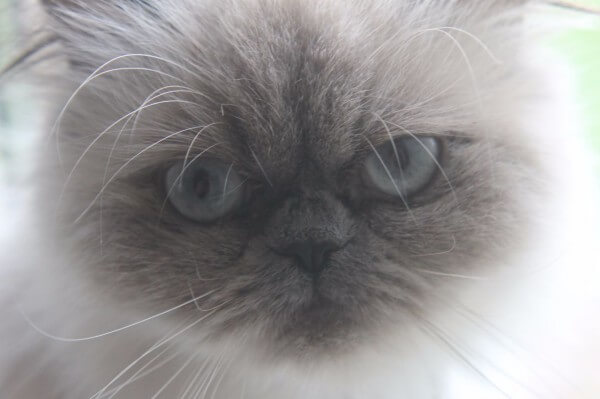 Source: Own cat – Annastaal
People and animals
If a change is about to happen, and it can vary from different furniture to different people, it can lead to stress. This does not mean that when someone comes to visit, it will already lead to stress in cats. However, if that visit becomes more permanent and the man or woman becomes part of the permanent group of people in the house of the cat, this can take some getting used to for the cat. It can stress the cat and it doesn't matter how nice the man or woman in question is to the cat.
Let alone that another animal, a cat or dog, for example, comes to live there. That other animal has to get used to, but that also applies to the cat that is already walking around there. This cat suddenly gets a kind of intruder in the house. This can also lead to stress, no matter how well you get the animals used to each other.
Surroundings
For example, moving furniture or completely new furniture can also lead to stress in the cat. The fixed place for the cat is no longer the fixed place or that nice chair has been replaced by another chair. But even during a renovation, for example, the food and drink for the cat can be placed elsewhere and the cat can be stressed. She clearly has to get used to the (temporary) new place where she can eat and drink.
Another house is of course an even bigger change, because everything is different. For the cat that goes outside, the cat or tomcat also has a completely new outside ?? gets. Multiple changes can lead to severe stress. Just like taking the cat to the vet in the carrier can be exciting. After all, you take the cat out of the familiar environment and locked up (so there is no chance of fleeing) in a basket, the cat goes with you to the unknown (at least for the cat).
Source: Ellebi, Pixabay
Signs of stress
If you know your cat a little, you will recognize stress. Some expressions of stress that can occur:
The cat may overly groom its coat.
The cat can no longer take care of the coat at all.
The cat hardly eats.
The cat crawls away in such a way that you no longer see the cat for half a day.
The cat will chew on things that cannot be eaten such as toys, clothing or pillows.
The cat will go to the bathroom next to the litter box (assuming this has not happened in the past).
The cat gets a kind of chills or ripples that run down the back.
The cat starts spraying from nowhere.
The cat may react aggressively when touching.
Accompanying changes
The cat will always have to get you used to changes. One cat can do this faster than another cat, but they will always want to come and see the situation and assess what is different now. This may be instinctual behavior, but you can't avoid guiding it a bit for your cat. Of course it depends on how big the change is, but if the routine is disrupted in any way, the cat needs to "acclimate" for a while. Give your cat that space.
Surroundings
When moving furniture or new furniture a bit, you should give the cat the opportunity to sniff everything. The cat must experience that it is all okay and absorb the new scent. Take your time for this and don't force the cat. Not even by lifting the cat and saying it somewhere (with the best of intentions). The cat wants to explore the changed environment in its own way. Some cats will have accepted it quickly, but often a cat is upset. Leave it alone and act as normally as possible.
If food and drink, but also the litter box is in a different place, let them discover this for themselves. Most cats will have scanned the area quickly enough, if you leave them alone. This does not mean that they no longer have stress. Finding that familiar and trusting place usually takes a little longer.
People and animals
If someone new comes to live in the house, it is important to be as normal as possible about this. He or she already becomes or is part of the family and the cat has to let this sink in for a while. Do not force the cat on the new resident by putting the cat on your lap or the like. The cat will smell people, the smell must be known and should therefore no longer be an issue for the cat. This simply takes time.
It usually takes a little more difficult with a new four-legged friend at home. After all, both have to get used to and you do that by first setting them apart and slowly getting them used to each other. Do not force anything, usually there is a bit of snarling involved, because the cat had the exclusive right and suddenly has to share it. In addition, the ranking must be known. It's a big change, and one that isn't usually settled within a day. Even if it is a kitten or puppy and it is lower in the ranking.
Tools
There are artificial pheromones for cats for sale that ?? provided they hang in the air for some time? the cat will be milder (it has a calming effect). You usually start doing this before the upcoming change. It takes a while before they start working. An example is Feliway. Incidentally, these airborne substances have no effect on other pets or people.
Source: JensEnemark, Pixabay
Stress gone?
When do you notice that the stress is gone? Many cat owners know their animal in such a way that they recognize it immediately. But otherwise the upright tail with a small subtle bend at the top is a signal. But also the high-pitched sound of the talking cat, the playing cat that rolls on its back just as easily and the coat that is optimally maintained by the cat itself.
Finally
The bottom line is, act as normal as possible, try to keep it mundane. Do not react differently than usual, do not force anything in any way. Giving the cat the opportunity and space to get used to the change will almost always work out fine.