Communication between humans and cats
The cat is a popular pet and many Dutch families have a cat. It is not possible to talk to it, at least in the traditional sense of the word, as people do. This does not alter the fact that you can communicate with your cat, as long as you are consistent and clear with your cat. What communication options does the cat have and what should you be aware of when communicating with your cat?
Learning to communicate with your cat, the basics
Humans can perceive up to twenty different sounds in the cat. It is believed that cats can distinguish many more sounds among themselves. There is also a main division with three segments, namely:
Very soft, somewhat intimate sounds. An example is the cat purring or meowing as a greeting (this can become more violent if you do not respond).
Sounds somewhat like vowels. An example is the sound that playing cats make. Both mutually and playing with people.
Loud, somewhat violent sounding noises. An example is quarreling cats or territorial demarcation.
It's important to be consistent and clear. Although the cat has an arsenal of sounds and behaviors, she will adapt in part if you are consistent and clear. So if you respond appropriately to something the cat does, the cat will at some point begin to recognize it. She will then meow at a certain pitch and possibly show certain body language. In this way you already achieve clear communication back and forth. Now it is true that not every cat is equally talkative ?? is. Certain races communicate more verbally than others, think of the Eastern races.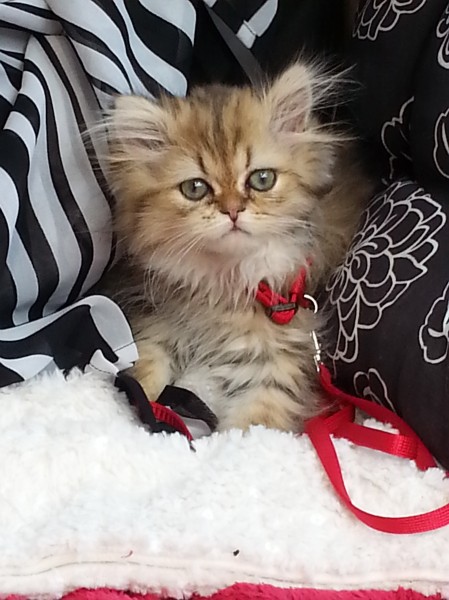 Learned young is done old
In the litter, the mother cat is already 'talking' to her kittens. This could be about the kitten following her, having food ready or not doing something. The pitch of the speech is then most decisive. The kitten itself only has one sound in the beginning and that is soft, short and high. Cats know that it is a newcomer who has just been born. Slowly, the kitten's voice becomes more intrusive. The vocabulary?? of the kitten increases more and more from about the tenth week. The longer the kitten is with the mother, the better her vocabulary will develop.
As soon as the kitten is allowed to leave the nest, you immediately take over as the cat owner. You show the kitten her new living environment, you teach the kitten where the litter box and the food is and you start communication with the cat. Take the time for this, because the kitten must first get used to the house.
By the way, if you take an adult cat into your home, it depends on your predecessor how the communication goes. Again, if you're clear and consistent, you can go a long way with the cat.
Communication with the cat, verbally and non-verbally
Behavioral experts assume that the cat does not prefer the voice as a means of communication. This does not alter the fact that the cat does 'talk'. The cat also has recognizable body language, has certain facial expressions and smell is important to the cat. In the latter in particular, people fail. Our sense of smell is not adequately equipped to function as a means of communication. This does not alter the fact that as a cat owner you can (learn to) communicate with your cat in different ways.
Meow or scream
Meow is specific to felines. In most cases, when a cat's voice increases in volume (and the pitch stays the same), she's expressing a little more force what she wants. For example, if there is a fixed time when wet food is ready. You may have forgotten it or you may have been busy with something else for a while. Many a cat will show that she wants her mash. Sometimes the cat even demonstratively sits by an empty bowl and meows to attract your attention.
Felines can also scream, usually to each other and rarely at humans. It can sound pretty intense. Think of the noises when the cat is anxious, but also when the cat has just mated or during a cat fight. The voice of the cat then sounds very loud and fierce and in the ears of humans quite penetrating.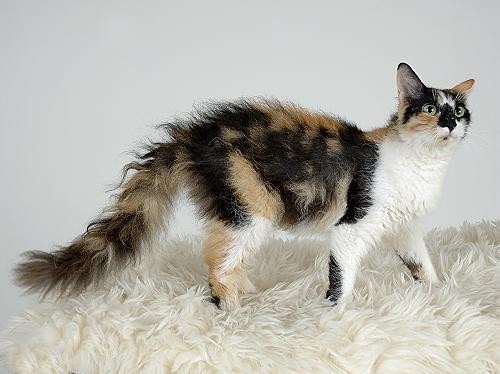 Source: Bebopscrx, Wikimedia Commons (CC BY-SA-3.0)
Body language
In addition to her voice, the cat also communicates with her body. In addition to giving flems and cups, her tail is also a way of expression for her. Think about:
the fat tail (endangered)
the slapping tail (angry)
the standing – slightly trembling – tail (happy)
the low tail (anxious)
A wet nose against your arm or leg is a sign of affection. If the cat smells your face, it is a form of affirming someone's identity. If you hear the cat purr, she is satisfied. There is one exception to the rule when the cat purrs. A cat with pain sometimes also wants to purr, this has a soothing effect. By the way, if you know your cat a little, you will recognize the difference between the satisfied cat and the cat with pain. Assume that the cat in pain is more likely to withdraw and will be as little in sight as possible.
There is also the well-known rhythmic kneading with the front legs. This represents satisfaction or playfulness and that she trusts you completely. Licking goes a step further and is even seen as a form of loving.
If the cat is staring at you, she is comfortable and if she also squints and opens her eyes every now and then, it means she trusts you. Wide pupils can be about several things, namely wanting to play or being anxious. To get clarity, you also have to look at the other body language.
As a person you do not always have to respond in words, sometimes a pat on the head and back of the cat is enough. Most cats also appreciate a soft hand along the cheeks. The cheeks are a very sensitive part of the cat.
"The cat's function is to sit and be admired." Georgina Strickland Gates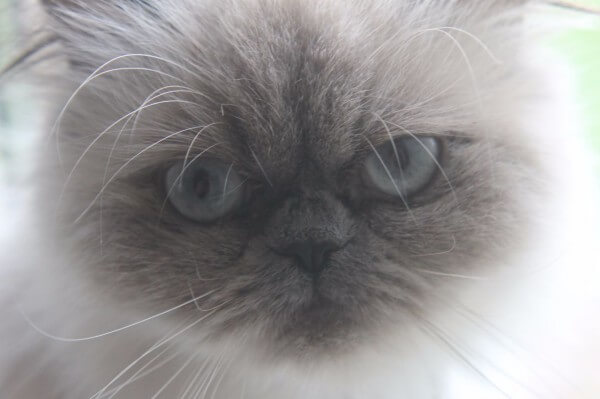 Source: Own cat – Annastaal
Greet
One of the most recognizable sounds / behaviors of the cat is when you come home and the cat greets you. Some cats make a very soft purring noise, often combined with flemen. It can rotate around your legs, but it can also wrap around the umbrella stand, table leg or flower pot. Usually she will look at you and wait for eye contact. This is a kind of confirmation for the cat.
If you have been emotionally away for a long time for the cat, you can often hear this from the persistent vocal greeting. The cat normally uses an average pitch and fixed volume. The cat's attitude is usually very inviting. That means that she is happy to see you and you can put her on. This can be different for every cat, give your cat that moment of attention that she asks for. Catch her, pet her, talk to her and if a cat likes to be picked up, take her in your arms for a moment. The time of greeting is important to the cat, especially if you have been away longer.
Angry
Most cats use a somewhat lower meowing pitch when discomfort, anger or complaining. Furthermore, most cats hold the sounds a bit longer. People don't always pick up on this and if you just want to pet the cat at such a moment, it can give you a big scratch. The intention is not to 'damage' people at that moment, but you are in her immediate environment at the wrong time.
If the cat is actually going to blow (that half-hissing sound), then she's using the ultimate means of keeping anyone away. The cat is grumpy or angry and blowing is the means of self-defense. If she's grumpy, it's best to sit at eye level as much as possible. Then you start talking to her very softly and lovingly. Try to make contact with the cat. This can, for example, be nice and soft brushing, if your cat normally likes this. You can try a snack, sometimes playing with a bag that contains catnip is also a remedy to get her out of this angry mood. If the cat is really angry and you have already seen a slapping tail, let her be and stand back for a while until she has cooled down.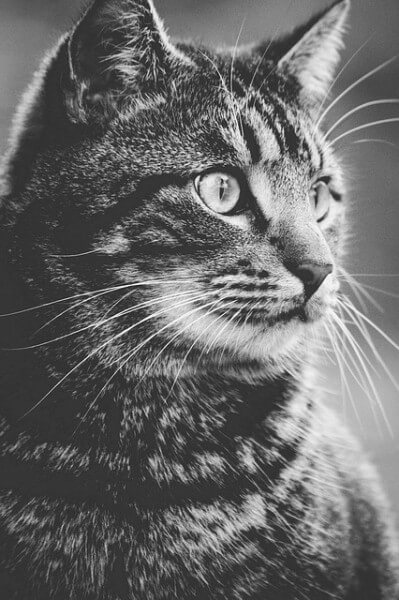 Source: Pexels, Pixabay
Play
If the cat is up for play, she can show you that with her wide pupils. She may put a toy in front of you in the hope that you will do something with it. Some cats make you feel like your attention is being asked to act. There are cats who come to sit with you and put their front paw on your hand or arm or even gently tap your face. Often the cat will meow softly at this too.
But they also let you know when they have finished playing with the greatest of ease. Most cats just walk away. However, if you then invite the cat to play again, she may meow briefly and violently. It sounds pretty low and the cat is actually saying that you should leave her alone now.
To talk
The cat can recognize and understand some words or actually sounds. If you consistently and clearly continue to apply these words, the cat will in most cases recognize this at some point. Think about:
'eat' (when a bowl of wet food is served)
'sleep' or 'bed' (when you go to bed)
'hello' (greeting when you get home)
'inside' (when your cat calls in)
Some cats also answer your sounds with a sound, but not all cats do this. Many cats who recognize the sounds merely act.
Finally
Cats are fascinating to many people and this is often based on their physical appearance, their appearance and their typical behavior. They have a will of their own, something that many people can appreciate, and they can lie down with you and then there is no one to make them anything. Communicating with your cat makes your time with the animal even more fun.