We love Chiang Mai and have been staying here for several months. Are you planning a trip to Chiang Mai too? Perfect! Then we have all the information you need here: Chiang Mai travel guide and recommendations, the best insider tips, sights, excursions and other important information, so that you can easily find your way around the city.
Besides that, we'll tell you our very personal Chiang Mai tips here. We'll show you what you absolutely have to see and experience, how you can best move from A to B in Chiang Mai and where you can best spend the night. Everything you need to know.
Are you ready? Let's go.
Chiang Mai Travel Planning: Helpful Information
How many days should you plan for Chiang Mai?
The answer is not that simple, because there is so much to do in the city that you could stay for weeks without getting bored.
But since you probably don't have that much time and Chiang Mai is not your only travel destination in Thailand, we would advise you to plan at least three full days for a visit to Chiang Mai. However, 5 full days would be optimal.
Where should you stay in Chiang Mai?
In 90 percent of the cases, the answer to this question is: in the old town or near the old town.
Our choice would be the Hotel Nidhra Lana. If you have to pay attention to your budget, then we recommend the Villa Thai Orchid. And if you want to really enjoy yourself, be sure to check out the Tamarind Village.
How to travel to Chiang Mai
Chiang Mai is located in the north of Thailand, and is about 700 kilometers from the capital Bangkok .
The easiest way to get to Chiang Mai is via the city's international airport. Alternatively, there are of course bus and train connections to Bangkok and other places in Thailand.
Travel by plane to Chiang Mai
Chiang Mai International Airport is just a few kilometers southwest of the old town. You can recognize it on our map in the post by the airplane symbol. There is a wide range of domestic flights and flights to other Asian countries.
Qatar Airways recently started flying direct from Doha to Chiang Mai. This is definitely a very good alternative if you want to fly directly from Europe to Chiang Mai and not via Banfkok.
There are domestic flights to Bangkok up to 4 times an hour. Tickets are often available for the equivalent of 30 euros. Thai Airways, Bangkok Airways and Vietjet Air fly to the major Suvarnabhumi Airport. Lion Air, Air Asia and Nok Air fly to Don Mueang Airport in Bangkok.
There are also a lot of direct southbound flights within Thailand. So you can perfectly combine Chiang Mai with a beach holiday on the islands.
Interesting international connections lead to Yangon and Mandalay in Myanmar, as well as to Kuala Lumpur , Singapore and Hong Kong.
Travel by bus to Chiang Mai
Buses are the cheapest option to get from Chiang Mai to Bangkok or other cities.
The journey to Bangkok takes about 10 hours and costs the equivalent of 10 to 20 euros, depending on the bus company. The bus station is 3 kilometers east of the old town.
You can buy your bus tickets directly here or online.
Travel by train to Chiang Mai
A train ride is definitely the most romantic way to travel to Chiang Mai. Both day and night trains run between Bangkok and Chiang Mai and take between 11 and 14 hours.
Night trains have the great advantage that you save an overnight stay and if you are not traveling in 3rd class, you can sleep quite well on the trains.
The train station is about 3 kilometers east of the old town. You can buy tickets directly there or online. For a ride in 2nd class you pay the equivalent of around 20 to 30 euros.
How do you get from A to B in Chiang Mai?
The old town of Chiang Mai can be explored very well on foot. For the sights outside of the old town and excursions in the area it becomes difficult on foot.
However, you have a wide range of transport options available in Chiang Mai.
Rent a scooter in Chiang Mai
Many travelers rent a scooter for their time in Chiang Mai. You are definitely the most flexible with a scooter. Even if the traffic seems a bit overwhelming at first, you can cope with it relatively quickly in the city.
A scooter costs around 300 baht (8 euros) per day. There are a lot of scooter rental companies, but in the high season it can be a bit more difficult to get a scooter at short notice.
Recommended scooter rental companies in Chiang Mai include:
Bikky (2x on Huaykaew Road)
Cat Motors (197/1 Ratchamanka Rd.)
Happy Days Shop (88 Chaiyapoom Road)
Mango Bikes (Siri Mangkalajarn Road, Soi 1)
Smile motorbike & car rental (Rachadamnoen Road, Soi 2)
You will of course get a helmet with the rental. In Chiang Mai, it is customary to simply put the helmet on the handlebars when you park your scooter. In Europe, the helmet would probably be gone after 5 minutes, in Chiang Mai nobody has stolen our helmets yet.
Warning: you need an international driver's license to drive a scooter in Thailand. While this is barely controlled in other parts of the country, the police in Chiang Mai have apparently identified this as their business model.
Checks are made often and in many places. If you are found without a correct driver's license, you will pay a fine of 500 baht (approx. 13 euros). Be sure to get a receipt for it and always take it with you. Once you've paid the fine, you won't have to pay it again in the next few days if you show the receipt.
It is of course best to have an international driver's license with you. You can get away with that most of the time. Some police officers also check whether there is a cross next to the motorcycle on the driver's license. If you do not have this, you may still be charged a penalty.
Our tip: Take a cloth with you that you can put on under your helmet. After all, the helmets are not new. 
The famous Red Taxis in Chiang Mai
They are omnipresent in the cityscape of Chiang Mai: red pick-up trucks with passengers sitting in the back. The so-called Songthaews, or Red Taxis, drive across Chiang Mai and take you to any destination.
This is how it works: To get into a Red Taxi, simply wave the driver over at the roadside. You tell him where you want to go and the driver will either say yes or no (because he is currently driving passengers to another area).
If the driver says yes , you get in, and he will let you know when you have reached your destination. If you know exactly where you want to go, you can also press the stop request button located inside, on the roof.
After getting out, you pay the driver. A ride costs 30 baht (75 cents) per person. If you drive a particularly long distance or are out at a very late hour, it may be more expensive. The driver will tell you that beforehand.
Unless otherwise agreed, you just give the driver 30 baht. You only pay for your ride once the Red Taxi has brought you to your destination.
The Songthaews drivers usually don't speak a word of English. It's best to choose a destination that the driver knows. Very suitable are famous temples or the gates around the old town. It is also helpful if you can name a specific street name.
Tuk Tuk driving in Chiang Mai
In Chiang Mai there are also tuk tuks, which mainly transport tourists from A to B. You agree the fare beforehand with the driver. In our experience, however, tuk tuks are usually the most expensive means of transport.
Taxi in Chiang Mai
Classic taxis are hardly common in Chiang Mai and are mainly used to bring travelers from the airport to their hotel. You hardly ever see taxis in the cityscape, which is why it is unusual to stop one on the side of the road.
You can find out more about transport from the airport to the city in the next chapter.
Go throughout Chiang Mai with Grab car
A very good alternative to the red taxis is to take a Grab car. To do this, you install the Grab app on your mobile phone, and can then use it to call a driver.
Usually a driver will be there within 5 minutes and then take you to your destination, which you specified in the app beforehand. You can see the approximate fare before you call your driver.
Payment is made very conveniently by credit card via the app. You can also choose cash if you don't want to enter your credit card details into Grab. Grab car app is very popular in Thailand.
How to get to the city from Chiang Mai Airport
The most convenient option to get to the city from the airport is by taxi. You will find various taxi counters in the arrivals terminal.
As soon as you have passed the baggage carousel and customs, turn left and just walk to the end of the airport building. There you will find the taxi stand on the left.
There you say where you want to go and you will then be given a slip of paper with the fare. A trip to the old town usually costs 150 THB.
With the note you go to the door, where the taxi drivers will be waiting for you. You then pay the fare directly to the driver.
It is cheaper with a Red Taxi, which will take you to your destination for 100 THB.
You can of course also order a driver via Uber. But the price is usually a little higher than a taxi. If there is a long line at the taxi stand, Uber is sometimes a very time-saving alternative.
Our favorite Chiang Mai sights
Besides Bangkok, Chiang Mai is definitely the city in Thailand where you can see and experience the most. There is no shortage of temples in Chiang Mai.
In this section we will show you which sights in Chiang Mai you absolutely have to see. On the map you can see exactly where the individual locations are.
In the next section we look at what else there is to discover in the Chiang Mai area.
Discover the temples in the old town on a walk or a city tour
In Chiang Mai you can get tired of the temples if you want to? They say there are more than 300 temples in Chiang Mai, but we didn't count them.
Many temples are located in the old town. The old town of Chiang Mai is square and completely surrounded by an old city wall and a small canal.
In the old town there are some temples that you absolutely have to see. We are now introducing you to our favorites.
Wat Phra Singh
Wat Phra Singh is located almost directly in the west of the old town and is considered the most important temple in Chiang Mai. The largest sanctuary is a small Buddha statue called Phra Sihing. Every year for the Thai New Year celebrations, Songkhran, this statue is carried in a large procession through the streets of Chiang Mai.
Wat Chedi Luang and Wat Phan Tao
For us, Wat Chedi Luang is one of the most beautiful temples in Chiang Mai. There are several impressive structures on the site in the center of the old town. The most striking is definitely the old, half-ruined stupa with its numerous elephant sculptures.
Wat Phan Tao is on the same site. The main hall of the temple is made of teak and is different from many other temples in the city. For the Loi Krathong Festival of Lights, a very impressive ceremony takes place every year at Wat Phan Tao.
Wat Chiang Man
Wat Chiang Man is located in the northeast of the old town. The temple was built in 1297, making it the oldest temple in Chiang Mai. The facility is not particularly large, but still very worth seeing.
Our tip for the temples in the old town
On our first visit to Chiang Mai, we decided to take a half-day city tour through the old town and we can really recommend it to you.
The half-day tour by bike is great, because you can get from A to B a little faster! So that's perfect for a first impression! 
Loi Krathong and Yi Peng: The Festival of Lights in Chiang Mai
Are you going to Thailand in November? Perfect! Then you should make sure when planning your trip that you are in Chiang Mai for Loi Krathong.
The Loi Krathong Festival of Lights is one of the most important celebrations in Thailand. In Chiang Mai, Loi Krathong is particularly big and impressive, as the Yi Peng Festival takes place here at the same time, with thousands of glowing balloons rising into the sky.
Loi Krathong in Chiang Mai is simply a very special experience. We have been to Loi Krathong in Chiang Mai for three years in a row and it has been nice every time.
Loi Krathong always takes place on the night of the full moon in the 12th month of the Thai lunar calendar. So the exact date varies from year to year.
Here you can find the Loi Krathong dates for the coming years:
2020: November 1,
2021: November 20,
2022: November 9
3D Museum Chiang Mai: Art in Paradise
Have you heard of a 3D museum before? Neither do we until we discovered the "Art in Paradise" in Chiang Mai.
In the 3D museum in Chiang Mai you can take very special vacation photos. On two floors there are numerous motifs in which you can pose for photos yourself. This is really fun!
Caution : You should not visit the 3D museum alone. The attraction of the museum actually lies in the fact that you take photos there and of course you need someone to photograph you for that.
If you can't imagine what the 3D images are all about, let's just let our photos do the talking.
Our tip: The tickets cost 400 THB (approx. 10 euros) on site. We bought our tickets online at GetYourGuide. There they are 25% cheaper. You do not have to print the ticket. All you have to do is show the ticket on your mobile phone.
Address: 199/9 Chang Klan Road
Opening hours: Daily 9:00 a.m. to 8:30 p.m.
Entry: 400 THB / buy online 300 THB
Walking Street: Chiang Mai night market
One of the most famous tourist attractions in Chiang Mai is the so-called Walking Street. Every Saturday and Sunday just before sunset, some streets in Chiang Mai turn into a huge night market.
You can buy souvenirs, handicrafts, clothes and, above all, lots of delicious food here. Walking Street is definitely not an insider tip and is aimed primarily at tourists. Nevertheless, a stroll through the night market is worthwhile.
Our tip: It's best to go to the market as early as possible. Around 5 p.m. it is still comparatively empty, later the masses push their way through the streets. Some dealers may still be setting up, but strolling around is much more relaxed at this time.
Walking Street is held every Saturday on Wua Lai Road outside the Old City. The street begins at the Chiang Mai Gate on the southern city wall of the old town.
On Sundays, the night market takes place in the old town on Ratchadamnoen Road. The street runs from Tha Pae Gate in the east of the old town once across in the direction of the western old town.
Chiang Mai night bazaar
Unlike Walking Street, Chiang Mai's Night Bazaar is open every evening from around 5 p.m. You can find it a little east of the old town in the streets in front of the Ping River.
It is very bustling there from the late afternoon until the late evening hours and the streets are full of stalls. There you will find delicious local street food, clothes and products from the region.
Half day and full day trips from Chiang Mai
Not only Chiang Mai itself is worth a visit, the area around Chiang Mai also has some great sights to offer. On the map you will get an initial orientation as to where the excursion destinations are.
Wat Phra That Doi Suthep
The Wat Phra That Doi Suthep is probably the most famous temple in Chiang Mai and you should definitely not miss a visit there.
Doi Suthep is located a little outside the urban area on the mountain of the same name. The gilded chedi in the center of the temple complex is particularly impressive.
We recommend visiting Doi Suthep in the evening hours around sunset. The lighting is particularly beautiful and when the monks gather around the golden dome for prayer at sunset, there is a very special atmosphere on the complex.
Note : Please be respectful, sit down on the floor when the monks are praying, be quiet and keep a respectful distance.
In addition to the temple complex, the view of Chiang Mai is breathtaking. At the top of the temple there is a viewing platform with a view of the city and there are always beautiful viewpoints on the way up.
On the way down you will pass several small car bays. Well worth stopping there and enjoying the view of the illuminated Chiang Mai.
Arrival to Wat Phra That Doi Suthep
The best way to get to Doi Suthep is by renting a scooter. It goes uphill for about half an hour via serpentines. The track is really great to drive.
Note: After sunset it gets quite cool on top of the mountain. So be sure to bring a sweater or jacket with you if you go to the temple in the evening hours. Even if it is very warm in the city during the day, it can get very cool up on the mountain in the evening.
Once at the top of the parking lot, you have the choice between an elevator and a few hundred steps to the temple. The elevator costs 50 THB, stairs are free.
If you don't want to drive a scooter yourself, you can take a red taxi to Doi Suthep. From the Chiang Mai Zoo, red taxis go to Doi Suthep for THB 40, but you will also find red taxis at most of the city's temples to take you to Doi Suthep.
It is also possible to rent a Red Taxi completely. For a trip to Doi Suthep, you pay around 500 THB, depending on your negotiating skills.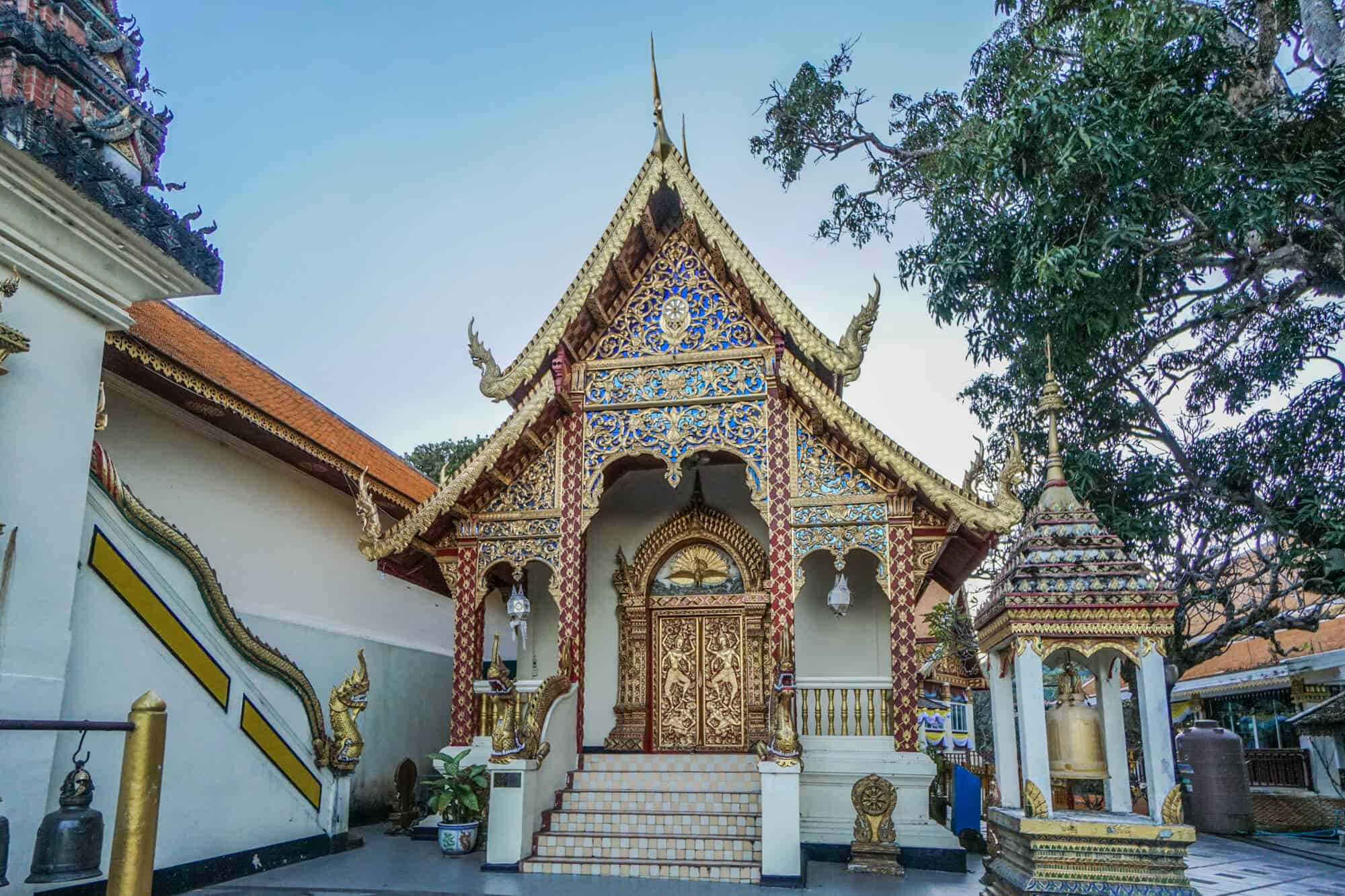 From the temple you have a great view of Chiang Mai. Therefore, the temple's viewing platform is also very popular for taking photos!
Chiang Mai Grand Canyon
The Grand Canyon in Chiang Mai? Sounds strange, but that's how it is. About 20 kilometers southwest of Chiang Mai is a former quarry. The comparison with the Grand Canyon is definitely a bit exaggerated, but you can go swimming in the Chiang Mai Grand Canyon.
There is a small beach where you can get into the water and those who are brave can plunge into the depths from one of the cliffs.
After a few accidents, life jackets are now mandatory. You can easily borrow the vests on site.
The absolute highlight is the water park in the back of the canyon. Do you remember the TV show "Takeshi's Castle", where candidates had to complete crazy courses in the 90s? The water park reminded us of that and a visit is definitely a lot of fun.
You can get to the Grand Canyon by scooter from Chiang Mai in around 30-45 minutes.
Opening hours: Daily from 9:00 a.m. to 7:00 p.m.
Entry: Grand Canyon: 100 THB; Water Park: 450 THB
Full day excursion to the White Temple in Chiang Rai
Chiang Rai is about 200 kilometers northeast of Chiang Mai. There is a lot to see in the Chiang Rai area and you can easily spend several days here.
If you don't have that much time, a day trip to the white temple, Wat Rong Khu, is definitely worth it. This is completely different from any other temple we have visited so far. The Wat Rong Khu is completely white and decorated with ornaments down to the smallest detail.
And as if that weren't unusual enough, you'll find wall paintings of Michael Jackson, Superman and Master Yoda in the temple.
Elephant Camp
First of all, the most important information: This is not about elephant riding, but about supporting the elephants living there by visiting an elephant camp.
Elephants have a difficult life in Thailand (and also in other Asian countries) because you can earn money with them. Tourists do not properly inform themselves and book elephant rides without knowing that they are thereby supporting the torture of the animals.
Elephants are wild animals and to make them gentle pachyderms, their will is cruelly broken. You shouldn't ride elephants.
There are some elephant camps near Chiang Mai that have made it their mission to rescue such elephants from captivity. Unfortunately, not all of the camps in the vicinity of Chiang Mai are also recommendable, because good money can also be made with "saving the elephants".
We decided against visiting an elephant camp, precisely because after a long research we could not really distinguish between good and bad. But that doesn't mean that we would advise against visiting. We just want to encourage you to choose the camp very carefully.
If you can recommend an elephant camp to us, please leave us a comment!
Ziplining
If you don't know what to do with the word ziplining, here is the explanation: You can imagine it a bit like a large climbing park, only that you don't necessarily climb there, but slide from one point to the other via a rope connection.
The word zipline or cable car is actually a great way to describe zip-lining.
Approx. 60 minutes outside of Chiang Mai there are several ziplining providers. The best known (but also the most expensive) is Flight of the Gibbon. But there is also Jungle Flight and Dragon Flight.
Since Basti suffers from a fear of heights and such excursions are more of a torture for him, we did not try it ourselves. But we've only heard good things about it from friends.
Jenny has already done ziplining in her hometown Traben-Trarbach and can only warmly recommend it to you.
You will be picked up in Chiang Mai by minivan, taken to the zipline and then spent there for a few hours until you are brought back to Chiang Mai.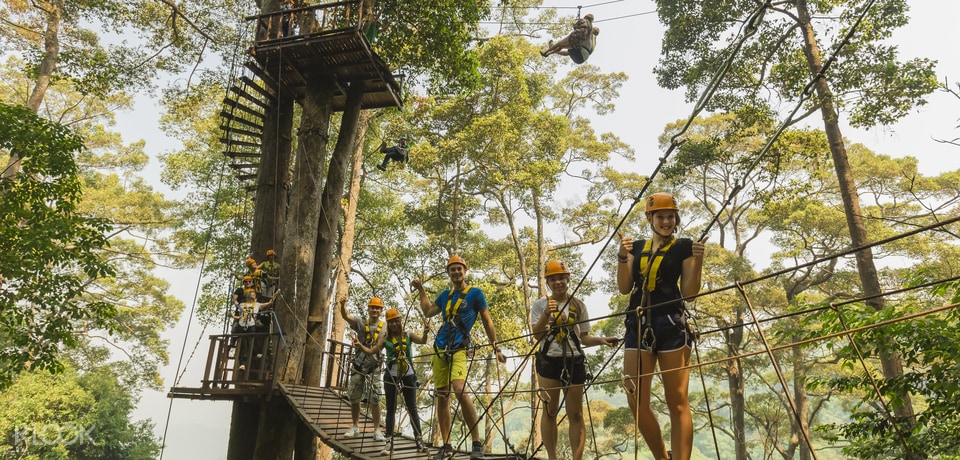 Our program proposal for 4 days in Chiang Mai
To make it easier for you to plan your vacation in Chiang Mai, we just want to tell you here how we would plan our time in the city.
Chiang Mai itself is absolutely worth seeing, but there is also a lot to discover in the area. So you will probably only be in Chiang Mai for 1-2 days during the day and go on trips to the region on the remaining days.
Day 1: City tour in the old town + visit to Doi Suthep National Park
Mornings: 3 hour tour with a German-speaking guide through the old town + lunch in the old town
For a first impression of the old town, book a tour guide for 3 hours who will show you the most important temples and tell you great anecdotes and stories about the city. We did the tour and thought it was very cool because you get to know the old town much more intensively.
In addition, our guide told us a lot about Thai culture and Buddhism and even taught us a little bit of Thai: After the city tour, you can have a good time in one of the many restaurants in the old town.
Afternoon: By scooter to Doi-Suthep National Park: waterfall and temple
You rent your own scooter (or have a red taxi drive you) and make your way to Doi-Suthep National Park. Your goal: to be at the Wat Phra That temple shortly before sunset.
If you still have the time and inclination, you can plan a visit to the Monthathan waterfall on the way. You should calculate about an additional hour for this.
From the city up to the temple it is approx. 20 km. Since most of the time you drive up the mountain in serpentines, you should plan at least 40 minutes for the journey.
Along the serpentine road you will find the sign "Waterfall" on 1/3 of the route. There you have to turn right into the street, pay the entrance fee at the small ticket office (100 Baht per person + 20 Baht per scooter) and follow the street for a few more kilometers. From the parking lot it is a couple of minutes walk uphill.
After you have visited the waterfall, you continue uphill to Wat Phra That Doi Suthep.
Evening: Dinner in the old town
Back in the old town, you can eat at one of the food stands at the night bazaar for dinner.
Day 2: Full day trip to an elephant camp
If you decide to visit an elephant camp, you should plan a full day for it.
You will be picked up at your accommodation in Chiang Mai in the morning and spend a day with elephants.
Day 3: 3D Museum or Flight of the Gibbon Zipline + Cooking Class
On the 3rd day there are two activities. In the mornings, head to the 3D museum to take some very special vacation photos. You should plan about 2.5 hours for this.
Don't feel like 3D and prefer some action? Then you can swing through the air on a zipline on the third day. You should plan about 5 hours for this.
You use the afternoon to stroll a bit through the city and of course have a delicious meal.
Day 4: Grand Canyon Waterpark or culinary city tour
Speaking of eating. How about a culinary city tour on day 4. We love to do such tours because we often get to know very special dishes that we probably would never have tried on our own.
Are you in the mood for some refreshment? Then get on the scooter and spend the day in the Chiang Mai Grand Canyon.
You want more great tips for Chiang Mai?
That was our full load of tips for Chiang Mail. Have you ever been to Chiang Mai and have a tip that you want to get rid of? Then we look forward to your comment.