DNA testing in purebred dogs: useful and necessary?
Just like humans, each dog has a unique DNA profile which can be seen as some sort of unique genetic "fingerprint". It is practically impossible for a DNA profile to be changed or lost in the dog's life. The DNA profile can be used to conclusively prove the identity of a particular animal. A dog gets half of his DNA from his father, the other half from his mother, so that the DNA profile can be used to prove whether the claimed parents are indeed the biological parents of the animal. Only certain traits are recorded in the DNA profile, so it is not clear to which breed the animal belongs, nor whether an animal suffers from certain hereditary disorders or diseases. The specific DNA tests are suitable for the latter.
Everyone has heard of DNA research. In humans, but perhaps also in (pedigree) dogs. DNA research has undergone enormous development in recent years. This has not only made it easier to record the DNA of purebred dogs, but the costs can also be kept under control. In the Netherlands too, many dozens of DNA tests for hereditary abnormalities or hereditary characteristics can now be performed in (pedigree) dogs. A dog's unique DNA profile can be used to conclusively prove the identity of a particular animal. In addition, this can be used to prove whether the claimed male and female are indeed the biological parents of the animal. Provided, of course, that the DNA profiles of the likely parent animals are known and recorded earlier.
Hereditary defect or characteristic?
Hereditary deviations or hereditary problems are undesirable. Hereditary characteristics such as predisposition to a particular coat color or hair length can be very desirable. Where this article refers to hereditary abnormality, hereditary characteristic can also be read.
Why DNA research?
DNA testing in dogs can be performed for three reasons:
1. The DNA profile: who is your father and who is your mother?
The correct parentage of a litter is easy to find out by comparing the DNA profile of the puppy with the DNA profile of one or both (presumed) parents. It goes without saying that the DNA profile of the likely parent animals must be known and recorded earlier.
2. Determining hereditary predisposition to (breed) specific defects
There are many types of hereditary disorders in dogs. These conditions are often detrimental to health and it is therefore undesirable for these conditions to be spread further in a dog breed through breeding. Dogs can be tested for several dozen hereditary abnormalities through DNA testing. As a result, sufferers, carriers and free animals can be identified at an early age. This makes it possible for breed clubs to draw up a more focused breeding policy so that a certain disorder in the population can be reduced without an irresponsibly high increase in inbreeding.
3. Confirm diagnosis of hereditary abnormality
Many hereditary defects only become visible at a later age. In an animal suspected of having a hereditary abnormality, DNA testing can confirm the diagnosis. Purebred dog breeders can use the test for preventive screening of potential breeding stock. In this way, a sensible breeding policy can prevent the spread of the pathogenic genes within the purebred dog population as much as possible. There are now around fifty tests on the Dutch market, but many new ones are added every year worldwide.
DNA research and the breed club
As described above, it has become easy with current DNA techniques to determine the correct pedigree of a dog. The correctness of pedigree data in the studbook registration is essential in the assessment of the inheritance of (possible) hereditary disorders within the breed. It is expected that this will simplify the drawing up of a breeding policy by the association.
The DNA test and the breeder
In some countries, the Kennel Club responsible there wants to check the pedigree of a puppy from each litter based on DNA. Pedigree research is only possible if the DNA profile of the parent animals is known. This means that when pedigree research is requested, the DNA profile of the breeding animal must be available. A major advantage is that once the DNA profile is known, all descendants of this animal can be further traced. Once the DNA profile of a stud has been established, they can easily refer breeders to this for pedigree research.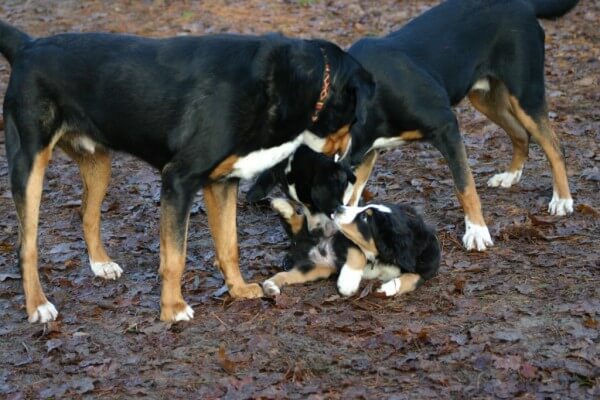 Security and trust
DNA research provides certainty and confidence. For example, breeders pass on the DNA profiles of their parent animals to the buyer of their puppy so that they can, if they wish, have the pedigree of their puppy checked. That inspires confidence.
Your purebred dog's DNA
Even if you, as a dog owner, do not want to breed with your purebred dog, it is important to have DNA tests performed and to have your dog's genetic material stored in the DNA bank. The results of the tests and the storage of the dog's material thus contribute to a responsible breeding policy and the development of even more tests. This will ultimately lead to a healthier population of the breed.
DNA bank
Research into the hereditary background of a health problem within a breed often comes to a standstill because samples (from earlier generations) are not available or are no longer available. With a DNA bank, this limiting factor is resolved in one fell swoop for both current and future diseases that can suddenly reveal themselves in a purebred dog population. Samples from individual dogs are kept in a DNA bank. These can be blood samples, but also saliva or coat samples from which DNA can be obtained at any time for examination. Stored samples are kept for at least 25 years, after which it can be decided to extend this period.
Since the Board of Directors in the Kynological Area aims to promote the health and welfare of dogs and dog populations, there seems to be an important task for the Board of Directors to coordinate and stimulate diagnostic tests for breed clubs. For scientific research, cynology depends on research institutions such as the Faculty of Veterinary Medicine (FD) and Wageningen University (WUR). All parties are working together to establish and demonstrate the efficacy of a system of pedigree-linked DNA storage of all dogs.