Dog Breeds: Barbet or French Water Dog
The dog breed barbet is not equally known to everyone, but many people know the same dog under the name 'French water dog'. This intelligent, gentle curly-haired with a hunting instinct is a real water rat. With a pleasant character and a coat that does not require an extreme amount of effort, the dog is ideally suited to the (busy) family situation. What exactly is it for a dog and how do you deal with this dog?
Barbet, the basics
The relatively rare barbet in the Netherlands, also known as the French water dog, comes from France. It is an old breed that has been around for centuries. It gets its name from the beard that this dog has. It is traditionally a hunting dog and was mainly used to bring shot waterfowl to the hunter. Today it is a nice companion dog. This dog is easy to train and that, in combination with its gentle and stable character, also makes the dog a great guide dog.
The breed has been in danger of extinction. This was mainly due to the rise of the more ?? modern ?? curly buns, such as the poodle in different colors and sizes. Since the turn of the century, the popularity of the barbet has increased slightly.
Appearance
This nice dog has some typical characteristics in appearance.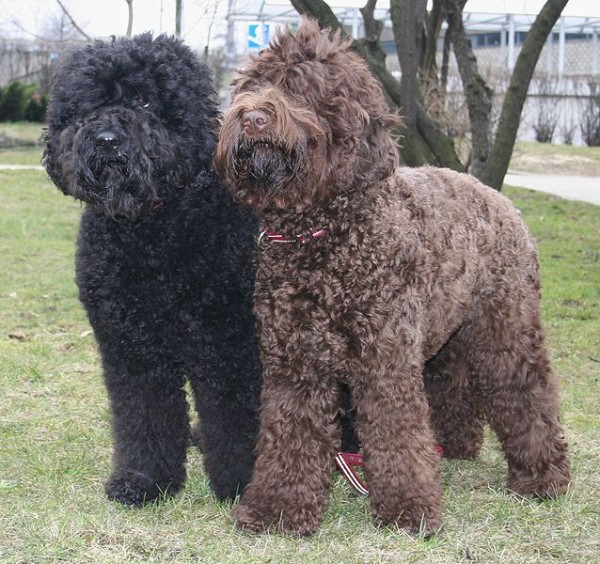 Source: Pleple2000, Wikimedia Commons (CC BY-SA-4.0)
Coat
The barbet has a full curly coat. The thick coat has an insulating effect in the water. It also helps the dog function properly in cold water. The barbet has no moulting periods and is normally trimmed once a year. It is not much more than cutting dots. Regular brushing of the curly coat is recommended. Do this from the start and the dog will have no problem with it. For many people, this dog has a nice full and yet relatively easy to maintain coat. The coat color can be very diverse, namely:
black
gray
red-brown / maroon
pale red
sand color / yellow
white
multi-colored
The multi-colored variant has no restrictions when it comes to the color distribution over the body, as long as the multi-colors are spread over the entire body. Multiple color shades are allowed for the brown, red and sand color. The most common colors are brown and black.
Head and body
A female has a minimum height at the withers of about 50 centimeters and a male has a minimum height of about 54 centimeters. Height at the withers can / may always be a little more, but not less. The weight varies from 20 to 28 kilograms. If you have a barbet that is slightly larger, the weight can be up to about 34 kilograms. The body looks strong, with a well-developed chest. The dog has arched ribs, a slightly rounded back and strong loins.
The barbet has a round, broad skull with an emphatic stop (nose). The side view of this dog looks a bit square (especially the muzzle). The dog has a striking beard. The eyes are preferably auburn in color and the ears are set low on the head and contain long strands of hair. You should have these hair strands trimmed regularly.
Tail
The tail has a low set on and is usually carried slightly raised. Not completely horizontal and certainly not above the back. The tip of the tail may have a little curl.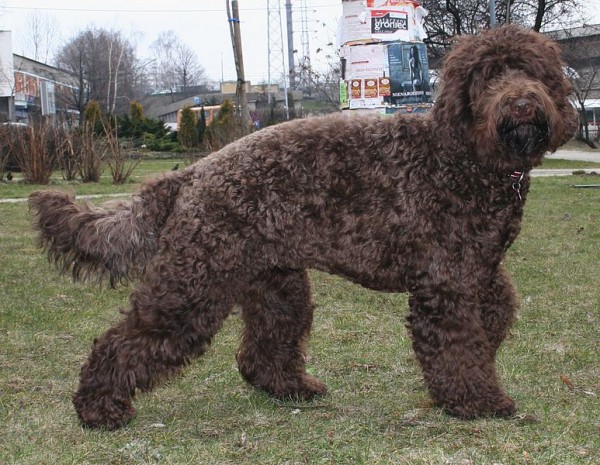 Source: Pleple2000, Wikimedia Commons (CC BY-SA-4.0)
Character
It is an intelligent dog, with a gentle and very friendly character. Furthermore, this dog has a cheerful nature and is playful. This dog is also always friendly towards strangers, but never intrusive.
The barbet is also known for its stable and balanced character. This dog is hard to get out of balance.
The barbet as a buddy in the house
The barbet has an average energy level, which means that the dog needs regular exercise. If that doesn't work once, that's okay. Where some dogs become busy in the house when they cannot lose their energy, this does not apply to this dog. You do the dog a great favor if it can also enter the water during walking tours.
This friendly, stable dog likes to build strong bonds with the people he lives with. This concerns both adults and children. If you regularly hang out with this dog from a puppy and for example follow a good puppy training, then it will be a great companion for life. If the dog comes to you as an adult animal, a good bond can still be built up. Only then you do not always know what the animal has been through. Animal shelters try to be alert to this and to provide as much information as possible in order to create a good match between owner and dog. If you don't have this specific information, there are adult dog training courses that can help.
The barbet also goes well with other dogs or cats and all together makes this an excellent dog for a family situation. There are just a few points you should pay attention to with this dog, namely:
This dog doesn't like to be left alone for long.
It is an intelligent dog, so let it use its head every now and then. For example with games.
How healthy is the barbet?
Many purebred dogs are aware of what health problems, specific to that breed, can develop. This does not apply to the barbet. That information is not yet available in 2019.
It is difficult to say whether the absence of possible hereditary health problems contributes to the life expectancy for this relatively large dog. It is true that much larger dogs often do not become older than 10 to 11 years, but the barbet can be at least 12 to 15 years old.
Ears and hips
Many dogs with longer hair are more susceptible to ear infections. Earwax or dirt from the outside can stick to the long hair and small infections can develop. You can recognize it by the shaking of the head, scratching the ears or a pungent smell. The barbet can also suffer from this and therefore regular trimming of the hair at the ears is important. If your dog does suffer from inflammation, the vet can cure it relatively quickly. Do not keep walking with it, because then it can become a chronic variant.
Hip dysplasia also occasionally occurs, but as far as is known not to the extent that this is the case with the shepherd. When in doubt, it is good to have a picture of the hips. If a dog has it, it can be managed for years, but cure is not possible.
Finally
This medium to large barbet is ideally suited to live in a family situation and is also suitable for training as a guide dog. This stable dog does not require much maintenance, is easy to train and does not shed hair. A not unimportant aspect for many to buy such a dog is its gentle, cheerful and stable character.