Dog Breeds: The imposing chowchow
The chowchow is known to many people as the bear-like dog or the blue-tongued dog. The dog has an impressive appearance, but certainly not with any kind of aggression. The dog has a calm disposition, but can be absolutely watchful. Furthermore, the dog has a beautiful thick coat. The chowchow was and is regularly used as a guard dog, but is also a nice companion dog. What exactly is it for a dog and how do you deal with this dog?
Chowchow, the basics
This dog is originally from China, long before our current era. This dog goes back at least 3000 years. However, the breed as we know it today is a result of breeding programs that took place in England. Strangely enough, the dog is loved worldwide as a companion dog, but almost extinct in today's China.
In the past, the dog was mainly a working dog and was taken on the hunt. But in China they were also good cattle drivers, fur and meat suppliers and after all they were also suitable to guard the yard. They are still used as watchdogs. In addition, it is also a nice companion dog. Especially for the latter purpose they are now being bred.
Appearance
This medium-sized imposing dog has some typical breed characteristics in addition to its tough appearance.
Life expectancy
The chowchow has a good life expectancy for a slightly larger dog. With a normal lifestyle, this dog lives on average 12 to 15 years old.
Build and coat
This calm looking dog has a sturdy build and hind legs that run slightly backwards. Together with the broad chest it gives this dog a tough appearance. The male weighs on average between 27 and 35 kilograms. The female is slightly lighter, but can also weigh about 20 to 27 kilograms. There is also a small difference in the height at the withers, because the male can grow to about 56 centimeters and the female to about 51 centimeters.
Although many people know the dog best for its light golden brown color, this dog comes in multiple colors. Some colors are quite rare, such as the white. The main colors are as follows: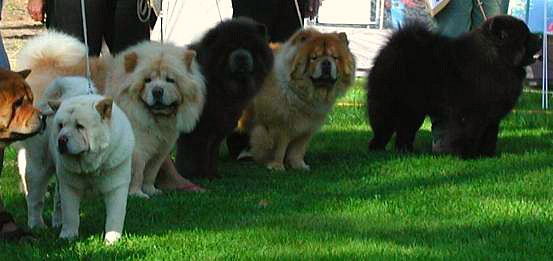 Source: User Nattugglan72 on sv.wikipedia, Wikimedia Commons (CC BY-SA-3.0)
black (anthracite)
blue
light golden brown
cream
white
red
The chowchow is usually long-haired, with a thick profuse coat. But there are also short-haired variants. They call this "smooth chows". The short-haired version also has a thick, profuse coat. The hairs appear to be standing on end and the undercoat is woolly. When you go over it with your hand, it feels very soft and a bit like plush. You have to brush the coat well three to four times a week. Especially behind the ears and the neck should be brushed well. This prevents tangles. If you bathe the dog, use a mild dog shampoo and dry the dog well.
"You have nothing to fear from my dog. He is only there to scare you." Fons Jansen (Dutch caberet artist 1925-1991)
Head and tail
The head looks a bit like a bear. The dog has a slightly frowning look with a full round muzzle (not too long). The dog has relatively small ears and eyes, this also gives the dog a sweet look. Of course the dog has the well-known blue tongue and preferably the mouth and lips are also dark colored. The tail is carried smoothly around the back.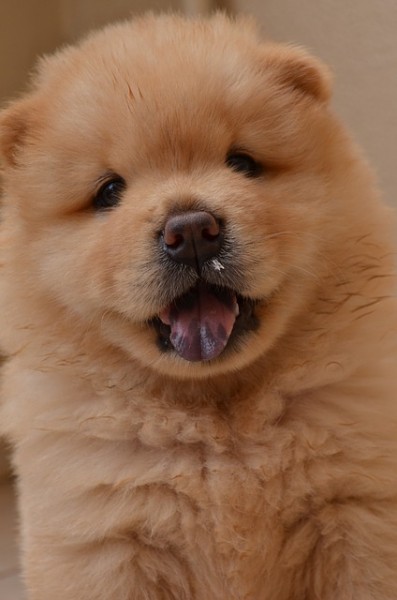 Source: Dneobr, Pixabay
Character
Most hunting and guard dogs are self-employed and so is the chow chow. In addition, the dog is stubborn and that does not always make him an easy dog ​​to keep. The dog needs clarity and that also means that you have to be consistent in your behavior towards the dog. An average puppy course is often not enough for this wayward dog. Preferably someone helps you with the education who has experience with these dogs.
The dog can adopt a more or less haughty and dismissive attitude towards unknown people, but is very fond of the known people around him. This dog is quite watchful, but unlike many watchdogs, not very loud. What also stands out about this dog is that it is very clean in itself, significantly more than the average dog.

This extremely vigilant dog is not really a feline friend, is not very playful and does not necessarily get along well with small children. The dog has an average energy level and appreciates long walks.
Health aspects
The dog is not familiar with structural disorders, only with food it is important to pay attention. This dog tends to be overweight. The breed clubs are continuously engaged in health research. Research into hip dysplasia in the line is important for breeding with these dogs. The Dutch chowchow club also requires elbow dysplasia, ECVO eye examination and patellar luxation (kneecap).
Finally
With this imposing medium-sized dog, something really comes in. The confident, tough, watchful attitude (about people and farmyard) makes it a welcome dog. Before you start with such a dog, it is good to realize that he needs a lot of care.