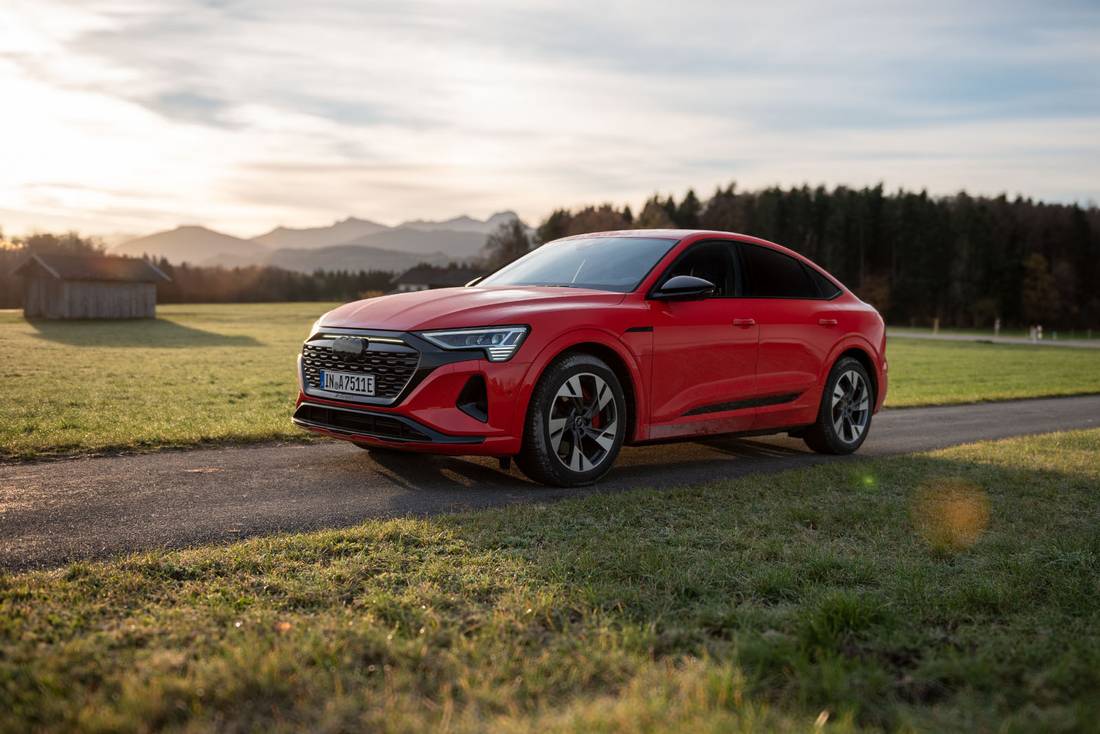 The Audi Q8 e-tron Sportback 55 quattro at a glance
Major facelift turns the e-tron into the Q8 e-tron
e-tron 55 quattro now with 106 kWh battery
WLTP range up to 582 km, 170 kW DC charging power
Also available as a hatchback
Starting price from 89,500 euros (Sportback 55)
The Audi e-tron was gently lifted into the Q8 e-tron with the facelift at the beginning of 2023. Distinctive identification mark: A new front mask with an LED strip between the headlights.
The e-tron becomes the Q8 e-tron
You look good, old friend! Instead of going to the gym, your builders only sent you to the stylist, but as a thank you you were at least accepted into the Q8 family. Now, living between petrol and diesel engines, you're more than ever looking the part, polishing up the image of your new family and smoothing things over when the uncouth eight-cylinder engine once again makes a rude mistake. Of course, you're not exempt from fun and joy either and what the SQ8 (combined fuel consumption: 12.8-12.0 l/100km; combined CO2 emissions: 291-272 g/km)² consumes in terms of petrol is at you just have lots of electrons.
Aside from this irony, the Q8 e-tron would actually be a pretty important car for Audi. Because they still don't have much more to offer in Ingolstadt. Okay, there's the e-tron GT out there somewhere, but you hardly see it on the road. The Q4 e-tron is also more of a bycatch, it just came out when a VW ID.4 is hung with four rings. The Q8 e-tron, which was previously simply called e-tron, is a kind of electric flagship for Audi. It's just a shame that it doesn't live up to this status, especially in terms of range. Shortly after the significantly postponed market launch of the first e-tron series in 2019, doubts arose as to what they had actually screwed together between Ingolstadt (development), Győr (drive production) and Brussels (assembly plant).
More recycled materials, otherwise everything in the interior of the e-tron will remain the same. Three screens, easy-to-learn operation and plenty of space on all seats are still appealing five years after its debut.
Test consumption around 29.5 kWh/100 km, range up to 360 km
The large Audi offered pleasant longitudinal acceleration, excellent comfort and very good quality. But after 200, maybe 250 kilometers on the motorway, the fun was over and, especially with the Audi e-tron 50 quattro (net battery capacity: 64.7 kWh), one of the DC charging stations that were still freshly set in concrete had to be driven to early on. For many customers, this was less premium than expected. Especially because the e-tron wasn't a bargain as a new car and still isn't as the Q8 e-tron. The range issue is having a noticeable impact on used car prices today, four years after its market launch. The journey with the e-tron SUV starts at less than 35,000 euros.
It cannot be assumed that this price drop has ended with the facelift. With the model change to the electric Q8, Audi is only installing large batteries, but the up to three asynchronous machines are the same as before the facelift, apart from minor changes. They are significantly lacking in efficiency, which is what the consumption of the 300 kW/408 hp Audi Q8 e-tron 55 quattro we tested (combined power consumption: 24.1-19.9 kWh/100 km; combined CO2 emissions: 0 g / km; Electric range: up to 582 km)² over two weeks of testing to an impressive 29.5 kWh per 100 kilometers. If the footwear is cast from lead, the digital on-board computer will quickly show 38 kWh. In the best case scenario, even a 106 kWh battery pack is sufficient for just 360 kilometers, although up to 25 percent must be deducted from this value on long journeys. After all, the battery is usually never completely empty, but is also rarely charged to more than 80 percent. This gives the Q8 e-tron 55 an effective highway range of around 270 kilometers.
The Audi Q8 e-tron Sportback 55 quattro is good with a boost output of 300 kW/400 hp, but not overly motorized either. After all, the SUV coupe has to carry around a curb weight of around 2.6 tonnes.
Manageable charging performance
Quite a bit for a car that, according to the price depositor, should cost 115,000 euros. Now, of course, consistently high charging performance could make up ground again here. Unfortunately, disillusionment quickly followed when driving towards appropriate charging stations, preferably ones with 300 kW. The maximum DC charging power for us regularly only reached up to 120 kW instead of the advertised 170 kW (11-22 kW AC).
Recharging the battery from 10 to 80 percent in 31 minutes is pure gambling. This causes annoyance. Because on the other hand, the Audi Q8 e-tron is still a pretty good car. One that you actually really don't want to leave. Similar to the pre-facelift e-tron, the workmanship quality is beyond any doubt. The optional acoustic glazing keeps outside noise away from the occupants, the individual contour seats, which are also subject to a surcharge, are a joy for every back and they are also easy to operate.
Extremely comfortable individual contour seats are available as an option in the Audi Q8 e-tron. A bit petty: air conditioning and massage functions each have to be ordered separately.
The Q8 e-tron can also be dynamic
Every now and then you have to press a little harder on the displays, of which the Q8 always has three, but the display sharpness and responsiveness are pleasing. Audi saved a trendy passenger display when redesigning the model; it would hardly have fit into the rugged dashboard. And you'll look in vain for big changes in other ways too. Apart from the increased use of recycled materials, it is the same interior as 2018/2019. However, this has the advantage that there is still generous space on all seats and even on the Sportback (trunk volume: 528 to 1,567 liters + 62 liters Frunk). Backbenchers are pleased with the lack of a center tunnel and can optionally have their own climate control panel.
Finally, there's a quick look at the street. In terms of driving dynamics, hardly anything has changed with the facelift. Conversely, this means: It's not just lovers of dignified transportation that feel right at home in the Audi Q8 e-tron. If you want to, you can also use the two asynchronous machines with their system output of 300 kW/408 hp and up to 664 Nm of torque to achieve top sporting performance. This only works briefly in boost mode, but then the Ingolstadt-based driver sprints from zero to 100 km/h in 6.5 seconds. The speed is limited to 200 km/h. On winding country roads and on the brakes you will notice the live weight close to 2.7 tonnes, but if you put the adaptive air suspension in dynamic mode, you will at least get a little more reliability. The steering remains sufficiently precise, but is largely free of feeling. Incidentally, roll stabilization is not offered, nor is rear-axle steering. The e-tron shines with very well-functioning predictive recuperation.
The Audi Q8 e-tron Sportback offers a trunk volume of 528 to 1,567 liters and a 62 liter storage compartment under the front hood. The trailer load is up to 1.8 tonnes.
Conclusion
You get into the SUV, which is opulent inside and out, drive a few kilometers and don't want to get out. The e-tron was that good before and the new Q8 e-tron has remained that good after the facelift. It's well made and sits just as well on the road – but it doesn't arrive! Even the 106 kWh battery of the 55 model can do little to counteract the thirst for electricity of the two asynchronous machines. Maybe Audi should have tried it without all-wheel drive. Since the Q8 e-tron otherwise only differs marginally from its predecessor, it is worth taking a look at the used car market, especially for private customers. (Text and image: Thomas Vogelhuber)
Technical data Audi Q8 e-tron Sportback 55 quattro
| | |
| --- | --- |
| Model | Audi Q8 e-tron Sportback 55 quattro |
| engine | 2x asynchronous machines |
| drive | Electric all-wheel drive, 1-speed automatic |
| Max. system performance | up to 300 kW (408 HP) |
| Continuous performance over 30 minutes | 100 kW (136 hp) |
| Max. system torque | up to 664 Nm |
| battery | 106 kWh lithium-ion (net) |
| Max. charging power AC/DC | 11-22kW/170kW |
| Combined power consumption (WLTP) | 24.1-19.9 kWh/100 km² |
| Test consumption according to on-board computer | 29.5 kWh/100 km |
| CO2 emissions combined | 0 g/km² |
| Range according to WLTP | 487-582 km² |
| Range measured in the test | up to 360 km |
| Acceleration (0-100 km/h) | 5.6s |
| Top speed | 200 km/h |
| Dimensions (L/W/H) | 4.90m/1.93m/1.61m |
| Curb weight | approx. 2,585 kg |
| Towing capacity | up to 1,800 kg |
| Trunk volume | 528 to 1,567 l |
| Basic price Audi Q8 e-tron Sportback 55 quattro | from 89,500 euros |