Easy, fast and healthy: shrimp dishes
Not everyone feels like standing in the kitchen for hours to put something tasty on the table. Fortunately, you don't have to! With a number of simple ingredients you can quickly provide a delicious healthy meal. The number of calories is also taken into account, so that you can start your dish responsibly. Shrimp are a good addition to this. How healthy is a shrimp and which dishes can be made quickly with it?
Easy, fast, but also healthy?
It is generally known that fresh fish is a healthy and good addition to your diet. Shrimp are an important part of this. They are full of unsaturated fats which contribute to a healthy lifestyle. The omega 3 fatty acids present ensure a healthy heart and healthy vessels. Shrimp is high in selenium and B12. Despite it being said that shrimp can increase cholesterol, shrimp remains one of the healthier choices. This cholesterol intake can be avoided by removing the head before cooking. The head contains only these substances. Besides the fact that shrimps are healthy, the preparation is also easy. An average recipe is made within 30 minutes. Most fish dishes are not ready that quickly!
Shrimp low in calories?
The shrimp has a very low fat content (less than 1% per 100 grams) and is therefore seen by many people as a responsible snack. Because this crustacean is low in calories, it can be used perfectly during a diet. Nutritional advice is to eat fish twice a week. Shrimp can be a wonderful change in a new, healthy dish.
Shrimp dishes
Easy, fast, but also healthy?
Shrimp low in calories?
Cauliflower salad with shrimp (for two to four persons)
Shrimp cocktail (maximum four persons)
Shrimp salad (maximum four persons)
Shrimp croquettes
Cauliflower salad with shrimp (for two to four persons)
What do you need?
250 grams of shrimp
1 small cauliflower
2 tomatoes
Different types of lettuce
salt pepper
1 tablespoon of herbal vinegar
3 tablespoons of oil
2 tablespoons finely chopped parsley and chives
How are you?
Find the best shrimps and remove all hard parts from the shrimps. Clean the cauliflower and cut it into florets. Place the florets in a pan of boiling water. They are ready in about 5 minutes. Drain the cauliflower and let the cauliflower cool. If cauliflower is not available, you can also make this dish with broccoli. Then cut the tomatoes in half. Remove all moisture and seed the tomato. Cut the pulp into cubes. Make a dressing of oil, finely chopped parsley and chives, pepper, salt and vinegar. Of course you can always try to make your own dressing! Wash the lettuce and put it in a salad bowl along with the cauliflower, shrimp and tomato. Add the homemade dressing and let the salad rest for 15 minutes before serving.
How many calories does it contain?
12 grams of protein, 13 grams of fat, 6 grams of carbohydrates = 180 Kcal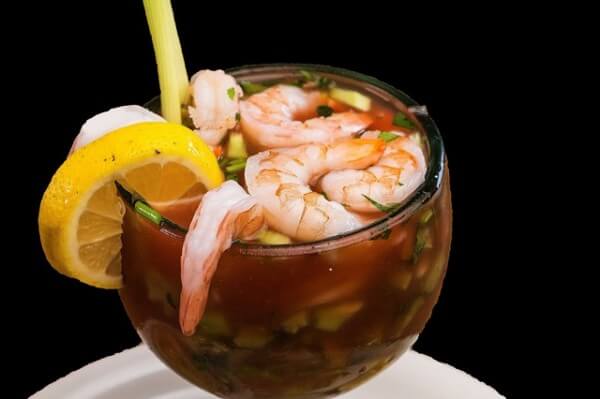 Source: Adoproducciones, Pixabay
Shrimp cocktail (maximum four persons)
What do you need?
250 grams of peeled shrimps
Parsley
Cocktail sauce of your choice
1/2 egg white
Few leaves of lettuce
4 slices of lemon
How are you?
Before you start, it is important to select the best shrimp. Inspect the shrimp carefully and remove all hard particles as best you can. Then choose a cocktail sauce of your choice. The best thing is of course if you make your own cocktail sauce! When you have made the cocktail sauce, put it in a large bowl. Add the peeled shrimps and mix well together until it becomes a puree. When every shrimp is completely covered in cocktail sauce, you have used enough cocktail sauce. Then put the mixture in the fridge for at least 30 minutes so that it can absorb well. Meanwhile, take four slices or wine glasses and moisten the rim with egg white. Cut or chop the parsley as fine as possible and sprinkle this over the egg white on the edge. As a variation, you can also use paprika instead of parsley. Place the lettuce leaves at the bottom of the glass. Remove the shrimp cocktail from the refrigerator and divide it carefully among the glasses. Try not to damage the edge. Finally, slice a lemon and hang it on the rim of the glasses to finish it off.
How many calories does it contain?
11 grams of protein, 20 grams of fat, 3 grams of carbohydrates = approximately 225 Kcal
Shrimp salad (maximum four persons)
What do you need?
2 large beef tomatoes
2 hard boiled eggs
250 grams of shrimp
Parsley
1 tablespoon of tomato ketchup
Some lettuce leaves
10 asparagus tips (canned or fresh)
3 tablespoons of mayonnaise
How are you?
Boil the eggs before starting the dish. Make sure these are well boiled and cold. Cut the hard-boiled egg into cubes. Cut the tomato in half. Remove the seeds and moisture and cut the rest of the tomato into cubes as well. Take a good look at the shrimps beforehand and remove all hard particles from each shrimp. When all shrimps have been peeled, scoop the egg, tomato and shrimp together. Grab a bowl and make the mayonnaise and tomato ketchup dressing. Optionally you can add some olive oil. Wash the lettuce and divide it evenly over four plates. Divide your shrimp mixture over the plates. Pour over the homemade dressing. To top it off, you can finely chop parsley and divide asparagus tips over the plates.
How many calories does it contain?
14 grams of protein, 14 grams of fat, 7 grams of carbohydrates = approximately 200 Kcal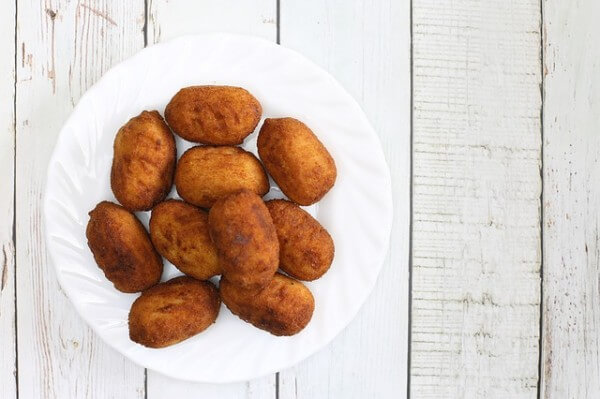 Source: Ajcespedes, Pixabay
Shrimp croquettes
What do you need?
100 -150 grams of shrimp
2 decilitres of stock
30 grams of butter or margarine
2 grams of gelatin
30 grams of flour
salt pepper
paprika or cayenne pepper
1 egg
bread-crumbs
oil or fat for the fryer
plate
How are you?
Remove all hard parts from the shrimp and cut them into very small pieces. Put the gelatin in cold water and melt the butter or margarine in a pan. Heat a delicious broth. When the butter is completely melted, fry the flour and stir it in until it becomes soft. Keep stirring and add the warm stock. It will now form a thick sauce. Wait for the sauce to boil well. Squeeze the gelatin well and add this together with the shrimps to the boiling sauce. Season the sauce with pepper, salt, paprika or cayenne powder. Grab a plate and spread the sauce over it. You may need several plates. Let it get cold first and then divide it into 8 portions. You can form croquettes with two spoons or simply with your hands. Make sure that there are no holes or cracks in the croquette. Beat an egg with 1 tablespoon of water and put it in a bowl. Roll the croquettes through the breadcrumbs and then put them through the bowl with egg. Roll them again in the breadcrumbs. Press the breadcrumbs well on all sides and shape them by hand if necessary. Turn the deep fryer to 175 C. and fry the croquettes slowly until brown and done. When the outside is crispy and the inside soft, they are done.
How many calories does it contain?
12 grams of protein, 16 grams of fat, 10 grams of carbohydrates = 255 Kcal