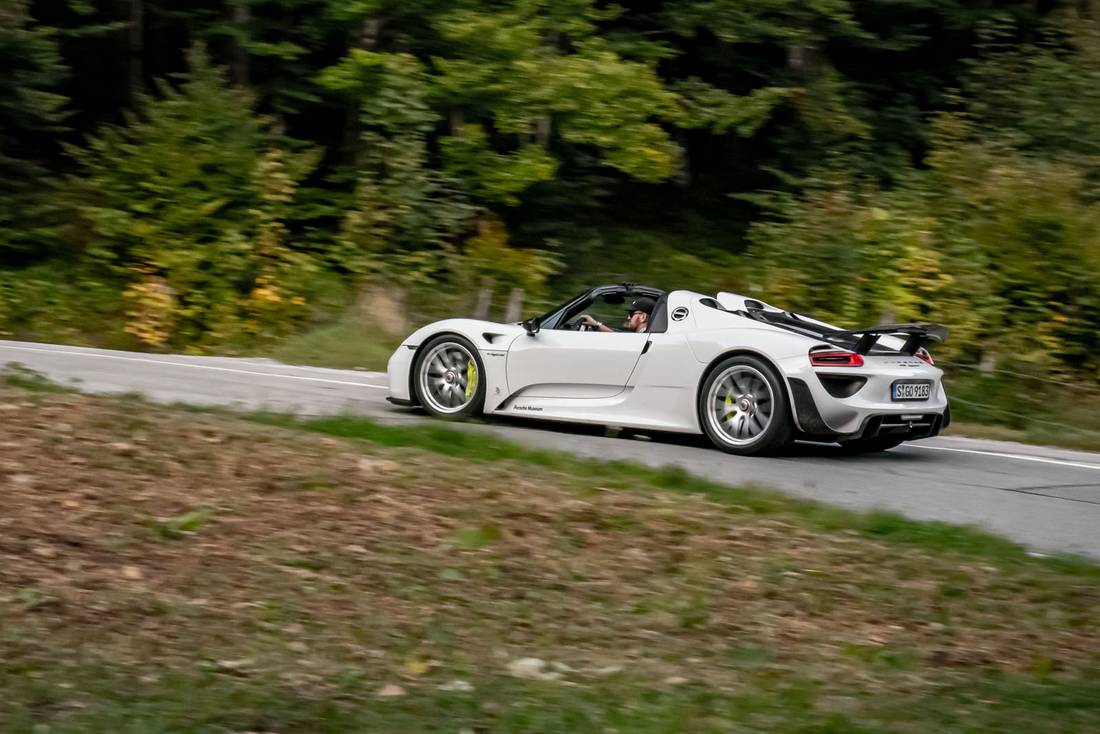 The Porsche 918 Spyder at a glance
First hybrid sports car from Porsche
4.6-liter naturally aspirated V8 + 2 electric motors with 887 system horsepower
0-100 km/h in 2.6 s, Vmax 345 km/h
Precise and very safe handling
Limited to 918 pieces
Former new price (2013) from 768,026 euros
The Porsche 918 Spyder could not be presented until the day after tomorrow
It's often like this: what is currently state of the art will be hopelessly outdated tomorrow. This is particularly common with smartphones. For example, who is still crowing about the iPhone 4 today? Its presentation was in early summer 2010, shortly after the presentation of the Porsche 918 Spyder at the Geneva Motor Show. In contrast to the Apple phone, the super sports car has retained its relevance and still drives today as if it would only be presented to the world the day after tomorrow. Many of today's Porsche customers, perhaps without knowing it, still benefit from the technical innovations of this 887 hp masterpiece. A current example of this is the new Porsche Cayenne Turbo E-Hybrid, which also has an impressive 739 system horsepower (combined fuel consumption: 1.9-1.8 l/100 km; combined CO2 emissions: 43-40 g/km ; Combined power consumption: 31.1-30.2 kWh/100 km; Combined electric range: 71-82 km)².
Read now: Porsche 959 driving report
Read now: Porsche Carrera GT driving report
So it wouldn't be wrong to claim that the Porsche 918 Spyder served as a blueprint for pretty much all of the Stuttgart-based company's current hybrid and electric models. The eternal icon, the Porsche 911, will hopefully have adopted a few ideas from the hybrid athlete when it celebrates its partially electric debut in the coming months. We'll see exactly how they mix it up between Zuffenhausen and Weissach and whether the result is a good hybrid Carrera or a racy GT2 R Hybrid. But no one needs to be afraid of the electric future at Porsche any time soon. The Mission
The Swabian Purity Law for sports car construction
The two-seater, probably with 1,000 to 1,500 hp, will most likely be a slightly modified road-friendly small series that will inherit the Porsche 918 Spyder driven here in the Zuffenhausen super sports car dynasty. When it is delivered, it initially rolls off the truck as quietly as a whisper, and at this point we cannot fully hide our exuberance for this automobile. There is the hottest thing from Weissach ever, looks like the epitome of a hypercar and sounds… like a Prius. Crazy! We then begin to prepare the vehicle, which costs between 1.5 and 2.4 million euros – depending on the offer – for its first trip. This means that we always remove the two-part carbon roof. We pause again. The values ​​in the data card make you feel a little sick to your stomach, even if you have driven many other fast cars before. One thinks of Walter Röhrl and his quote: "A car is only fast enough when you stand in front of it in the morning and are afraid to unlock it." Well, Walter, we can understand this statement 100 percent from now on.
No matter how many fast cars they put in our yard, no one has even come close to preparing us for the technical genius we are about to experience here. If there were a Swabian purity law for sports car construction, for our taste it would always have to contain two electric motors, a 4.6-liter naturally aspirated V8 and two top pipes as an exhaust system. Without any noise, we roll out of the local area in our hyper-hybrid and turn the mode switch to "S" for the first time. Afterwards, the world literally stops before it goes down in a roar of thunder. This eight-cylinder, which rotates up to a maximum of 9,150 rpm, is a revelation and only sounds half as good in every single online video as it does in reality. The lightest production V8 at the time can handle almost every pitch that eight cylinders can offer. From whispering to screeching to under-revving pick-up HEMI booming, it's all there. The latter was and is certainly atypical for a V8 with a flatplane crankshaft.
Technical spectacle with an addictive factor
We can't put it any other way, but in direct comparison, a current 4.0-liter GT boxer engine is more like an organ player at a child's birthday party. In the 918 Spyder, however, you are entertained by a drive trio that rocks the party in an almost unprecedented way. No jerking, no jerking interrupts the performance escalation – the changes between the combustion engine and the two synchronous machines always work perfectly. The mid-engine V8 (608 hp) is flanged directly to one of the two electric motors (115 kW/156 hp) via a separating clutch; power is transmitted to the rear wheels via a seven-speed direct-shift transmission. The other electric drive (95 kW/129 hp) is also equipped with a separating clutch without a direct mechanical connection on the front axle and has a fixed gear ratio. It is disconnected from 265 km/h to prevent the machine from over-revving.
If the three engines are challenged accordingly, the almost 1.7 tonne 918 Spyder RS ​​(with optional Weissach package) marches forward quite mercilessly. We rehearsed the corresponding cavalier start far out there, far away from any civilization. Free road, no traffic, brake hard, grit your teeth quickly and then off you go! 2.6 seconds from zero to 100 km/h hardly seems invented; your head and stomach would also accept a few hundredths less. The passenger anyway. How the 21-inch magnesium wheels, including the mounted and specially mixed Michelin Cup Sport 2, bite into the asphalt – it really leaves you salivating!
The 918 Spyder is not for speeders, but for connoisseurs
According to our colleagues, "auto motor und sport" only reaches the end of the terrain at a speed of 351 km/h (factory specification 345 km/h). We believe them, we didn't really want to drive out on the motorway, which is hardly empty anymore. But if you think that the 918 Spyder is only for true speed freaks, for people who constantly have to go overboard in traffic, we can reassure you. 887 system horsepower also has a tame side. Then when 608 of them are suddenly shut down using the "map switch" on the steering wheel. The work is now done solely by the electric motors, which are mathematically 286 hp. The connoisseur quickly learns when to leave the combustion engine silent, where he doesn't want to make himself morally vulnerable in the new development area and in front of city cyclists.
In any case, you are still far superior to most other road users with the electrical power on offer, even today. Even without the eight-cylinder engine's intervention, the 918 reaches country road speed from a standstill in just under seven seconds. The maximum speed is currently 150 km/h purely electrically. Yes, even the pure electric range isn't that bad thanks to the 6.8 kWh battery. Neither a McLaren P1 nor a Ferrari La Ferrari can travel more than 15 kilometers – to measure like against like. Anyone who uses electrical technology skillfully will ultimately be rewarded with an almost unbelievable average consumption. For us it was around 9.5 liters per 100 kilometers.
This Porsche goes into the (curving) battle with a grin
This very special plug-in hybrid can of course be charged via cable (up to 3.6 kW), or by pressing hard on the gas. As quickly as the battery empties when full power is required, it is filled again just as quickly. Which ultimately brings us to the Spyder's cornering qualities. During four days of testing, we didn't see the traction control flashing even slightly. No matter how hard you attack a bend, this Porsche comes into battle with a grin. Because of the enormous mechanical grip, it demands even more from you and obviously wants nothing less than to win the war against driving physics. This is also possible thanks to active aero elements on the front of the vehicle, the underbody and the 120 millimeter extendable rear spoiler. Equipped in this way, almost 900 hp can be moved quite effortlessly and safely, even by today's standards.
The (all-wheel) drive, (all-wheel) steering and of course the adjustable chassis form a unit that we have hardly ever experienced in any other car. The 918 Spyder is normally very comfortable on the road, is never too low even for poorly asphalted hinterland roads or underground car parks and we clearly set the steering precision on a par with the new Porsche 911 S/T (combined fuel consumption: 13.8 l/ 100 km; combined CO2 emissions: 313 g/km)². Thanks to the standard carbon full-shell seats, you are pretty much perfectly connected to the car, although the seating, in a slightly modified form, is now worn through pretty much all sports equipment from Stuttgart. But the 918 isn't perfect either. The biggest shortcoming of the million-euro hypercar is its operation. The touch fields on the gracefully stretched center console no longer worked properly. Or only if you clicked next to the actual symbols.
Conclusion
Anyone who spends a few hours on the road with the Porsche 918 Spyder will inevitably come to two conclusions. The first: This supercar is one of the best cars ever built. And the second: Why haven't the Stuttgart-based company partially electrified their holy sports car grail, the Porsche 911, long ago? They would have had the know-how over ten years ago and the technology used still works brilliantly today. (Text and image: Thomas Vogelhuber)
Technical data Porsche 918 Spyder
Model: Data Porsche 918 Spyder
Engine: Eight-cylinder vacuum cleaner, 4,593 cc + 2 electric machines
System performance: 887 hp (652 kW) at 8,500 rpm
Torque: 917–1,280 Nm (entire system, depending on gear)
Drive: situational all-wheel drive, seven-speed PDK
Battery: 6.8 kWh lithium ion
Combined fuel consumption (NEDC): 3.1-3.0 l/100 km²
Combined CO2 emissions (NEDC): 72-70 g/km²
Electric range: 16-31km
Test consumption: approx. 9.5 l/100 km
Acceleration (0-100 km/h): 2.6s
Acceleration (0-200 km/h): 7.3-7.2s
Acceleration (0-300 km/h): 20.9-19.9s
Maximum speed: 345 km/h (electric 150 km/h)
Dimensions (L/W/H): 4.64m/1.94m/1.17m
Weight: approx. 1,674-1,634 kg
Former new price 2013: from 768,026 euros