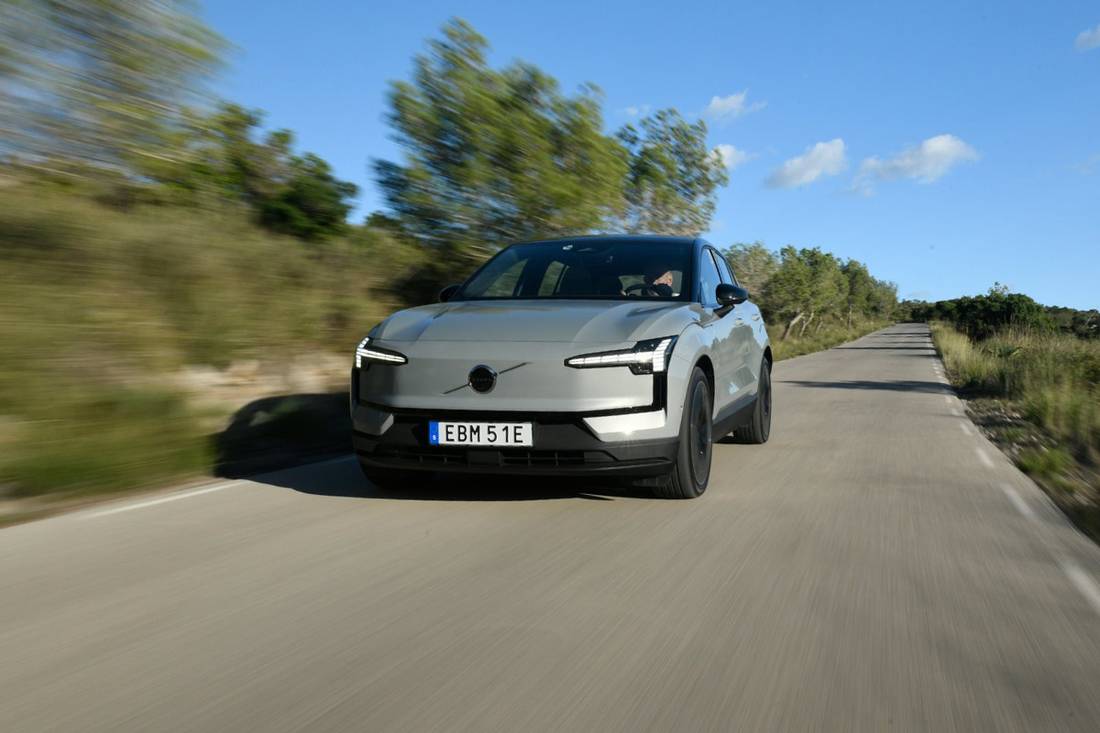 Smallest Volvo on new SEA2 platform (Geely)
Minimalist design inside and out
New operating concept with Google operating system
272 to 428 hp, 0-100 km/h in 3.6 to 5.7 seconds
Starting price from 36,590 euros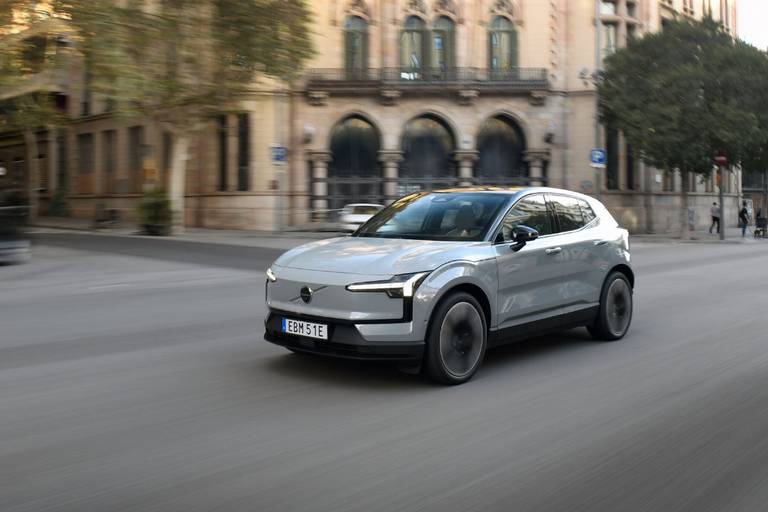 Clear lines, few frills and the striking LED headlights "Thor's hammer" characterize the exterior appearance of the new Volvo EX30.
The Volvo EX30 is barely more expensive than an electric Opel Corsa
It's been a few years since Volvo brought a completely new model to dealers with the compact SUV XC40 (from 2017). So raise the curtain for perhaps the new star in the highly competitive small car SUV sky, the Volvo EX30. With its 4.23 meters in length (which, in terms of space, is mainly in the first row, less in the second row; trunk only 318 liters), the Stromer ostensibly competes with the electric versions of the Jeep Avenger and Peugeot 2008 as well as the Geely Group sibling Smart #1. It is also interesting that the EX30, available from 36,590 euros, costs barely 2,000 euros more than the freshly facelifted Opel Corsa with the old basic electric engine (Volvo EX30 model series, combined power consumption: 17.5-16.7 kWh/100 km; CO2 Combined emissions: 0 g/km; Combined electric range: 344-476 km)².
Unfortunately, we cannot report anything on the basic EX30 Core variant and its material quality in the interior, as during our first test drives in and around Barcelona we only had vehicles in the highest, but high-quality, sustainably manufactured Ultra equipment line available. A look at the configurator at least reveals that the basic model is anything but naked. Among other things, "Thor's Hammer" LED headlights, 18-inch wheels, numerous assistance systems and the 12.3-inch touchscreen with Google operating system and wireless Apple CarPlay are always on board. A heat pump, on the other hand, is only available from the expensive Ultra equipment line and then only with the larger battery.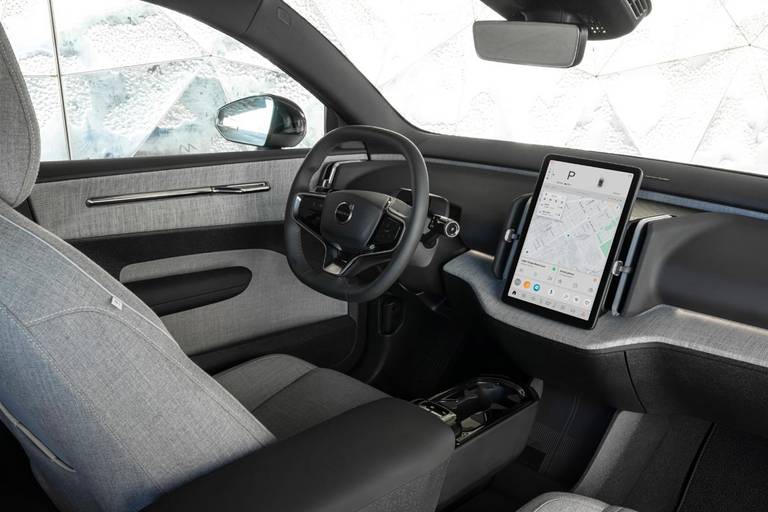 The EX30's cockpit has been reduced to the absolute minimum. There is no instrument cluster or real control buttons.
Minimalist operating concept with room for improvement
Before we talk about the driving qualities, let's first stick with the Volvo's innovative operating concept. It is, to describe it in one word: minimalist. The only real thing you can touch is the window regulators, otherwise you just press and wipe as much as you can. You can now have a wonderful argument about whether it makes sense, for example, to select the exterior mirror adjustment in a raised display and then adjust it using the steering wheel buttons. Meanwhile, those responsible for Volvo on site said that it wasn't all that bad, after all, you do it once and then never again. That may be true, but it didn't convince us at first. In Gothenburg they will certainly have thought about the removal of the instrument cluster. Like Tesla, driving-relevant data is only displayed in the upper area of ​​the infotainment screen. However, if you want to read the speed there, the active driver monitoring will immediately warn you to keep your eyes on the road again. However, Volvo wants to put an end to this overreach by the market launch in 2024.
Some people will certainly have to get used to this reduction, especially if there is already another, slightly older Volvo in the household. What the old Swedes, on the other hand, didn't master so well was: software. Google has been helping here since the introduction of the electric XC40 in 2021. Although the operating concept certainly has its (sometimes major) weak points, Google Maps works almost smoothly and there are numerous streaming services and other car-related apps to choose from. In addition, the hardware used appears to be sufficiently powerful and the very well-functioning voice control leaves many competing systems far behind. We also liked the powerful Harman Kardon Premium sound system in the test vehicles, which includes a total of nine speakers and a 1,040 watt amplifier (available from the EX30 Plus version starting at 39,590 euros).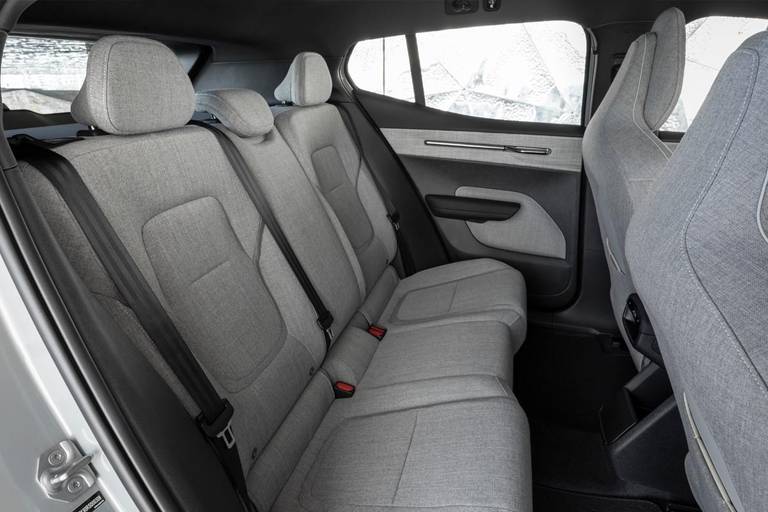 Typical of a small car SUV: the space in the second row is very limited. The two-part rear seat can at least be folded down to form a flat loading area.
The 272 hp EX30 with single motor is completely sufficient
And while we've already gotten to Watt, let's move on to the driving chapter. We would like to point out here that the top-of-the-range all-wheel-drive Twin Motor Performance engine with a maximum of 315 kW/428 hp accelerates at the level of a sports car (0-100 km/h in 3.6 seconds). But you also have to be prepared to spend at least 48,490 euros. The rear-wheel drive EX30 single engine, however, is completely sufficient for everyday use and, with 200 kW/272 hp, accelerates hardly less vehemently (5.3-5.7 seconds). Incidentally, all engine variants of the compact SUV are limited to 180 km/h.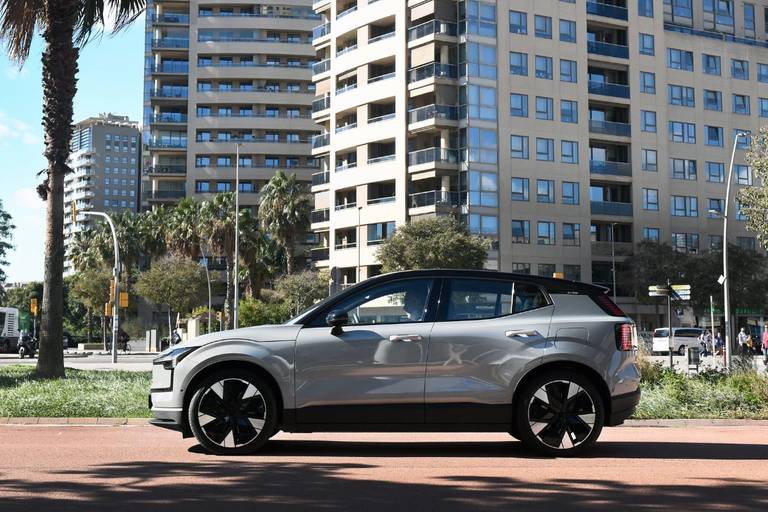 With a length of 4.32 meters, the EX30 fits into almost any parking space. The elevated seating position makes it easier to get in and allows a good overview of what is happening on the road.
Extended Range variant covers more than 350 kilometers
We think it makes more sense to go for the larger of the two available energy storage devices. While the basic Volvo EX30 starts with a 51 kWh lithium iron phosphate battery (max. AC/DC charging power 11kW/134 kW, WLTP range up to 344 km), the model variants are Single Motor Extended Range and Twin Motor Performance is based on a 69 kWh nickel-manganese-cobalt battery (max. AC/DC charging power 22kW/153 kW, WLTP range 450-476 km). Initial test consumption according to the on-board computer of between 18 and 21 kWh per 100 kilometers shows that the Volvo EX30 Single Motor Extended Range can achieve a range of more than 350 kilometers. Of course, in this case it must be taken into account that we tested the car in Spain at temperatures of more than 20 degrees.
Regardless of location, it can be said that the compact SUV can be moved confidently in everyday situations, but the EX30 is not a proven corner robber. The chassis was comfortable and the steering was tuned to be smooth. Don't expect too much feedback from the road. In addition, the structure of the weighty EX30 (approx. 1,830-1,943 kg) wobbles slightly in curves, the otherwise comfortable seats lack lateral support and the driving stability programs try to ensure composure early on. The real one-pedal driving, which can be activated in the Volvo's submenu (similar to the XC40), is pleasing on and off Catalan mountain roads.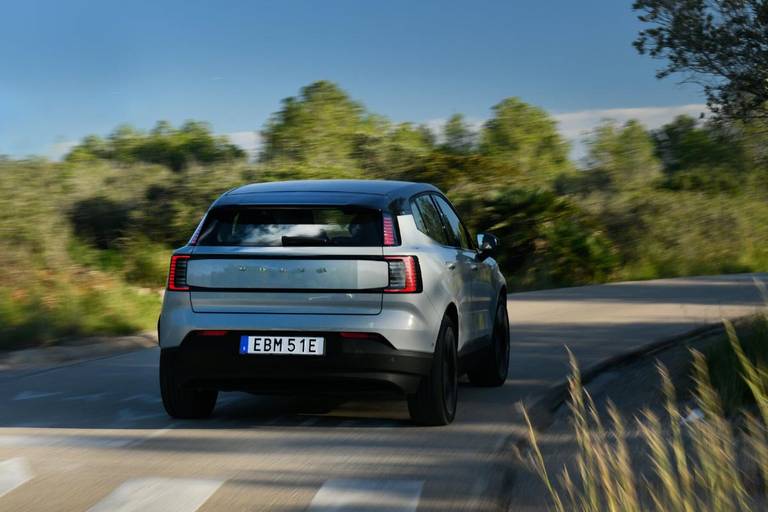 Although the Volvo EX30 can also be ordered with a rapid 428 hp, the basic 272 hp is already sufficient for everyday use.
First conclusion
With the new EX30, Volvo has created a small SUV that is neat and confident to drive in everyday life and shares the SEA2 platform with its Chinese siblings Smart #1 and Zeekr X. Geely's policy of using the same parts for floor pans, batteries and drives enables the Swedes to offer at least the basic EX30 at a competitive price. However, compromises have to be made when it comes to the minimalist operating concept and, as is typical for the segment, the space available. If you want more equipment (and a heat pump), you will also have to dig deep into your pockets. (Text: Thomas Vogelhuber | Images: Manufacturer)
Technical data Volvo EX30 Single Motor Extended Range
| | |
| --- | --- |
| Model | Volvo EX30 Single Engine Extended Range |
| engine | 1x electric motor |
| drive | Rear wheel, 1-speed reduction |
| Max. system performance | 200 kW (272 hp) |
| Continuous performance over 30 minutes | n/a |
| Max. system torque | 343 Nm |
| battery | 69.0 kWh (net) nickel-manganese-cobalt (NMC) |
| Max. charging power AC/DC | 22kW/153kW |
| Combined power consumption (WLTP) | 17.0 kWh/100 km² |
| Test consumption according to on-board computer | 18.0-21.0 kWh/100 km |
| CO2 emissions combined | 0 g/km² |
| Range according to WLTP | up to 476 km (weighted)² |
| Range measured in the test | n/a |
| Acceleration (0-100 km/h) | 5.3s |
| Top speed | 180 km/h |
| Dimensions (L/W/H) | 4.23m/1.84m/1.55m |
| Curb weight | approx. 1,833 kg |
| Trunk volume | 318-904 l + 7 l Frunk |
| Towing capacity | 1,400kg |
| Base price Volvo EX30 Single Motor Extended Range | from 41,790 euros |