Frying pans: What kinds of variants are there?
Frying pans are available in all kinds of variants. As a consumer, it is important to carefully consider safety and the quality / price ratio. These can be very different. It is also important to consider for what purposes you want to use the cookware. Some variants can handle very high temperatures and are especially suitable for searing various meat dishes. Some types of pans have the property that they can be used for life.
Frying pans
What kind of food can I prepare with a frying pan?
Pans with a non-stick coating
Stainless steel pans (sheet steel)
Anodized aluminum pans
What kind of food can I prepare with a frying pan?
A frying pan is called a 'frying pan' in English. The frying pan is suitable for certain types of food. This is usually suitable for baking meat, fish, pancakes and eggs. However, it is not suitable for making dishes such as pasta that require a large amount of water. Frying pans are not designed to bring water to the boil quickly.
Pans with a non-stick coating
The non-stick coating is the main ingredient of the frying pan. This is actually baked on and determines the quality of the food. A bad non-stick coating can in some cases be bad for your health. A good non-stick coating, on the other hand, is safe and ensures a longer useful life of the pan. You can choose between different types of pans with their own non-stick coatings.
Harmful substances in Teflon pans
The well-known brand Teflon is a cheap pan with a non-stick coating. Often the pan has a red point in the middle. However, the substance in the non-stick coating appears to be harmful to health. This substance is known as 'PTFE', or 'polytetrafluoroethylene'. The hotter the pan gets, the more likely it is that toxins will be released.
Pans with a ceramic non-stick coating
Ceramic pans are quite inexpensive. These pans do not contain any toxic substances and the coating is of good quality. It can withstand a temperature of about 450 degrees. The non-stick coating is a bit more fragile, which makes it important to study the thickness of the bottom when purchasing. Maintaining a ceramic pan is very easy. The pan can already be cleaned with lukewarm water. It is not recommended to put the utensils in the dishwasher.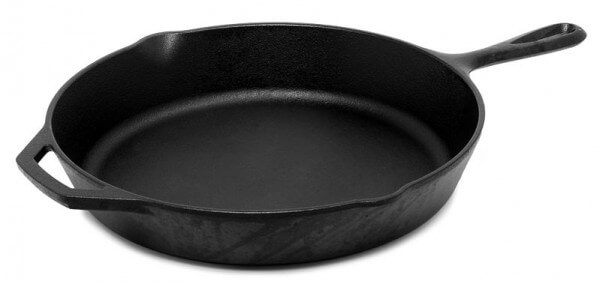 A cast iron frying pan /
Source: Evan-Amos, Wikimedia Commons (Public domain)
Frying pans made of cast iron
Cast iron frying pans are quite heavy compared to other pans. There are two types of cast iron pans, namely with and without an enamel layer. An enamel layer is a protective layer on the bottom. The ones without an enamel coating must be treated with oil before the utensils can be stored.
Natural protective layer
The specimens that need to be treated with oil have a natural protective layer in this way. It is therefore not recommended to place these pans in the dishwasher. The 'Ronneby Bruk' brand usually produces cast iron pans that are available in all sizes.
Stainless steel pans (sheet steel)
These pans are also called 'stainless steel pans'. Stainless steel stands for 'stainless steel'. Stainless steel pans have the special feature that they have no non-stick coating and are cheaper than some other pans. The advantage of these pans is that you can effectively sear meat and that you do not have to take the bottom into account as much.
More layers
The soil usually consists of several layers and can handle a high temperature. The number of layers can sometimes go up to seven layers per pan. However, the disadvantage is that it is more difficult to prevent meat from burning. One has the option of using oil and fat to prevent this. 'DeBuyer' is a well-known brand that mostly sells stainless steel products.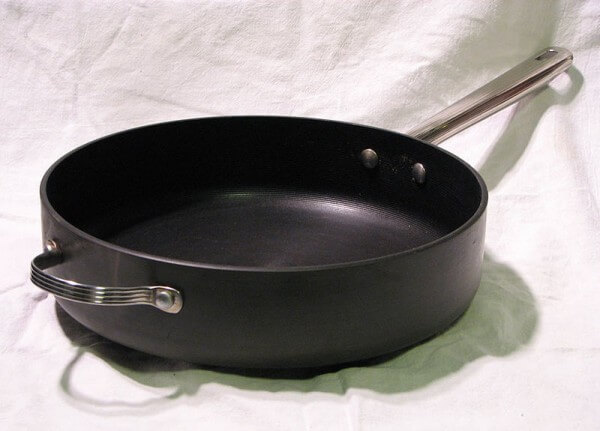 An anodized aluminum pan /
Source: FiveRings, Wikimedia Commons (Public domain)
Anodized aluminum pans
Just like stainless steel pans, these pans do not have a non-stick coating. Pans made of anodized aluminum are very sturdy and do not contain any toxic substances. This type of pan is made of machined aluminum. These pans are even sturdier than stainless steel pans and can usually be used for decades. Because of this firmness, it is possible to use stainless steel spatulas. At most, small scratches will appear that are only on the surface.
Cleaning the pan
Because of this strength, the pan can be cleaned with a scouring pad without damaging the material. However, it is not recommended to put the pan in the dishwasher as this can still shorten the lifespan of the pan. This can cause the pan to rust. The cookware cannot be used with induction plates.