Contents
Which is cheaper, painting or foiling?
Advantages and disadvantages of the painting or foiling techniques
Why is the cost of repainting a car so high?
How much does it cost to repaint a car?
Is DIY foil recommended?
How much does it cost to paint a scratch on the car?
How do I find a suitable specialist workshop for foiling or painting?
Conclusion: The high costs for painting or foiling are difficult to avoid
Which is cheaper, painting or foiling?
The crucial question when you want to give your car a new look is whether the cost of painting is worth it. Both varnishing and the alternative foiling have advantages and disadvantages and depend on your preference.
The following questions will help you decide which technique you prefer:
How much money do you want to invest?
How long should the new look last?
Would you like to make changes in between?
What protective properties should the new coating have?
Advantages and disadvantages of the two techniques foiling or painting
We present the most important pros and cons on the subject of new film or new paint.
painting the car
From large-scale painting should inexperienced hobbyists keep their distance.
The risk of irreparable damage is high. Subsequent repairs are complicated and expensive.
wrap car
As an alternative to repainting the car, which is associated with high costs, foiling is an option. Although less sustainable and durable, car owners can personalize the appearance quickly and impressively.
Why is the cost of repainting a car so high?
At the beginning of the planning there is the question of costs. These are high when painting for various reasons. Before a new paint can be applied, the workshop must completely remove old paint. This is one of several time-consuming activities that drive up the cost of repainting the car.
All work steps together, the painting process takes several days. Only the working time of the specialist workshop is reflected in the invoice. You also have to dig deep into your pocket for high-quality paint. Depends on Vehicle type, the qualification of the specialist company, partial or complete paintinga price can be estimated in advance.
How much does it cost to repaint a car?
First of all, if you only want to paint a black roof, it is of course much cheaper than painting the entire car. These are the prices for individual components and complete paint jobs:
Refurbishment processes enable the original condition to be restored. Costs: between 350 and 700 euros (prerequisite: only slight paintwork damage)
Major paint damage from 1,750 euros
Bonnet: 450 to 600 euros
Fenders: 550 to 675 euros
Complete small car: up to 3,500 euros
Depending on the vehicle model and effort, costs up to 12,000 euros
Is DIY foil recommended?
Anyone who dares to wrap the car themselves should pay attention to the following points:
Practical experience
expertise
special tool
high quality foil
dust-free environment at suitable temperatures
much patience
Optical errors creep in quickly. Their effects are shortcomings that immediately catch the eye. This includes visible borders, overlaps, improper cropping, or blistering.
Anyone who relies on professional foiling instead of repainting the car should expect varying costs. The Prices are difficult to calculate before the start of the orderas they depend on numerous factors:
preparatory basic measures
size and condition of the vehicle
Qualification of the specialist company
Foil quality (chrome, paint protection, structure foil)
Foiling of edged and angled or straight surfaces
Partial or complete wrapping
In general, it can be said that wrapping the car is significantly cheaper than a new paint job. A damaged spot on the paintwork or the film can be repaired with a tailor-made partial film. The cost of this repair
are between 550 and 1,750 euros. One Full foiling can be up to 5,500 euros cost.
It's worth trying out and saving money
If you're planning to have your entire vehicle wrapped for only 550 euros, you can't expect perfection. Complete foiling is unusual in this price segment. Wing mirrors, door handles and bumpers are often left out
To avoid nasty surprises, we strongly recommend the following procedure:
In the initial stage of a concrete offer you discuss the procedure intensively with the workshop of your choice. Together you write down the price at which the workshop wraps the desired areas.
How much does it cost to paint a scratch on the car?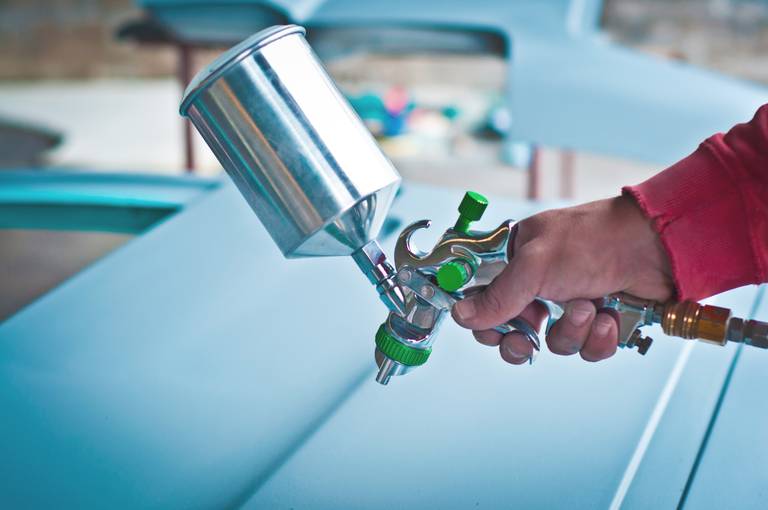 Did you get an ugly scratch while parking your car? Or are the consequences of a rockfall visible? Are you wondering whether a sufficiently good repair result can be achieved with little effort?
With a little skill, you can also do the work yourself. The financial outlay for this is manageable.
Scratches are not only unsightly, they hide them significant risk of corrosion. Once the rust has formed, it is difficult to fight against.
The quicker you iron out a small scratch or dent, the better. For this you need a standard car polish, which is available for little money in specialist shops.
The repair is only that quick and easy if the damage is inconspicuously small and the rust has not yet found a surface to attack.
More effort is required to repair major paintwork damage, such as that caused by a stone chip.
This is how you treat larger paint damage
For the treatment you need a touch-up pen set, which consists of a touch-up pen and a clear lacquer pen. Pay attention to the correct color code. You can find this in your vehicle's service manual.
Before use, thoroughly clean the damaged area and remove the grease. Shake the colored pencil vigorously and distribute the color pigments evenly. Pull out the brush and make a test stroke on a suitable surface. Ideally, use as little paint as possible and gently dab the paint on. After 20-30 minutes you can apply a second coat of varnish if necessary. Before you apply the clear coat (especially necessary for metallic paintwork), you should let the area dry overnight. When the clear coat is dry again, sand it smooth while wet and finally polish the paint.
If the damage to the car paintwork is major, a professional must be commissioned to repair it. This also applies if you are less familiar with cars. Don't overestimate your abilities.
How do I find a suitable specialist workshop for foiling or painting?
The main problem when looking for a new car exterior is finding a good workshop.
The one with the cheapest offer is rarely a good address. If you want to have your car professionally re-wrapped or repainted, you shouldn't put low costs, proximity to the location and time savings at the top. Online vehicle owners can Compare prices, services and experiencesto find a suitable specialist workshop in the area. A personal conversation and gut feeling are also important.
Conclusion: The high costs for painting or foiling are difficult to avoid
Whether rust damage, stone chipping or aesthetic reasons: When looking for a new coat of paint, vehicle owners are faced with the question: wrap or paint. If you want to improve the optics in particular, you can implement your project with foils comparatively cheaply. When it comes to preventing rust and achieving a lasting result, owners shouldn't shy away from the expense of repainting their car or individual parts.