How best to pet a cat and why petting is healthy
Cats are popular pets. The love for cats began about 6,000 years ago when farmers in the Near East brought the cats into their homes to keep pests away from their stored crops. Some centuries later, the Egyptians also discovered the cat and the animal spread from that side across Europe. They also started traveling on ships in the Middle Ages with the aim of controlling mouse plagues and spreading them further. While the cat was initially a useful animal for humans, as it became more and more domesticated, the cat took on the function of a stuffed animal par excellence. He owes this to his appearance, his special stubborn character and his high cuddly factor.
Petting an unknown cat
Socialization of cats
The meeting: scent glands
Where can you pet a cat?
On the back of his head
Behind the whiskers
Behind the ears
Under the chin
With the coat
Cat's response to petting
How do you notice a cat getting angry?
Health effects for humans
Risk of heart attack decreases when having a cat
The production of oxytocin
More endorphins in the body
Lower production of the stress hormone cortisol
Application of the health benefits of cats
Elderly
Children
Cat cafes
Petting an unknown cat
Cats don't like it when you go straight to them and touch them. Cats quickly see this as threatening. Therefore, wait for the cat to come to you. You can reach out your hand, but the best way to do so is by only extending a finger. This is perceived as less threatening than a whole hand. Then the cat will begin to sniff your hand. If he smells you and gives you cups to your hand, you can start petting him, but be careful: some cats are unpredictable and still lash out. However, most cats are not aggressive.
Socialization of cats
The extent to which a cat has been socialized plays a role here. Socializing cats starts at a very young age. It means they get used to people picking them up, playing with them and petting them early on. If they are used to that from an early age, they will be more likely to allow it and appreciate it when they are older.
The meeting: scent glands
For cats, scent is one of the most important means of communication. A cat has scent glands in various parts of its body. They rub this against people or places they want to take possession of. When a cat gives you cups, it indicates that you are his. They create a kind of group scent. That's how they recognize you as one of the group. It is the marking of their 'possession'. If a cat gives cups and thus leaves its scent, it means that it is also in for a stroke.
Where can you pet a cat?
A cat has a number of places where he prefers to be petted and also places he would rather you keep away from. If a cat lies on its side, it is at least a sign that it is ready to be petted. Always stroke with a gentle hand. Caress him so he can enjoy the touch quietly. Every cat has their own preferences, but there are some general things to say about cats' favorite places to be petted.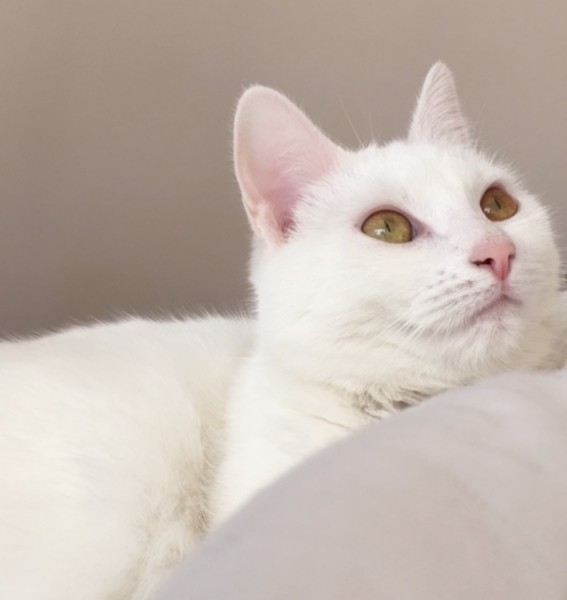 On the back of his head
Most cats like slow, gentle pats on the back of their heads and on their necks. Don't use too much pressure, cats only have a small head and are very sensitive.
Behind the whiskers
Whiskers are sensitive things to a cat. They use them to explore their environment with it. Some cats like to be lightly petted there, as well as their cheeks, but handle it gently and gently. Never take the entire head of the cat in your hand, as the cat may interpret that as aggressive.
Behind the ears
One of the favorites of almost all cats: itching where the ears attach to his head. There are many scent glands here and it is therefore a good place to pet. Try to scratch this spot lightly and the cat will enjoy it intensely.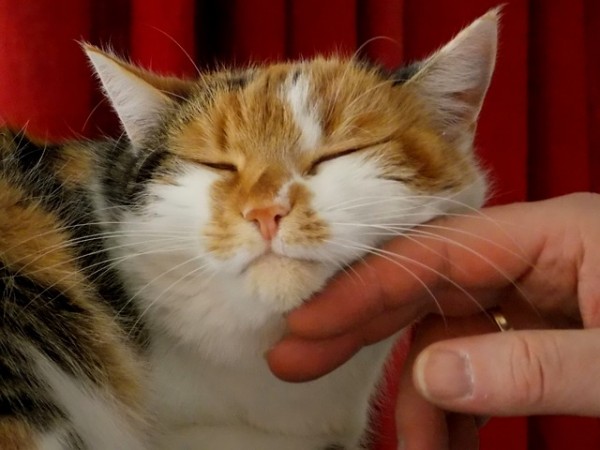 Source: Menita, Pixabay
Under the chin
Another popular place with cats: under the chin. You can pet gently or tap a little here. Try a little bit what the cat likes.
With the coat
A cat usually also likes to be stroked on its back, provided the pet strokes with the fur. Do it gently and rhythmically. Most sensitive is usually the spot just before reaching the tail. There you should also stop stroking because most cats do not like their tail being touched.
Cat's response to petting
The cat is known to enjoy petting when it purrs and closes its eyes. If a cat turns over on its back, it could be a sign that the cat is trusting you completely and that you can even pet its tummy, a place it normally guards closely as a private area.
How do you notice a cat getting angry?
A cat that has had enough can sometimes suddenly lash out. This is especially true if your hand is touching areas that the cat prefers to keep to herself. These are mainly the belly and tail of the cat. Only touch these areas if you know a cat well and you see that it is open to it. Try it very carefully at first and don't go on too long.
Health effects for humans
Cats can have a number of health effects on humans. First of all, cats make many people happy, as evidenced by the large number of cat videos that are viewed daily on the internet, especially on social media. People who are happier often feel better about themselves. Research has also been conducted on the effect of pets in general, cats in particular, and their relationship with humans.
Risk of heart attack decreases when having a cat
Research has shown that having a cat reduces the risk of a heart attack by a third. This find was the most important result of a ten-year study involving more than four thousand Americans. The 2008 study was done by the University of Minnesota's Stroke Institute in Minneapolis. This is believed to be because cats are lap animals that like to be petted. It is petting that can lower the stress level in humans and in many cases that also applies to the heart rate and blood pressure.
The production of oxytocin
Having a cat, especially petting a cat, causes more of the hormone oxytocin to be produced. Oxytocin is sometimes referred to as the cuddle hormone. When a person experiences positive contact with a cat, extra oxytocin is produced by the hypothalamus. That is very healthy, because it gives a calm and relaxed feeling. Less stress hormones are then produced.
More endorphins in the body
Petting a cat also increases the production of endorphins. Endorphins have a similar effect to morphine. It is a happiness hormone that also ensures that people experience less pain. If there is a shortage of endorphins, people will start to feel down and listless or even depressed, so there is every reason to pet a cat.
Lower production of the stress hormone cortisol
Petting a cat ensures that less cortisol is produced. Cortisol is a stress hormone. Too much cortisol makes you feel rushed and stressed. People can sleep less well. Cortisol is the hormone that is produced when people are at risk. At least that was evolutionary. In primeval times it allowed people to fight or flee when there was danger. Today, this hormone is released when there is no life-threatening situation, but when people are stressed by problems with their work, family and the like. It is a good idea to pet a cat. It will bring about the necessary relaxation.
Application of the health benefits of cats
The question arises of how the health effects of cats can be used in practice.
Elderly
Cats are nowadays regularly used to make the lives of older people more pleasant. The health effects are then used to ensure that older people who are often less active or who suffer from feelings of loneliness have a more pleasant life. There are all kinds of initiatives to bring the elderly into contact with pets.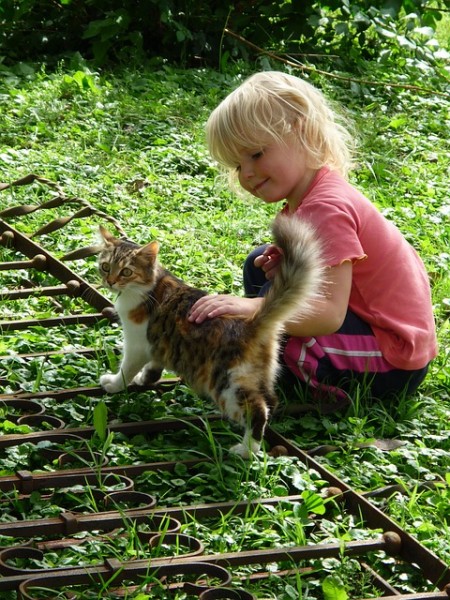 Source: EME, Pixabay
Children
Cats also have health benefits for children. They build up immunity to allergies when a cat is in the house. In addition, they learn social skills through interaction with a cat.
Cat cafes
The cat has also made its appearance in the catering industry. There are several cafes in the Netherlands where you can pet cats while enjoying a cup of coffee or tea. It's a successful concept. The cats live in the cafe and are cared for there. The guests can order a treat and create happiness hormones by cuddling with the cats.