How do I help my cat lose weight?
Just like humans, cats are becoming increasingly overweight. Domestic cats that are pampered by their owners every day and are rarely outside run a particular risk of overweight. This is not without danger, all kinds of ailments and diseases such as joint problems and diabetes can ensure that your beloved four-legged friend lives less long (healthy). Something every loving cat owner wants to avoid at all costs.
Dangers of being overweight in a cat
The dangers of (extreme) obesity in a cat are very great and have an impact on your cat's entire life. The life expectancy of obese cats drops significantly.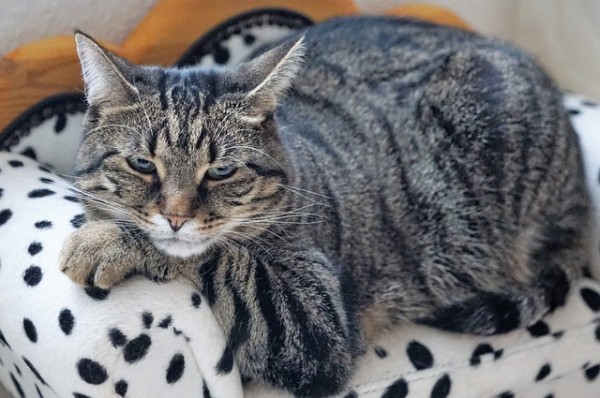 An overweight cat can develop diabetes /
Source: Photosforyou, Pixabay
Diabetes mellitus
The greatest danger of overweight in cats is the increased risk of diabetes. You have to give diabetic cats a daily injection of insulin. By giving them a daily injection, many cats become afraid of their owner and the relationship with their owner is no longer the same as before. Untreated diabetes will lead to a general malaise of your cat (no more food, smell from mouth, …) and can eventually lead to the premature death of your beloved four-legged friend.
Joint wear
As with humans, an overweight cat will develop wear and tear on the various joints and legs. Especially the legs and back will suffer from the excess weight. This can certainly be the cause of a lot of pain for your cat at a later age.
Weak heart and lungs
Obese cats have weaker lungs and a weaker heart. This ensures that your cat will walk less quickly and can increase the risk of certain conditions such as a heart attack. In addition, the poor condition of the heart and lungs can prevent your cat from surviving a general anesthetic after an operation. Often, obese cats that need to undergo surgery will need to be on a diet first.
Controlling your cat's weight
Measuring is knowing
Weigh your cat regularly; preferably on a weekly basis. That way you can see if your cat is back to normal size. You can also decide to write down the weekly weight of your cat. This way you can see whether the weight of your cat is evolving in the right direction and you can take additional measures to ensure that your cat will lose weight (faster).
Nutrition
Proper nutrition is extremely important for a weight-loss cat. Therefore, carefully consider which changes you can make to the diet of your obese cat.
Diet food
Cats are carnivores and must therefore also be fed meat. Switching to plant-based food, as people sometimes do with a diet, is out of the question. They will get very sick of this. Therefore, choose special diet food for your cat (possibly in consultation with your vet). There are various types of diet food for obese cats on the market.
Smaller portions of food
You can also choose to feed your cat smaller portions. In any case, it can help to check how much food your cat really needs. The appropriate amount of food is usually stated on the food bag. Therefore, weigh the food before you give it. This is very important, because often people carelessly give too much food to their cat; for example, if you take 55 grams per day instead of the anticipated 50 grams per day (which the producer himself indicates), then you will soon have given your cat 10% too much food per day.
However, reducing your cat's diet does not mean that you should completely stop feeding your cat until it is back to the desired size. Even though a cat has sufficient fat reserves, a cat must absorb vitamins on a daily basis. Stopping feeding your cat completely will make him or her seriously ill, weak and unhappy. The waste process must therefore take place gradually.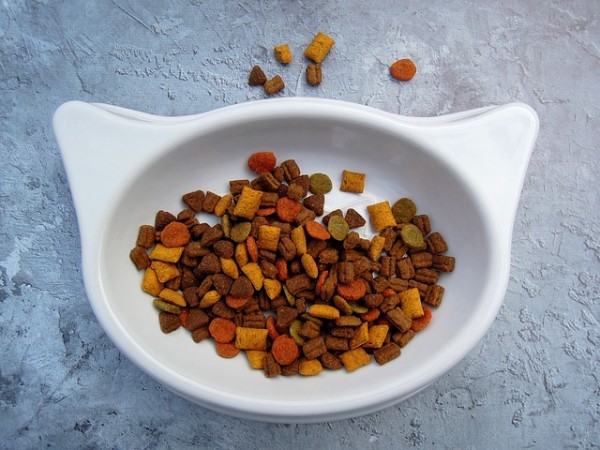 With large and open bowls, the cat will have a tendency to startle /
Source: Crepessuzette, Pixabay
Anti-shock bowls and feeding toys
A different food bowl can also help to help your cat lose weight. There are special anti-shock bowls that make it more difficult for the cat to touch the food. Often they have to fish the food out of the bowl with their paws, which requires more effort and time for the cat. In this way you avoid that your cat "eats" its bowl in one go. In addition, your cat needs to exercise more to get to eat, which helps him / her burn calories. The same goes for special feeding toys such as a feeding ball, where chunks fall out when the cat hits the ball.
Keep your cat's diet full
It is important that you stick to your cat's diet. During the first few days, your cat will do its utmost to convince you to give more food. Walking around you sad, meowing a lot and looking deep into your eyes are tactics the cat will use to convince you to stop the diet. If you are inclined to give in to your cat, consider the illnesses and conditions your dear cat can develop if it stays fat. This should be convincing enough not to give your cat extra food or treats.
Movement for your cat
Fat cats are often lazy cats too. You can make your cat move more in various ways.
Play with your cat
A lazy cat will not play much by itself, even if it has a lot of toys. However, it can help some cats to actively play games with them. Sometimes throwing a ball around, playing with a laser beam (be careful, this laser should not be too strong; this is dangerous for the eyes), or waving a toy on a string can stimulate your cat's hunting instinct.
Also check whether your cat has enough space to play. Maybe your cat benefits from extra play space in the form of a scratching barrel, cat tower, scratching post or a scratching mat. More play space can be a motivation for some cats to play more with their available toys.
To walk
For some cats who don't go outside, taking them for a walk can help. You can take a walk outside with a firm leash and if your cat is not too anxious or wild. You can also lift your cat on a regular basis and place it somewhere in the house so that he or she has to walk back to his or her sleeping place. An upper floor or top of a closet are ideal places that force your cat to make a vigorous effort to get away. Also provide a good distance between the sleeping and eating area of ​​the cat. For example, your cat has to walk at least a few meters before it can eat.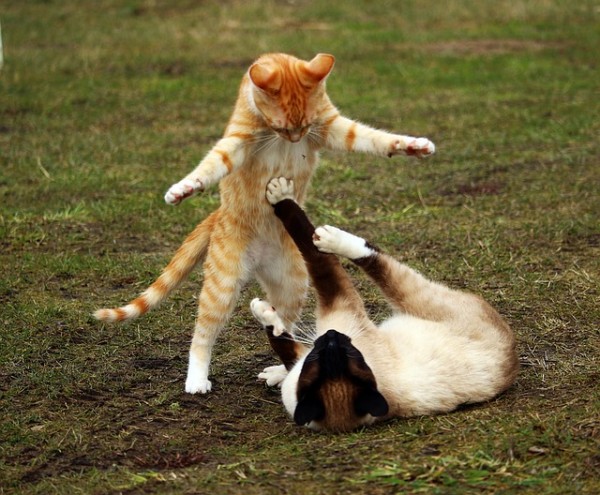 A new cat can sometimes help your fat cat get more exercise by playing with him /
Source: Rihaij, Pixabay
A playmate for your cat
Have you been thinking about a second cat for a while? Then a new playful cat in the house can help your fat cat to move a little more. Note that you must be able to vouch for the care of this new cat and that you must be sure that this new cat can stay with you for a longer period of time. You can't be supposed to get rid of this new cat once your obese cat has lost weight. A new cat is not a consumer item and should be an integral part of your family.