Information about mirror carp
The mirror carp is a common freshwater fish that we can find in various places in Europe, including in Dutch waters. The mirror carp belongs to the real carp family, the Cyprinidae. The carp can be found in various types of waters and can already occur in waters with a depth of 50 cm. In the Netherlands, both the wild variety and the cultivated variety occur.
Information about mirror carp
The mirror carp is considered a real sport fish because of its size, endurance and strength. Fanatic carp anglers have a great preference for catching mirror carp over the "normal" scale carp. After all, every mirror carp is unique and has its own pattern in the form of scales on the side of the fish.
A mirror carp can reach a maximum length of +/- 120 cm, which is in most cases not achieved and will stop at a length of +/- 100 cm. The maximum age of a carp is +/- 50 years old.
Nutrition of mirror carp
The nutrition of a mirror carp is the same as that of a normal carp. The mirror carp mainly uses its sense of smell to look for food. They are real soil eaters and like to dig in the mud in search of tasty snacks. Think, for example, of insect larvae, worms and crustaceans. In addition, a mirror carp is fond of snails, from large to small, whose shell is completely ground and brought out again through the gill covers.
Nursery for mirror carp
There are several nurseries for mirror carp in Europe. A well-known nursery is the Valkenswaard fish breeding center, which has over 11 hectares of breeding ponds. The fish species are reproduced in a special hatchery, including the mirror carp. Subsequently, these are released as larvae in the ponds, whereby only natural nutrition in the form of plankton is used in the beginning. When the larvae develop into small fish, they are supplemented with fish food.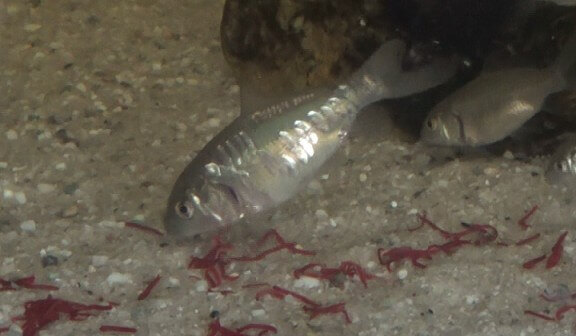 Mirror carp in aquarium
Keep mirror carp in the pond or in an aquarium
Many carp fish are so fond of mirror carp that they want nothing more than to keep their own mirror carp in the pond or to grow up in an aquarium from an early age. This is also possible, provided the aquarium or pond offers sufficient space. The same rules apply to a pond as apply to a Koi pond. After all, it concerns the same fish species, which will grow to the same length, has the same characteristics in terms of nutrition, water quality and space.
For a pond, a minimum size of 10,000 liters must be maintained, with a depth of 150 cm. An aquarium is by definition not suitable for adult mirror carp. Young carp, on the other hand, can be grown up well in it. Make sure that sufficient filtering applies in the aquarium, as carp are huge pollutants.
Where can I buy a mirror carp?
Mirror carp are offered at various places. Private individuals often sell small carp through online websites. This is not completely reliable in all cases. It is also possible that the private individual has caught the carp himself in nature, below the minimum size, which is prohibited. In addition, you run a great risk that the carp carry parasites or bacteria which then end up in your pond. It is best to buy the mirror carp from a reliable shop, a pond shop or Koiwinkel, which has purchased the carp from a nursery.