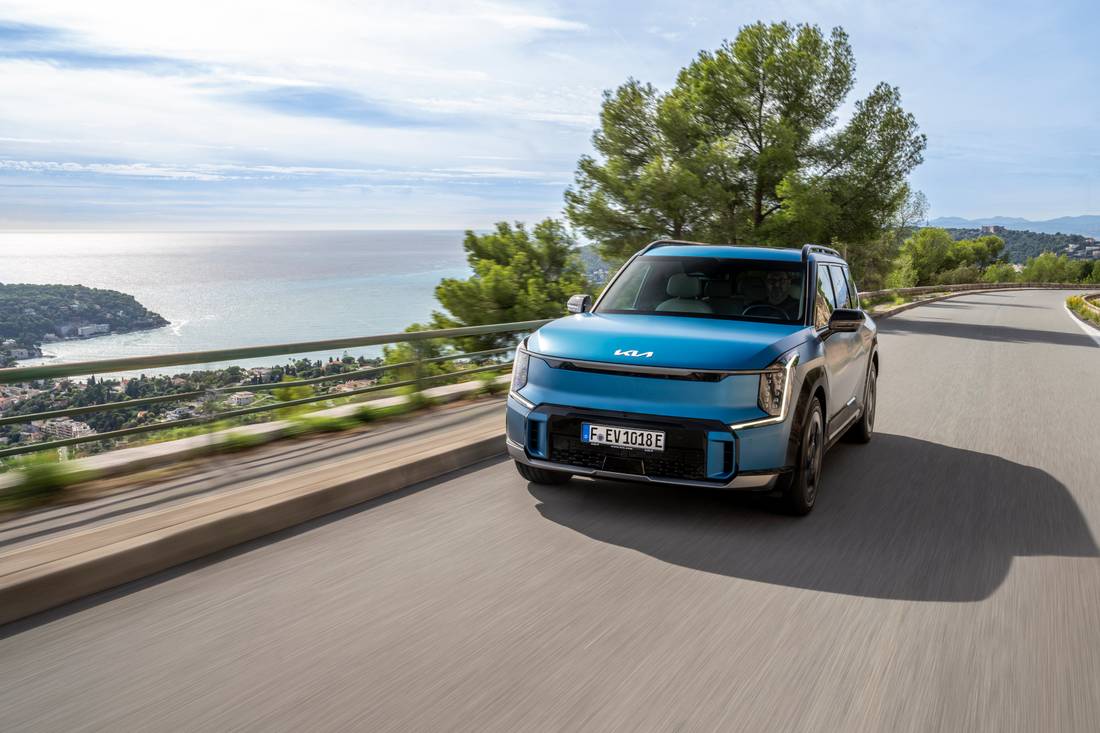 The Kia EV9 at a glance
The new Kia flagship comes as a 6 or 7 seater
Approximately 2,400 liters of trunk space + 2.5 tons of trailer load
Up to 563 km range (depending on model)
Top model has 385 hp and 700 Nm of torque
Starting price from 72,500 euros
The first cars are already at dealers
Space miracle Kia EV9! The wheelbase measures a generous 3.10 meters, and the seats in the second row can even be rotated.
A real space miracle, but still only as long as a BMW five-series
Shock at first sight. The Kia EV9 is not just big, but damn big! Even the heavenly light Ocean Blue paintwork can't hide it. So now they are already building mobile living room cupboards. Oh what: an entire penthouse on wheels. The Korean van-SUV bus is angular and powerful. And somehow it looks undriveable. A quick look at the technical data – you can be wrong. At five meters long, it is no bigger than a new five-series BMW or the next VW Passat Variant. With a width of 1.98 meters without mirrors, it ranks in the middle of the field. And the almost 1.80 meter height is usually suitable for underground parking. A typical example of how appearances are sometimes greater than reality. But this time in a positive sense.
The long wheelbase of 3.10 meters is striking – not only on paper, but also when you try it out. At the front you have a feeling of space like in a coach, and in the second row the motto is: Luxury means space – and the EV9 has plenty of it. A third tier is available upon request. Real wooden class, but it's not grandma and grandpa sitting here, but rather the youngest family members on the way to foot, foot, hand or other ball events. Worth mentioning here: The seats in the second row can be rotated: a blessing for mom and dad who want to install a child seat without having to contort themselves. Older people may also appreciate the swivel seats. And another reason why you sit in the second row like you do in the first: all armchairs can be cooled and heated.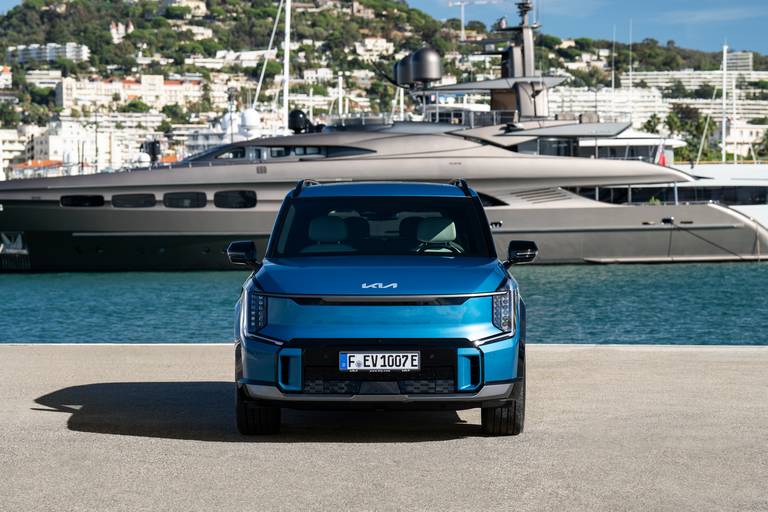 Hardly any other manufacturer has changed its design as much as Kia in recent years. The Koreans also prove that a concept can be taken very consistently to series production.
Kia EV9 extremely strong: trailer and support load like a combustion SUV
Another word about space: With a trunk volume of up to 2,400 liters, the EV9 is a real loudmouth, especially since it receives its load completely flat. Which brings us to the jack-of-all-trades mentioned at the beginning. Lay all the seats flat, pop a mattress in the back – and you have half a motorhome. You can charge your cell phone or plug in the espresso machine at the 230-volt socket in the rear, and the vehicle-to-load function (via the charging port) can even be used to supply other electric cars with power from the EV9 if necessary. There are hardly any limits to your imagination. Let's get to laying eggs. Question: Is there an electric SUV, other than the BMW iX, that can also tow 2.5 tons? Now definitely the EV9 and the Korean is also strong when it comes to the support load. He shoulders 125 kilos and makes up to three electric bikes.
However, this requires the expensive all-wheel drive variant EV9 AWD (combined power consumption: 22.3-22.8 kWh/100 km; combined CO2 emissions: 0 g/km; electric range: up to 512 km)². A motor at the front and an electric machine on the rear axle. At Hyundai/Kia they have brought this to performance perfection with the EV6 GT, and in the EV9 they deliver the civilian version. Well – as a GT-Line, the van SUV sprints from zero to 100 km/h in 5.3 seconds. Then you lie down and don't get up again. Friends, these are sports car values. With a 2.7 ton truck! Of course, it doesn't feel like it. On the contrary: the EV9 winds its way through narrow streets relatively confidently and jaggedly. Not a Porsche 911, okay, but agile. We have to cover almost two kilometers in reverse gear because the garbage collector doesn't want to make room and can't because the streets here in the hinterland of Nice are sometimes quite narrow. The EV9 does this brilliantly: thanks to cameras and 360-degree visibility. Still, it's nice that we'll eventually find a driveway where we can curl up.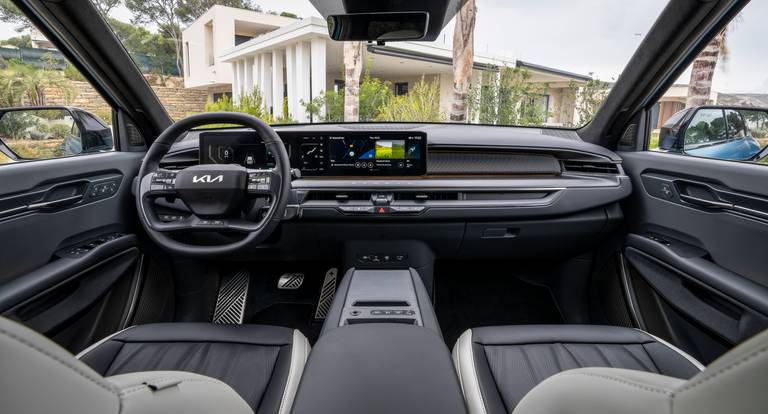 Operation made easy! Finding your way around the EV9's menus isn't difficult. The cockpit consists of three screens as standard.
Kia can charge: electricity for 250 kilometers in 15 minutes
Back to the engines: In addition to the AWD variant with its 385 hp, Kia also offers the pure rear-wheel drive (RWD) with 204 hp (combined power consumption: 20.2 kWh/100 km; combined CO2 emissions: 0 g/km; Combined electric range: 563 km². The torque doesn't reach such dizzying heights of 700 Nm as with the AWD GT-Line. But even the 350 Nm feels good. But the rear-wheel drive car needs almost ten seconds to get to 100 km/h. That's no problem, it fits the "buzz feeling". Speaking of ID. Buzz. In contrast to the VW product, the EV9 has a fairly decent range.
Both models should cover at least 500 kilometers, the RWD in theory even over 700. At least when it is driven in the city. This might make some Tesla taxi drivers sit up and take notice. Based on our test drives, we don't think this is entirely unrealistic. However, the prerequisite is that a lot of energy is pumped back into the net 95.0 kWh lithium-ion battery via recuperation. Otherwise, consumption levels out at around 20 kWh per 100 kilometers. Meanwhile, the standard heat pump is beneficial for energy efficiency. If the battery level approaches a critical mark at some point – no problem: Kia is known to have mastered the fine art of 800-volt fast charging. According to the factory, the rear-wheel drive car can recharge almost 250 kilometers in 15 minutes; in the best case, only 24 minutes should pass from 10 to 80 percent. It goes without saying that the battery is then pre-tempered to an optimal 20 to 25 degrees.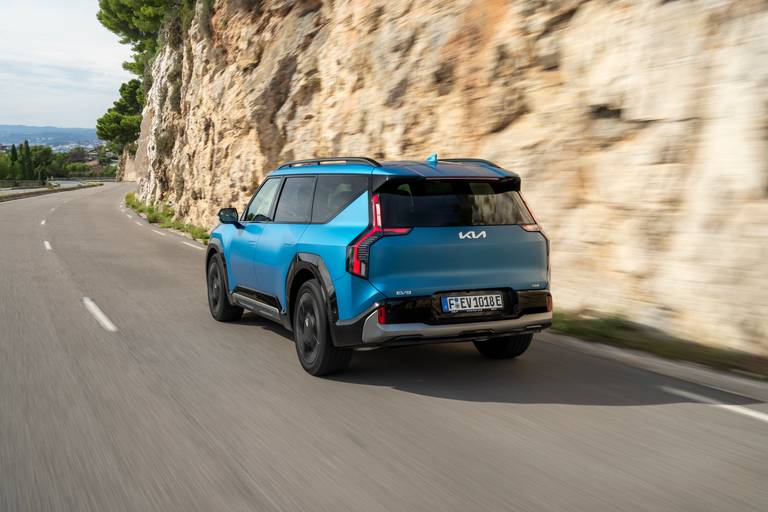 This 2.7 ton truck will no longer be a sports car. Nevertheless, the KIA EV9 can be controlled with surprising precision. The 385 hp all-wheel drive version in particular has enough power.
Side mirrors and speed beepers – both are annoying
We were also annoyed about the EV9: Unfortunately, there is no quick button to switch off the new speed warning nonsense from Brussels (beeps when you exceed 1 km/h). You always have to go through the menu and then into the submenu. Otherwise, the latest version of Kia's infotainment system is easy to use. And above all, clear. It also has three screens next to each other: two 12.3 inches (speedometer and infotainment) and one 5.3 inches in the middle for the climate settings. Funny: There are invisible buttons below the navigation screen that only appear when you approach.
The (optional) digital side mirrors almost fall into the nonsense category because the displays on the inside of the doors look like they were screwed in later and secondly because the cameras are mounted on long plastic arms that make the car just as wide as with a proper side mirror. You can save yourself. The digital rearview mirror, however, is good because it is mounted at the top of the rear window and can therefore capture much more of the road.
The Kia EV9 truly manages to pass as a jack of all trades. For example, there must be a VW ID. Buzz has to stretch hard to keep up.
First conclusion
To answer our initial question: Yes, the EV9 is a jack of all trades on four wheels. It offers enough space for the whole family. Given the electric range, even going on holiday with children and children is no problem. This is especially true because the EV9 can indeed charge extremely quickly. 2.5 tons of trailer load is also enough for the biggest horse in the stable. The operation is easy and logical and if you want to push the envelope, you can easily leave many German premium brands standing with the GT-Line at the cavalier start at the traffic lights. All of this has its price: even the basic (RWD) costs from 72,490 euros. But that's what a decent VW ID costs. Buzz too. (Text: Rudolf Bögel | Images: Manufacturer)
Technical data Kia EV9 AWD GT Line (6-seater)*
Model: Kia EV9 AWD GT Line (6-seater)
Engines: 2 permanently excited synchronous machines
Perfomance: 283 kW (385 hp)
Torque: 700 Nm
Drive: All-wheel drive, 1-speed reduction
Battery: 99.8 kWh lithium-ion
Combined consumption: 22.3-22.8 kWh/100 km²
CO2 emissions combined: 0 g/km²
Electric range combined: 505-512km
Charging power: 11kW AC/210kW DC
Acceleration (0-100 km/h): 5.3s
Maximum speed: 200 km/h
Dimensions (L/W/H): 5.02m/1.98m/1.78m
Wheelbase: 3.10 m
Tropic circle: 12.4m
Trunk: 828–2,393 litres
Weight/payload: approx. 2,648-2,749kg/542kg
Trailer load/support load: 2,500kg/125kg
Price Kia EV9 AWD GT Line: from 82,380 euros
*Manufacturer information