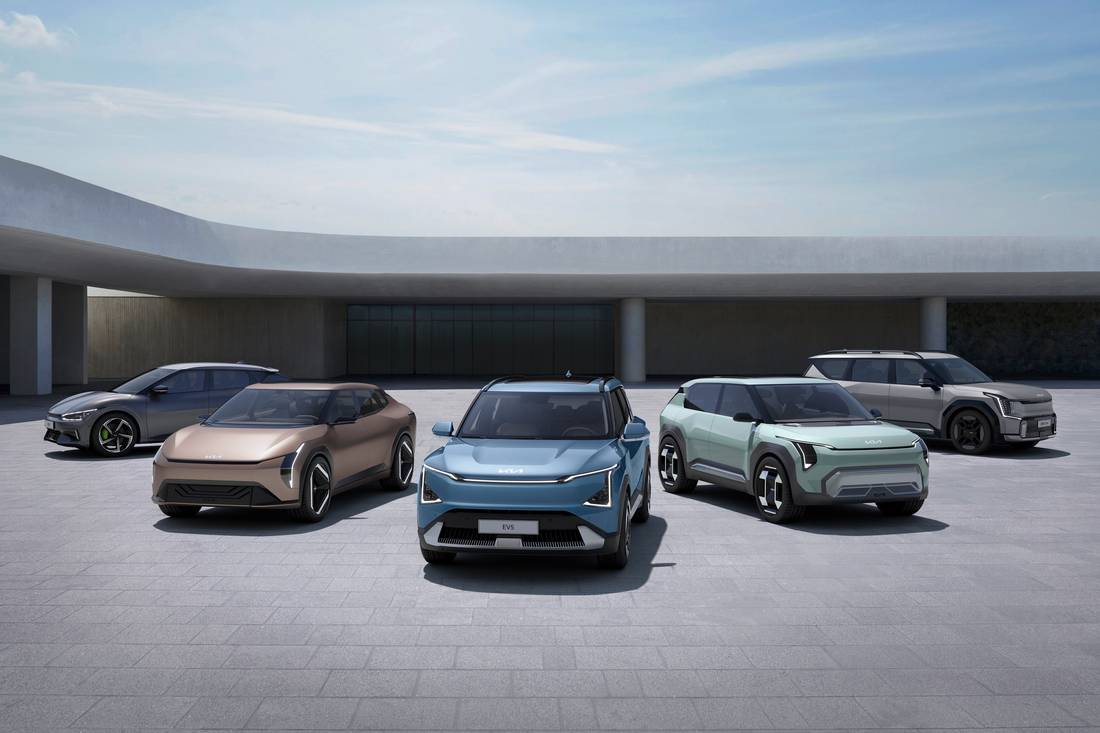 With the "Kia EV Day", Kia has launched a new presentation format for its electric innovations, which will take place annually in the future. At the show premiere, two new concept cars, EV3 and EV4, were unveiled, which provide a fairly concrete look at future series models. Details about the new EV5 electric SUV were also revealed (near-series studies, homologation pending)².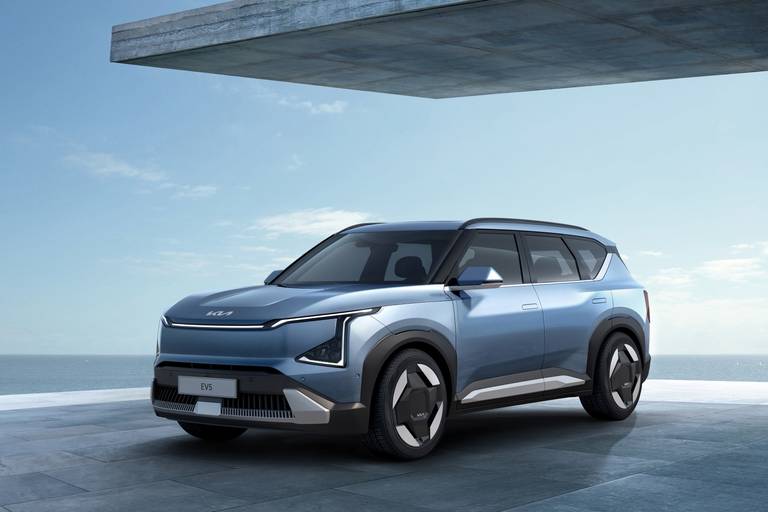 Kia EV5 will launch in China and Korea as early as 2024
With the approximately 4.60 meter long EV5, Kia is further expanding its electric model range based on the E-GMP electric platform. For now, the EV9's little sister model will only be available in China and Korea. In China, the EV5 will be available in three drive variants. The basis is a single-engine version with 160 kW/218 hp and 64 kWh battery for a range of around 530 kilometers. Alternatively, an 88 kWh battery is available for a range of up to 720 kilometers. The large battery is always in the all-wheel drive version with two motors with a total of 230 kW/313 hp. Kia expects a range of 650 kilometers. Especially for Korea, the EV5 should have slightly smaller batteries. There will also be a sporty GT version of the EV5 at a later date.
Kia wants to significantly increase its e-car sales worldwide in the near future. The Koreans want to sell one million electric vehicles by 2026, and an annual volume of 1.6 million units is planned for 2030. The Korean car manufacturer wants to achieve this goal with a wide range of models as well as new series in the B and C segments. The already available models EV6 and EV9, as well as the announced EV5, will be followed by medium-sized and smaller electric cars such as EV4 and EV3, which are expected to be priced in the region of 35,000 to 50,000 US dollars.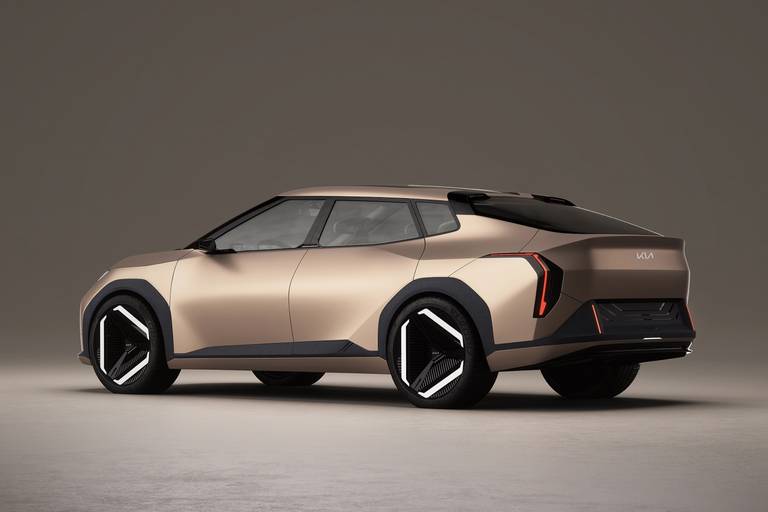 Concept cars provide a concrete preview of planned series models
The Concept EV3 illustrates what this can look like in concrete terms, with which Kia offers a glimpse of another electric SUV below the EV5, which will offer the technology and functionality of the large EV9 in a small format at more affordable prices. With its angular design language, the EV3 is visually based on its larger models. The concept car features a versatile interior with mini tables that are variable in length and position, as well as a two-seater rear seat that folds away to make room for luggage. Thanks to clear shapes and surfaces, the useful interior of the compact electric car gives a spacious impression.
The Concept EV4 is a new type of four-door electric sedan. Externally, a deep nose and the elongated, dynamic silhouette are noticeable. Kia promises a spacious interior with a sleek, horizontally oriented layout and a cocoon-like ambience with an instrument panel reduced to a dual screen. However, Kia left it open exactly when the two concept cars should go into series production. (Text: tv, mh/sp-x | Images: manufacturer)