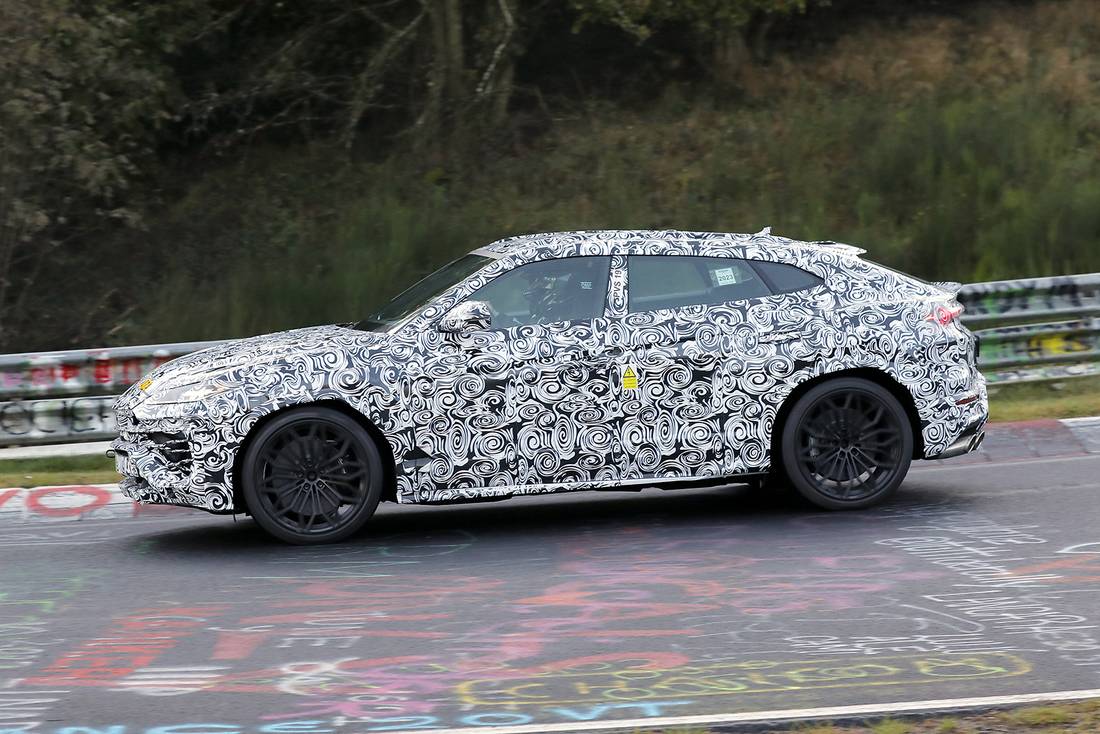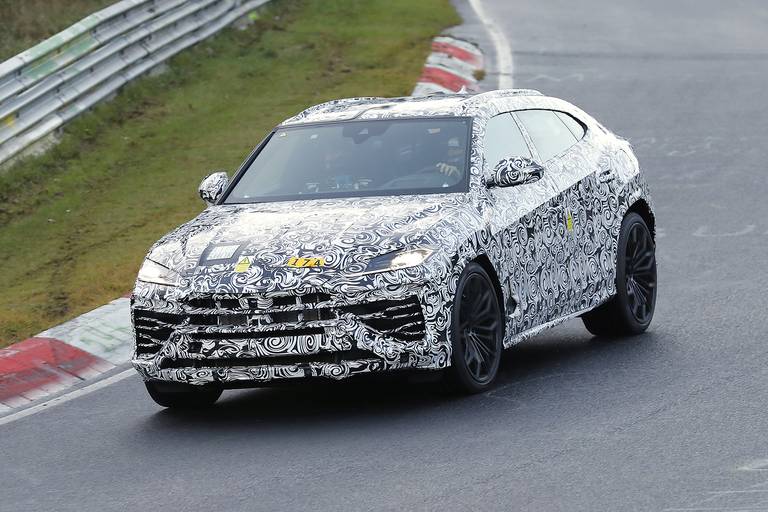 Porsche recently gave an outlook on the electrified SUV variants of other VW brands with the new 739 system hp Cayenne Turbo E-Hybrid (combined fuel consumption: 1.9–1.8 l/100 km; combined CO2 emissions: 43-40 g/km; combined power consumption: 31.1-30.2 kWh/100 km; combined electric range: 71-82 km)². In addition to Bentley, which will soon incorporate the drive into the Bentayga, Lamborghini is also expected to adopt the Stuttgart-based company's further developed plug-in hybrid V8. It looks like the Urus PHEV (vehicle is not yet for sale, homologation pending)² could replace the existing models as early as the second half of 2024. Now a first electrified prototype of the new Urus (recognizable by the high-voltage stickers) has been spotted by our spy photographers on the Nürburgring Nordschleife.
In the meantime, it can be assumed that the Italians could add a few additional horsepower and push the Urus PHEV towards 800 system horsepower. At least that's what the marketing department will want in order to be able to continue to compete against the growing competition, for example against the various BMW XM models. It's almost unnecessary to mention that we're gradually moving into performance regions that a few years ago were reserved for super sports cars like the McLaren P1 or the Porsche 918 Spyder. On the other hand, the new sports SUVs are also becoming larger and heavier, with the Urus, which is based on Volkswagen's MLB evo platform, being no exception.
The new Euro 7 emissions standard makes the PHEV variant necessary for Europe
And as crazy as it may sound, the only reason Lamborghini now has to resort to the heavy battery pack of a PHEV is because of new emissions regulations in the European Union. Although the heavily revised 4.0-liter biturbo V8 still needs a lot of fuel when driving briskly, on paper the electric addition works wonders within the framework of the future Euro 7 emissions standard. On the other hand, the customer benefits from a nominal increase in performance, even if, for example, the technically closely related Porsche Cayenne Turbo E-Hybrid with GT package does not quite achieve the performance of the former Turbo GT. Due to new regulations in Europe, this has also no longer been offered since spring. It remains to be seen whether Lamborghini can and will continue to offer the V8 without a battery outside of the old continent.
Speaking of technical similarities with the Cayenne: We are currently assuming that the Lamborghini Urus PHEV will receive the same 25.9 kWh battery pack as the new Cayenne models. As already mentioned, the V8 has been heavily revised and power is transmitted via an eight-speed automatic transmission from ZF. This also houses the electric drive. The Urus PHEV, which was recently spotted in the Eifel region, also features redesigned headlights, a new hood and a new front bumper. Since the taillights are covered, it's still hard to say whether Lamborghini will make any big changes. (Text: tv | Images: Automedia)