Large indoor plants: the indoor lime or Sparmannia africana
Indoor plants have been less popular for a while but are doing well in our interiors again. A green accent is always beautiful and brings a little nature into your home. You don't have to make a jungle out of your living room, exaggerating is never good. Better choose very consciously for some beautiful plants and let them come into their own in the right place and in a matching decorative pot. If you have a large space with sufficient light, then choose a real eye-catcher: the indoor lime or Sparmannia africana with its decorative fresh green leaves. This houseplant can be a true piece of art in your home.
Origin of the chamber lime
Description of the chamber lime
Location of the chamber lime
Care of the chamber lime
Repotting
Propagate
A smaller version
Origin of the chamber lime
The chamber lime or Sparmannia africana is one of the seven species of the genus Sparmannia and this family belongs to the family of the Tiliaceae, the linden family. The plant genus Sparmannia lends its name to the Swedish physicist Andreas Sparmann (1748-1820). Plants of this genus can be found in Africa and Madagascar.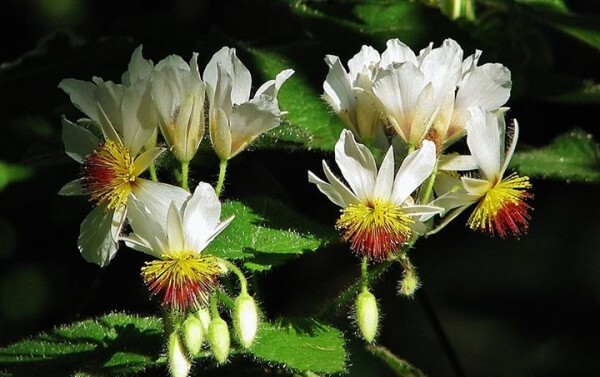 Source: Graeme Pienaar, Wikimedia Commons (CC BY-SA-3.0)
Description of the chamber lime
With the chamber lime you really bring nature into your home. It looks like a large shrub with very decorative light green leaves that are shaped like a heart. The leaves are delicate and fluffy and are 15 to 20 cm long. In the wild, the Sparmannia africana can become a shrub from 6 to 8 meters high, but in the living room it grows to a height of 2 meters. The chamber lime blooms from January to April. The flowers are white and have beautiful yellow and reddish brown stamens. They give off a slightly sweet scent. If you touch the stamens with, for example, a pencil, they will spread completely open. They do this to make the pollen surface as large as possible and therefore easily accessible for the bees.
Location of the chamber lime
The room lime feels best in cooler places in the house, such as an unheated bedroom or a hall. A temperature of 15 ° to 20 ° is sufficient. If you do put your lime tree in the living room, you should definitely move it to a cooler place in the winter period. However, the temperature must not drop below 7 °. A room lime likes a lot of light, but it cannot tolerate direct sunlight. In the summer months, the room lime can possibly be placed in a sheltered place in the garden, but here also applies: no direct sunlight!
Care of the chamber lime
The indoor lime is a very decorative houseplant, but it is not easy to care for. For people who really don't have green fingers, it will not be easy to give this beautiful houseplant a long life. During the flowering period, from January to April, the indoor lime needs a lot of water and nutrition: watering once a week and fertilizing once a week. Hard tap water is no problem. After flowering follows a rest period (May and June) in which the plant needs much less water but the root ball should never dry out completely. Fertilizing is not necessary during the rest period. The leaves will then fall off, but that is quite normal. When it starts to grow back, you can water again and give it once a week. Humidity is very important: spray a lot, at least twice a week. Yellow leaves during growth are usually the result of too little water, too dry air and too little nutrition.
After flowering, the branches should be pruned and young shoots topped. In this way only the side shoots remain and the plant can branch nicely. If you do not top, the chamber lime will soon look stringy.
Repotting
After pruning back, the plant must be repotted. Standard potting soil is suitable. After repotting you can put it in a sheltered place in the garden where it can remain all summer long. Given the rapid growth of the chamber lime, repotting is very important, especially in the first years of the plant's life. It should be done at least once a year. If necessary, you can repot a second time in the fall, so that you get a large plant even faster.
Propagate
Propagation is quite simple and is done in the spring by cutting side shoots of the flower shoots. The cuttings root easily in water or in a mixture of peat and sand. Once they have roots they can be put in their own pot. Also top the young plants a few times here to let them branch nicely.
A smaller version
The Sparmannia africana 'Nana' is a smaller variety of the common room lime. This dwarf room lime is a bit easier to care for because it grows less quickly and flowers more easily.