Making a run for an indoor cat
One cat owner wants to be able to let a cat out on the street at all times and the other cat owner prefers to keep the cat indoors. Because an expensive purebred cat can be stolen or because people live on a busy road, cats are often kept indoors. To allow your cat to sniff the outdoors, you can opt for a cat run. You can choose a ready-made model, a carpenter can make one or you can assemble a cat run yourself. In itself, making a cat run is not really that difficult. How does it work?
Why a run for the cat?
It is up to everyone to decide for themselves whether or not to let a cat take to the street. Everyone has arguments for doing it or not. If you choose not to let a cat out on the street, there can be various reasons for this. This includes:
A busy street on your doorstep or nearby.
The cat who is everyone's friend and who just walks into everyone's house.
A purebred cat that can be stolen. Some varieties are very expensive.
A (purebred) cat that you want to have litters with and that can be mated unwanted.
The fearful cat that is no match for other (dominant) cats in the area.
Of course there are more reasons to think of, but the reasons mentioned are relatively common.
The basis of a cat run
Once you have made the decision that your cat (s) stay indoors and you still want to give them some fresh air in an outdoor enclosure, then of course it starts with having an outdoor space. The dimensions of your outdoor space are less relevant.
Whatever kind of cat run it becomes, a cat run should always have a 'roof'. This can be anything, including mesh. But many cats manage to escape from a cat run, however high, without a roof.
A piece of roof can also form a nice shade. If the cat cannot enter independently, it is even a must. A great option is corrugated iron. It is available in different colors and can be easily customized. It goes without saying that if the temperature rises too much or it rains heavily, a piece of the roof is no longer really functional. In that case it is better to keep the cat indoors.
Choice of material
You can use aluminum as a frame, but making a wooden frame is simple and usually saves costs. The wooden frames that are used can be painted in a desired color or you can buy them ready-impregnated. It depends entirely on your taste, but from a cost point of view it does not really matter much, because impregnated wood is slightly more expensive, but with non-impregnated wood you need paint again.
What do you need to make a wooden cat run?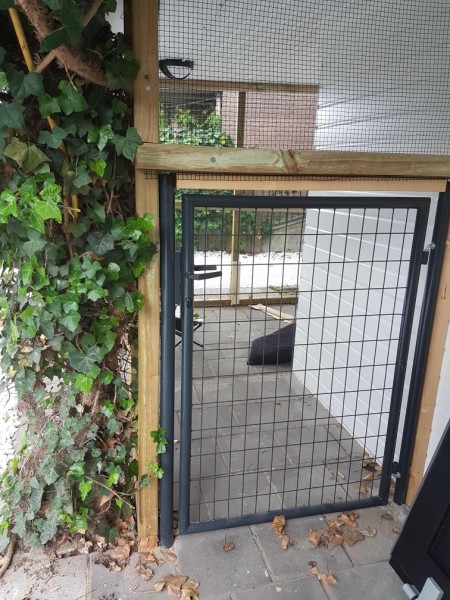 Wooden slats and possibly some posts for reinforcement (depends on the situation).
An automatic stapler and associated staples.
Mesh in the form of chicken wire or flexible fish mesh.
Hinges + sliding or ready-to-use mesh door (see also photo)
Corrugated sheet (depending on the situation)
A drill
A saw
Screws (sizes depend on the wood to be used)
If you have non-impregnated wood, you also need paint and a paint roller.
If you are using posts, it may be advisable to pre-drill the holes before screwing the screws into the wood. A pole quickly has a diameter of 8 to 10 centimeters and then you also have to connect the pole with slats. You make it just a little easier for yourself with pre-drilling.
How do you make a cat run?
How your cat run is of course depends on your outdoor situation. However, there are a number of things that are always relevant and that you should take into account.
Cat run on balcony
On the balcony, especially with an upstairs neighbor with the same balcony, tensioning flexible mesh works best. Place a simple slatted frame against the bottom of the floor of the upstairs neighbors, on the private balcony floor and possibly against the sides. This frame can be made of simple spruce wood. For the flexible mesh you need, you can use fishing net mesh, for example. It works fine and is not expensive. Span the flexible mesh from top to bottom and secure the mesh to the frame with an automatic stapler. Don't forget to staple the sides of the mesh well.
If you are at the very top of the flat and you do not have a floor from the upstairs neighbors, it is important that the frame is made stronger. In that case, make sure that a solid post is placed at all corners and connect the ends of the posts at the top with cross bars. Then think about the roof. If the cat can enter by itself, it is sufficient to tension the mesh on the cross bars.
Cat run in the garden
In the garden you can secure the cat run to a part of your house, if there is a possibility. If the run is placed next to the house, provide either a cat flap or a window that can be opened. If it becomes a separate cat run, you have the option of placing the cat in the run yourself via a door or you can create a kind of passage so that the cat can reach the run through the house. What you choose depends entirely on your outdoor space.
Both the separate cat run and the run at home must both be provided with sturdy posts at the corners. A run in the garden is easily a few m2 and that means that you have to span a large space. Chicken wire is a good option to use if you have to span several meters. Chicken wire is a bit firmer and stays in place better with a large span. Chicken wire is available on the roll in several colors and sizes.
If the run has a size that exceeds the largest size of mesh, then place the ends of the two pieces of mesh at least 20 centimeters over each other and secure them with wrapped iron wire (this has a plastic layer around the iron wire) or staples. Secure the mesh to the pillars with the automatic stapler. If the room is more than about two meters high, it is advisable to place a solid batten halfway. This gives the mesh a little more strength. A door to get in and out yourself is also important. You have ready-to-use mesh or aluminum doors at the DIY store, with or without a lock. You can of course also make a frame of wood yourself and stretch mesh in it. With two hinges and a slide to close the door, you have a simple but functional door.
If the run is not made under an existing roof, make sure that at least part of it is covered with, for example, the aforementioned corrugated sheets. If you work with mesh, it must be tightly secured to the cross bars and corner pillars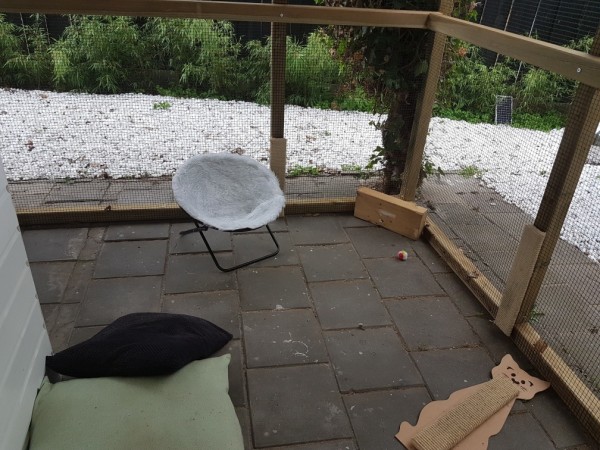 How do you set up a run?
Strictly speaking, you can design a run in many ways. There are some things you should pay attention to. If a cat can go from the inside to the outside and vice versa, then you don't have to put litter boxes and food and drink outside. If there is no fixed connection, you must of course place a litter box and food and drink. You prefer to do this out of the sun. As far as litter boxes are concerned, if you have several cats and you also leave them out longer, you should put at least two litter boxes outside.

You can also design the cat run to your own taste. The cat needs some scratching. This can be done, for example, by placing a real branch in the cat run or by using a scratching post. In the latter case, the cat also has an elevated place to look around or to take a nap. Furthermore, a cushion and some toys can be nice and possibly also a plant to nibble on, for example papyrus or cat grass. A cat hears, smells and sees a lot outside of course, so the chance that the cat will get bored is not that great.
Finally
A cat run in the garden or on the balcony is a great option for the indoor cat. Most cats who have the option will certainly use the run. Moreover, it contributes to a happy cat in the house. So if you have an option to make a cat run outdoors, then this is definitely recommended.