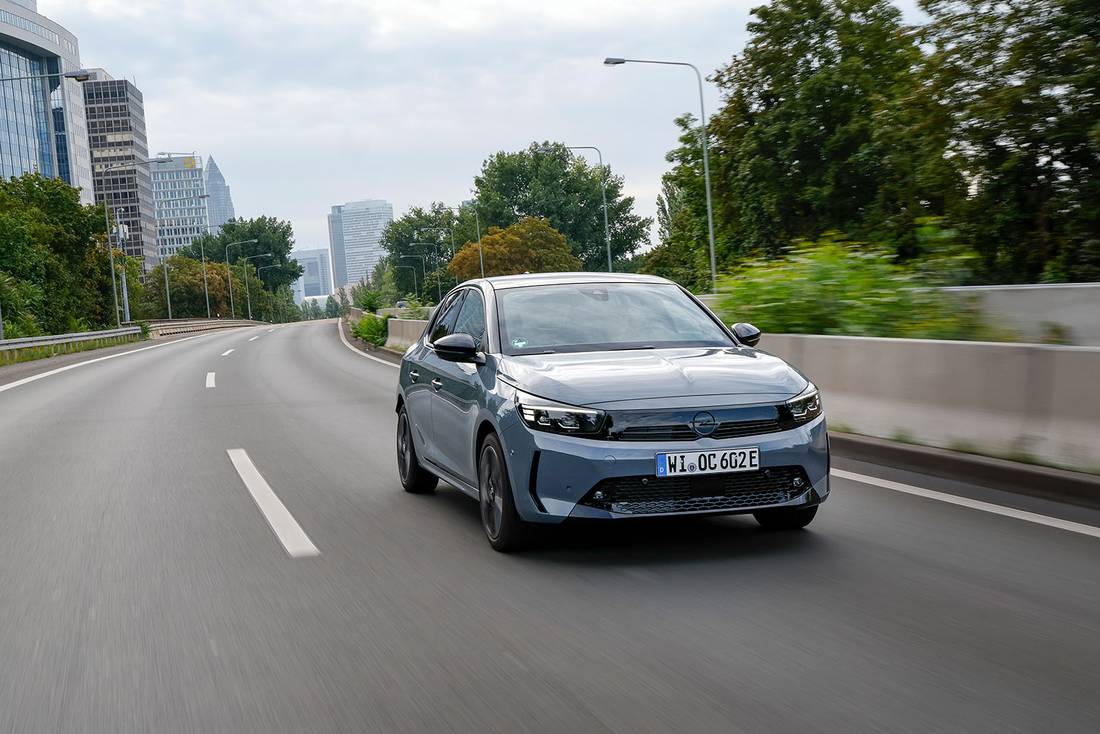 The Opel Corsa Electric GS Long Range at a glance
Facelift with new Vizor front design
Electric drive revised: now also with 156 hp
Consumption around 14 kWh/100 km – but it could be even better
Same leasing rate for electric cars and combustion engines
Starting price remains at 34,650 euros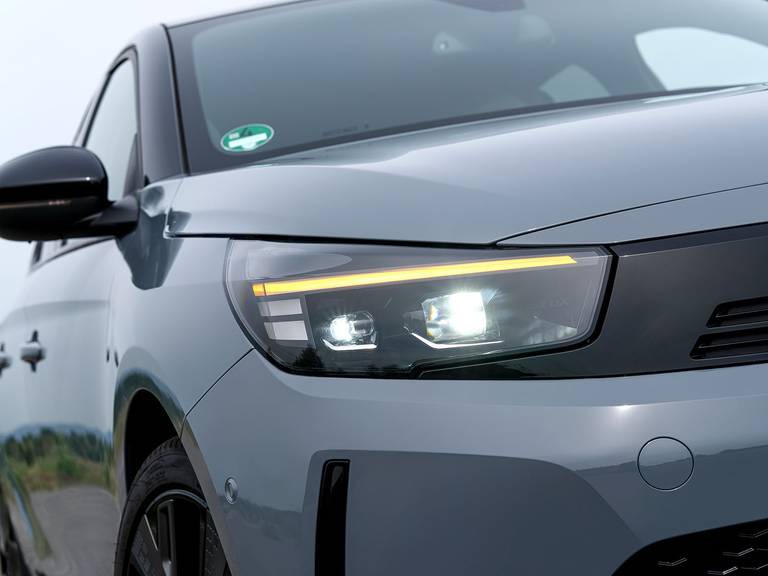 Is this still a facelift? The completely renewed Corsa now finally has the Vizor front design that Opel once introduced with the Mokka.
The new Opel Corsa Electric – facial surgery instead of a facelift
For the new Opel boss Florian Huettl, the Corsa is "the heart of the brand," as he said when introducing the latest generation. For us too? But first let's take a look back: 14 million copies have been produced and sold to the public since 1982. Four out of ten Opel customers choose a Corsa. It has also been the best-selling small car for two years in a row – in Great Britain and Germany. The future prospects are likely to make Huettl's heart beat even faster. They could be rosy: Firstly, the competition is becoming increasingly clearer because, for example, the traditional favorite opponent Ford has completely discontinued its Fiesta. And secondly, because the Opel company is one of the few manufacturers to have a reasonably affordable and really efficient small electric car in its range, the Corsa, which can be ordered and delivered. A car that VW would like to have, but doesn't have.
Opel's heart suffered from severe arrhythmias in 2017. Just in the launch phase of the new "F" model, Opel switched from GM to the PSA Group. As a result, many parts of the car had to be completely redesigned. The Corsa came onto the market in 2019 with difficulty. Back then it still had the old look – which is why the facelift is now more of a face transplant after four years. Because now the Corsa also has the new Vizor design of the Mokka and therefore looks like a completely new car. This is also ensured by the new Matrix lights and the complete elimination of chrome (for environmental reasons). The little one has also been beautifully spruced up inside: the touchscreen has grown to 10 inches, the steering wheel and gear selector (now a rocker switch) are new and more stylish. For the first time (also in series production) there is a Bluetooth connection to Apple Car Play and Android Auto; you can charge without a strip or via cable to three USB-C ports.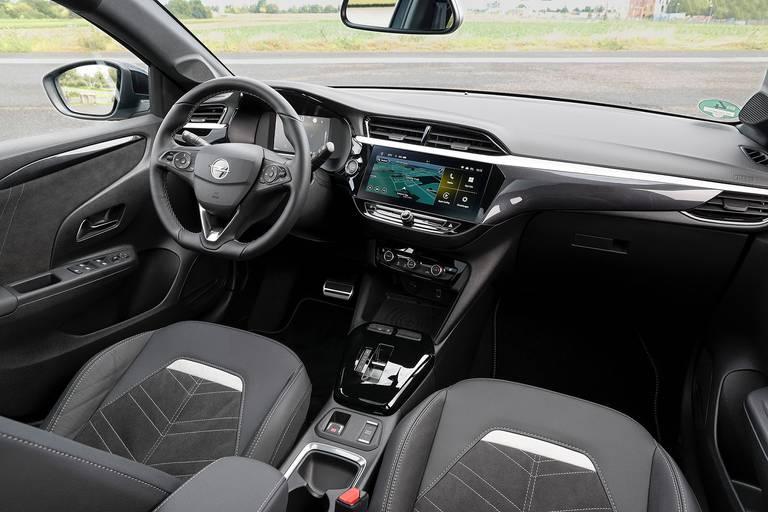 The cockpit of the new Corsa has been upgraded in some respects. The touch display, for example, has now grown to 10 inches. The operation is largely easy to do.
50 kilometers more range costs 3,400 euros
So – now to the heart of the Rüsselsheim Jack of Hearts, the drive. Opel is offering two BEV variants after the facelift: The old setup with 136 hp, 48 kWh battery (net) and 354 kilometers of range. And the optimized alternative with a 51 kWh battery, an electric motor improved to 156 hp and now a range of 405 kilometers (combined power consumption: 14.6-14.2 kWh/100 km; combined CO2 emissions: 0 g/km; Electric range: up to 402 km². The two models are similar in terms of charging time and performance: over three hours with 11 kW (AC) and 30 minutes with 100 kW (DC from 0 to 80 percent). There is also hardly any difference in terms of torque of 260 Nm.
However, the more powerful Corsa manages the sprint to 100 km/h in 8.1 seconds and is therefore 0.6 seconds faster. In our opinion, these are small things – similar to the increase in range by 50 kilometers. The question is: Is this difference worth around 3,400 euros to a buyer? The more powerful E-Corsa costs more, while the weaker one remains at the old price of 34,650 euros (before any subsidies). And there's even a treat for these buyers: the smaller Corsa can be leased at the same rate as the combustion engines that come onto the market a little later.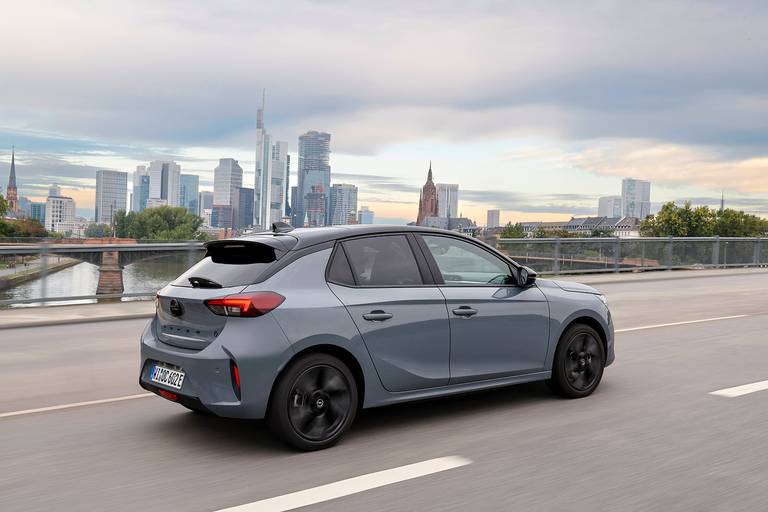 In addition to the slightly more powerful Opel Corsa Electric GS, the previously known model with 136 hp also remains in the range.
A small detail about the driving modes is annoying
How does the new Corsa Electric Long Range, as it is officially called, drive? In any case, we didn't get bored during the almost 200 test kilometers, mainly on motorways, but also on country roads in the Taunus region of Hesse. At most on the highway, because the E-Corsa shrinks into a lame duck from a speed of 120 km/h. At 150 km/h it's over anyway. There wouldn't have been any need for a curtailment because you give up much earlier. Completely voluntary.
Considering that the Italian word "Corsa" also means race track. But let's leave it alone! In any case, driving on winding roads is a lot of fun. The Rüsselsheimer steers directly and not too smoothly; the chassis is a good compromise between comfort and sportiness. Neither harsh nor too warm. What we noticed was unpleasant, however, was the messy transition when switching from normal to sport and vice versa. Every time there is a jolt through the car, we are always shocked. But that can perhaps be fixed with a software update (now also over the air).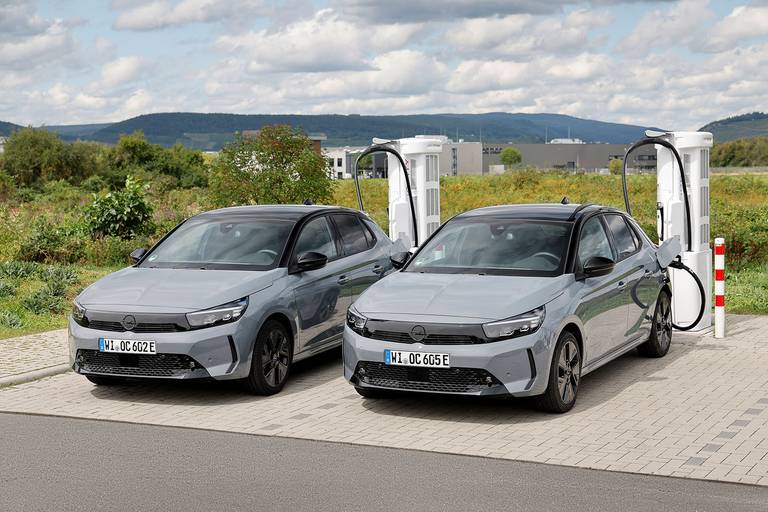 Provided there is an appropriate DC charging station, the Opel Corsa Electric can continue to draw electricity with up to 100 kW. On the home wallbox it is a maximum of 11 kW.
All electric? There is also a petrol engine for the Corsa
For consumption. When we started, we had 99 percent battery charge and a range of 400 kilometers – according to the on-board computer. After exactly 180 kilometers it was still 52 percent or 180 kilometers. Consumption was exactly 14 kWh per 100 km – and therefore in line with the official figures. This is a very decent value, especially since the car was hardly able to recover any energy due to the chosen test route. It's conceivable that you could even get 12 kWh in a big city or suburban area with a lot of stop-and-go traffic. Provided you can charge at home. If you use the German average price of 46 cents per kilowatt hour (as of summer 2023), then you would only pay a little more than a fiver for driving 100 kilometers. And that's really cheap.
You shouldn't get that cheap – at least when it comes to refueling – with the Corsa combustion engines. Yes, they will still be available: as a basic gasoline engine without electrification, twice as a hybrid turbo and starter generator. A diesel was and is not planned for the "F" generation anyway. The entry-level model in particular should be interesting in terms of price: at 19,800 euros, it ends up just under the pain threshold of 20,000 euros. In this day and age, the smallest Corsa is almost a bargain.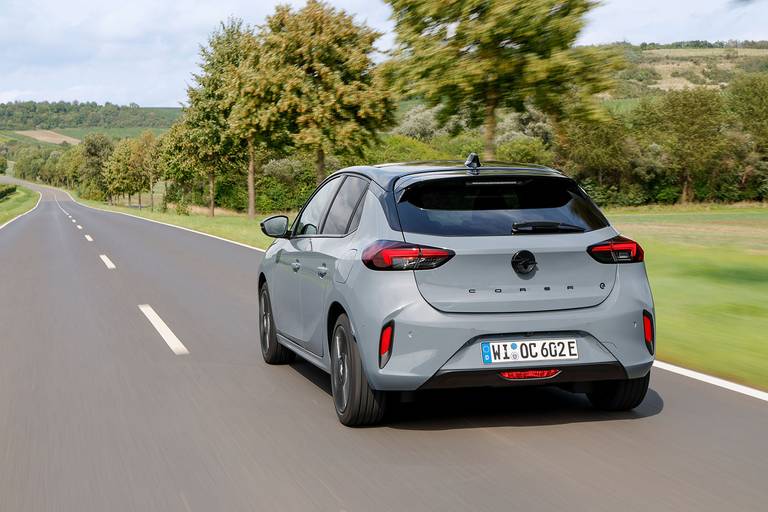 In addition to the two BEV variants, three petrol engines also remain in the range. The cheapest (combustion engine) Corsa starts at 19,800 euros.
First conclusion
Has the Opel heart touched our hearts? In any case! Because the car now looks even better, because it is functional and still offers a lot of driving fun. The electronic assistants work cautiously, but well. Some people would like to have an additional pacemaker in terms of performance, but a Corsa like this (despite the name) isn't a racing bag either. An absolute plus point is the fuel consumption, which makes the car really cheap to run. In this way, you can at least partially recoup the purchase costs, which are still too high for an electric car. (Text: Rudolf Bögel | Images: Manufacturer)
Technical data Opel Corsa Electric Long Range GS*
Model: Opel Corsa Electric Long Range GS
Engine: current-excited synchronous machine
Drive: Front / 1-speed automatic
Top performance: up to 115 kW (156 HP)
Torque: up to 260 Nm
Acceleration 0-100 km/h: 8.1s
Maximum speed: 150 km/h (limited)
Battery capacity: 51 kWh (net)
AC charging times: 0–100% at 11 kW AC (three-phase) approx. 3 h 10 min
Charging times DC: 0–80% at 100 kW approx. 30 min
Combined power consumption: 14.2 – 14.6 kWh/100 km²
CO2 emissions combined: 0 g/km km²
Range: up to 402 km
Length Width Height: 4.06m/1.77m/1.44m
Wheelbase: 3.00 m
Empty weight/payload: approx. 1,544 kg / approx. 376 kg
Trunk: 267–1,042 l
Basic price: 38,045 euros
*Manufacturer information