Otters: Mammals that belong to the subfamily 'Lutrinae'
The otter is a carnivore that eats all kinds of meat. Otters spend a large part of their life in the water and are therefore excellent swimmers. They are successful predators with sharp teeth. The specimens in the tropical rainforest can even be dangerous for humans. This is because the mammals here hunt larger prey in groups. What exactly does an otter look like? Where do these predators occur and what do they eat?
Otters
The diet of the otter
Living environment
Otter species
The offspring
The diet of the otter
The otter belongs to the 'Lutrinae' subfamily, which is a branch of the 'Mustelidae' weasel family. They can live to about 12 to 16 years old and have brown fur. These mammals mainly eat meat and eat about 25 percent of their weight in food every day. They are carnivores largely in search of fish and invertebrates such as crabs, bugs, cockles, and insects. In addition, these predators eat, among other things, mollusks, frogs, birds and small mammals. Otters have good eyes that make it easy for them to detect their prey.
Teeth
Otters use their sharp claws and sturdy teeth to hunt their prey. However, their teeth are less sharp and therefore more suitable for tearing up their prey. The canines are the most prominent teeth in their teeth due to their length.
Living environment
The otter is found almost everywhere in the world. It can only be found in wetlands such as in and near seas, rivers, streams and lakes. Due to its flexible and strong neck, this predator is very agile. In addition, otters use their tails to propel themselves in the water. Their tail can be round or flattened in shape. Otters usually use all four of their legs when swimming. Almost all otter species (except the sea otter) are regularly found in burrows dug by beavers, among others. They ensure that their territory is demarcated by means of their scent.
Endangered species
This mammal belongs to the endangered species. The sea otter is the most endangered compared to the other otter species. This is due to human intervention. Sea otters suffer from oil leaks and other pollution, among other things. In addition, humans ensure that less and less food is available and they often come into direct contact with the otter.
Otter species
There are different types of otters. In total there are no fewer than thirteen different types. One of the best known species are the sea otter and the giant otter.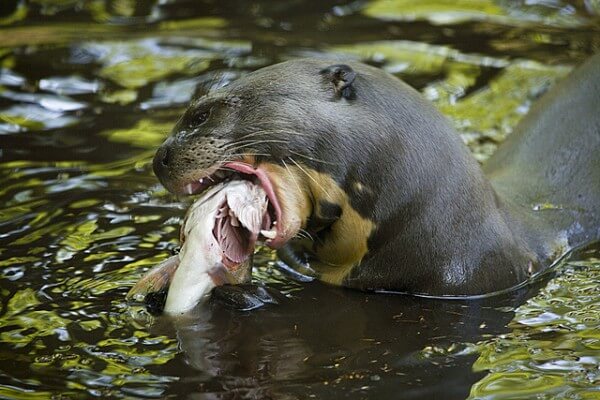 A giant otter /
Source: Jlhopgood, Flickr (CC BY-ND-2.0)
The dangerous giant otter
The giant otter is a dangerous species that lives in the rainforest. These otters can grow up to 2 meters in length. They hunt for larger prey in a tactical way. They do this by working together in a group. In addition, they use their speed to avoid being caught themselves. Because giant otters hunt large animals, they can even be dangerous to the native population and predators in the area. The dense rivers and murky waters are his favorite hunting grounds.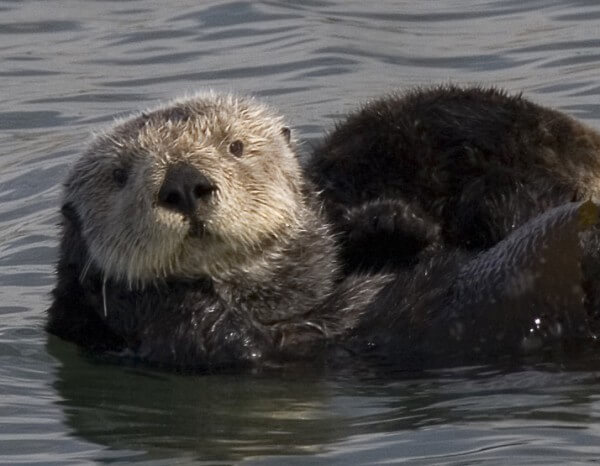 A sea otter /
Source: Mike Baird, Wikimedia Commons (CC BY-2.0)
The sea otter
The sea otter is found only in Alaska and on the Pacific coast of Russia. They spend most of their life in the water. Sea otters can reach a maximum length of 1.40 meters. Female otters are slightly smaller, about 1.20 meters. Sea otters have a pointed snout that allows them to move quickly through the water. In addition, their snouts have an excellent sense of smell to detect prey. They also use their whiskers to absorb small vibrations in the water so that they can orient themselves in the dark.
The offspring
Otters usually only need 60 to 86 days to give birth to a young. Sea otters need about 5 months for this, however. They give birth in a sheltered and safe place, namely under rocks or under tree roots. This choice depends on their living environment. The female gives birth to one to five offspring per pregnancy. After about one month, the little one is old enough to leave this place and explore the outside world. This is also when the little one can open his eyes for the first time. He needs about one more month to be able to swim.