Purebred cats: Chartreux, a beautiful calm cat
The Chartreux or Karthuizer (in Dutch) is an old French breed. Most purebred cats usually have multiple colors in terms of coat and eyes within the standards of the respective breed. This does not apply to the chartreux. This purebred cat only comes in one color … namely blue. In addition, this cat has the typical characteristic that she is extremely relaxed by nature. What kind of cat is the chartreux and what are its external characteristics?
Chartreux, the origin
This French cat has already been described in the 16th century. The stories about how this breed originated are not unequivocal. The most obvious version is that of the monks who brought the cats from South Africa and started breeding them. The name would then have been coined because the coat has a great resemblance to the Spanish fabric that ?? pile de Chartreux ?? hot. However, there is also a version that this cat originated from the Manul cat and the Egyptian cat and comes from the rugged areas of Syria, Iran and Turkey. These cats are said to have been taken to France during the Crusades. The only thing that can actually be traced back is that it is one of the oldest pedigree cats in Europe.
The cat has almost become extinct and to get the standard back up to standard, blue British Shorthairs have been bred through it at some point. This breed is somewhat more robust in terms of build, but the moderate specimens of this breed could be used. Incidentally, over the years these two breeds have become increasingly different.
Appearance
It is sometimes said that the breed is characterized by its simplicity, but in fact that is no more or less than the fact that it is only available in one color. Something that is very unusual with most purebred cats. Of course, the chartreux as a variety has some specific characteristics.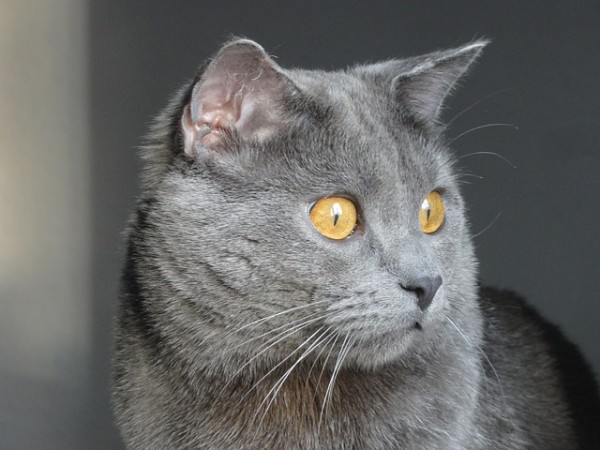 Source: LucasBouillon, Pixabay
Head and body
The chartreux is a medium to large cat and can vary widely in size and weight. Although the male is always slightly larger and heavier, the body weight of this cat varies between 3.5 kilograms and 8 kilograms. It is a cat that matures relatively late and it continues to grow for a long time. A typical aspect of this cat is that, despite its coarse build, it moves relatively gracefully on its medium-length legs.
The head has a so-called inverted trapezoid shape and she has slightly chubby cheeks, especially the males. The medium-sized ears are set high on the head. The eyes are large, preferably a beautiful copper color (can also be deep yellow) and the look of this cat is alert. The eyes are not completely round, the outer corners of the eyes are slightly raised. If you look closely at the cat, she has a bit of a smiling face and that's where she got her nickname ?? the laughing cat of France ?? therefore.
Coat
Unlike most pedigree cats, this one comes in only one color, namely the deep blue-gray (officially the color is blue). The cat has a double short coat, with a woolly undercoat. The coat should not lie flat. This coat should feel silky soft and have a nice shine.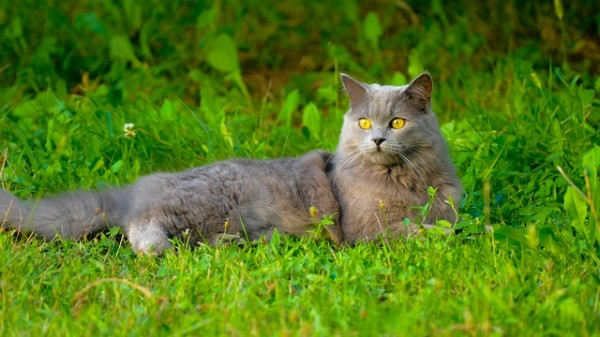 Source: 7898250, Pixabay
Character
This cat is pre-eminently a homely and gentle, sweet cat that likes to stay in the company of her housemates. These can be adults, but also children of all ages. She won't smash her nails anytime soon. Furthermore, it is also fine with other cats or dogs. This chartreux can be called extremely relaxed. She has a very modest voice and meows relatively little (which many will find pleasant). Whether her relaxed nature contributes to her age is not known, but this cat can easily and without problems live up to 15 years old.

Health aspects
Actually, it is a fairly healthy cat that has been poorly bred. One that has no real health problems. For those who consciously want to breed with this cat, there are some things that are recommended to have it tested. The cat can be hereditary with cyst kidneys or loose kneecaps. The latter has to do with the relatively heavy weight of this cat. With cats that have this, a breeder will not continue in the breeding program.
Buy kitten
Buying a kitten is easy, many people are lost by seeing such a little one. Nevertheless, it is advisable to read carefully about this cat in advance. Know what you can possibly get for about 15 years. The chartreux breed club may be able to help you further.
Of course, when buying a kitten, it is also a matter of good judgment and check some things with the breeder who advertises a litter. Think of things such as: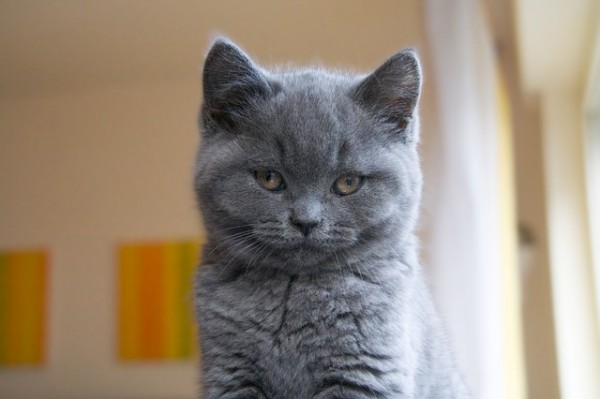 Source: Temudjin, Pixabay
The kitten must stay in a domestic circle (no separate hutch or similar afterwards). Socialization is very important.
The mother must be there and any other kittens from that litter.
Kittens should look fresh and cheerful. Clean eyes, no scabs on the head or body and a clean butt.
The nest and the environment where the kitten lives must also be clean.
Kittens shouldn't duck, but face you (although some will do this more emphatically than others).
Some enthusiasm about the breed and the litter from the breeder or other housemates is recommended.
The breeder must provide you with all kinds of information. This includes nutritional information, any additional vaccinations, how to deal with her when she comes to her new home for the first time, dealing with other existing animals, etc.
Only decide when you feel good about it and ask whether the parents have been tested as described in the health aspects. Official breeders work with contracts and pedigrees. Get well informed. However, whatever contracts and family trees may be, something unexpected can always surface in a living creature. Things that cannot be foreseen and can therefore be recorded. Think of a kitten becoming ill, a genetic defect that could not be foreseen, etc. In such a case, contact the breeder. With a good breeder you can work it out. Think of a contribution towards costs for the vet or the like
Finally
This breed has not been bred through and that means that hardly any hereditary health problems can / will play a role. This ancient breed has produced a gentle and calm cat. A cat that does fine in the family situation and is absolutely beautiful and very sweet.