Purebred cats: Manx, cat without a tail
The name Manx is not known to everyone, but when we talk about a cat breed without a tail, many people know which cat it is. The completely absent or very small tail is therefore the most important characteristic of this cute and easy to keep cat. What are other specifics of this cat and what should you keep an eye out for with this breed?
Manx, the origin
This ancient breed originated in the British Isle of Man. Manx therefore wants to say "from Man". It is not a specifically bred breed, but a breed that has been developed naturally. The Manx has no tail or has a very short tail, the so-called stub tail. It is also sometimes referred to as Manx syndrome.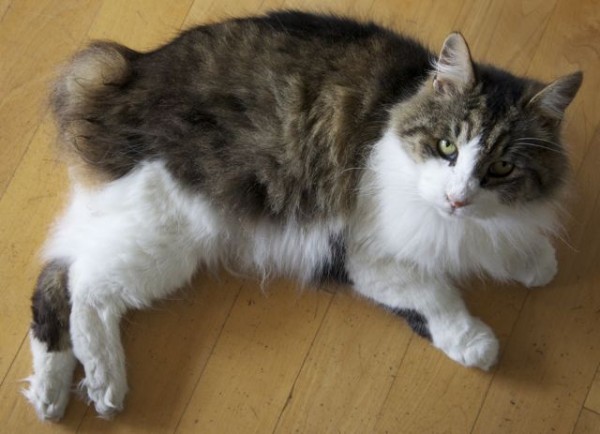 Source: Jumpinjim, Wikimedia Commons (CC BY-SA-3.0)
Manx syndrome
At some point, kittens were spontaneously born without or with a short tail. These animals also reproduce well without really negative traits. Of course also because of the small area in which they can reproduce. Slowly but surely, this tailless cat has taken over the entire breed. It is impossible to predict whether a cat will have none or only a few tail vertebrae at birth. The gene that ensures that the cats have no or a very small tail is dominant. But all living Manx cats have one gene related to tailless and one gene related to having a normal tail. This is because kittens that have the tailless gene from both father and mother die. Either already in the womb or shortly after birth. This concerns about a quarter of all Manx cats.
Although you often assume that a cat needs the tail for balance, this cat also has no problems with the complete or partial lack of the tail in terms of balance. Due to the lack of the tail, this cat is nicknamed ?? rump ?? got, which means 'hull'. It refers to the fact that when you pet the cat, you just shoot off the body with your hand after the body. Furthermore, this lively cat on Man has traditionally been used mainly as a house cat and mouse catcher. A large Manx club has existed since 1901. The large number of enthusiasts does not alter the fact that not all breed clubs recognize this breed, but the NKFV, FNK, NRKV associations do.
What kind of cat is the Manx exactly?
Appearance
The most important characteristic is the fact that the cat has no tail or a very short tail. The coat can be short or long. The long coat is also sometimes called Cymric. The structure of the coat is soft and straight. The coat does not require any specific treatment, occasional brushing to remove loose hair is sufficient. Since it is not a coat that will quickly become felted and therefore painful, most cats also like to be brushed. The Manx is available in different colors and patterns, namely: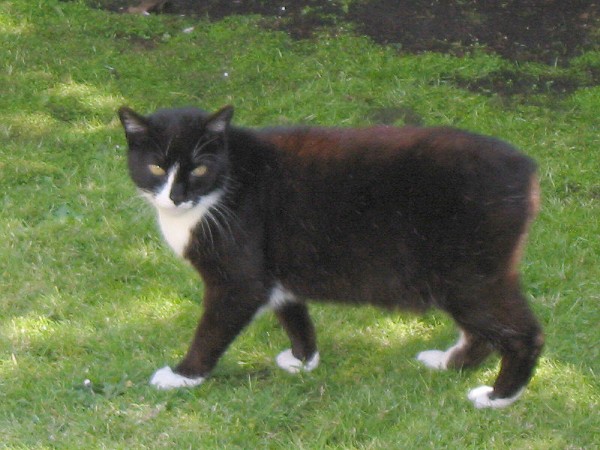 Source: Dickelbers, Wikimedia Commons (CC BY-SA-3.0)
white
blue
black
red
cream
silver
brown
blue-cream- (white)
In addition to the plain, two and tricolor (calico), there are the following patterns:
turtle
tabby
speckled
smoke
shaded
Both males and females are normally between three and five kilograms in weight. They have a compact and sturdy body. The head is round with medium-sized upright ears. The eyes are large and round in shape and can have a variety of colors ranging from amber to copper, green, gold, hazelnut, orange or yellow.
Character
This hunter is a lively and social cat and can easily be combined with other cats and dogs. Manx loves people and goes well with children, playing is one of the cat's favorite things to do. Yet this cat can be called mostly calm, this cat does not seem to know stress. The cat adapts perfectly to the environment.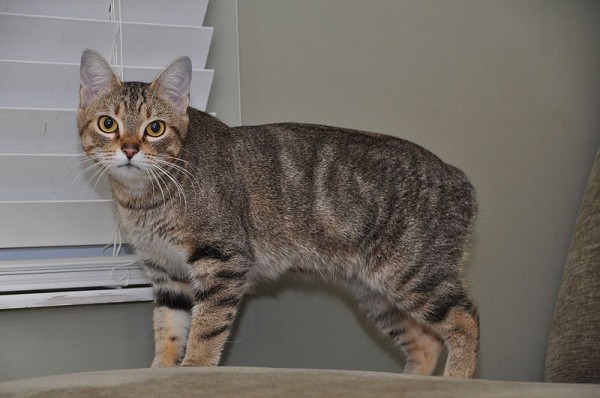 Source: Michelle Weigold, Wikimedia Commons (CC BY-SA-4.0)
Health
Reproduction
On average, the health of this purebred cat is slightly less than that of other purebred cats. Breeding is not easy and pregnancies do not always go well. The spinal cord is not fully developed and this can have consequences for the pregnancy. To limit the risk, it is often recommended to cross the Manx with a British or American shorthair. These cats are quite similar in build and the chance of stillborn kittens, due to the dominant gene, is significantly smaller. Naturally, cats without a tail can still be born from these breeding programs.
Other illnesses and life expectancy
Furthermore, the cat has a slightly higher risk of FIP (Feline Infectious Peritonitis) or contagious peritonitis because of the not fully developed spinal cord. An inflammation that always results in death. Average life expectancy of the Manx is between 9 and 13 years, which is slightly shorter than most purebred cats.
Finally
This fun and playful cat looks a bit different from other cats. Not so much in terms of coat or build, but the lack of the tail is striking in this purebred cat and that makes that when you see the cat, you have the idea that something is missing. But the fact that the cat has no tail is absolutely no obstacle to living a normal cat life. A great playmate for humans and animals and very social.