Purebred cats: Munchkin, a sweet little dwarf
The munchkin cat is a purebred cat that is not likely to disappear from your retina. The cat does not look like an ordinary cat where body, head and legs are in the proportion as we know them. The body and head of the munchkin resemble that of a regular cat, only the legs are extremely short. This has to do with dwarfism. What kind of breed is this exactly, how did it originate and does this cat have other typical characteristics?
Munchkin, the origin
This munchkin cat was first officially spotted in 1991 in New York, Madison Square Garden to be precise. The cat was exhibited and immediately stood out because of its extremely short legs. The nickname ?? dachshund cat ?? was born quickly. Incidentally, these cats have been around for much longer, because these cats were already seen between the two world wars in England and Russia, among others.
The cat owes its name munchkin to a feature film from 1939. In the feature film Wizard of Oz the so-called dwarfs from munchkin were featured.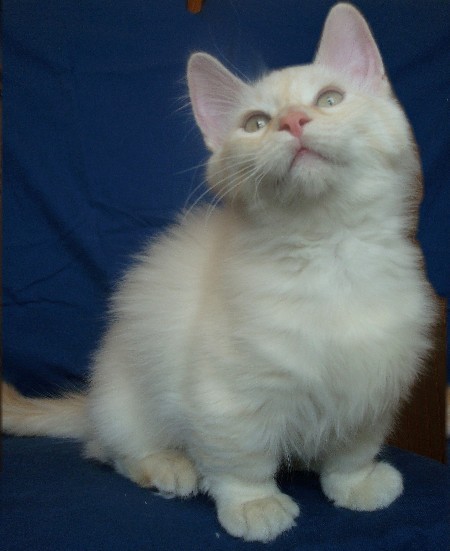 Source: Sg0668commons, Wikimedia Commons (CC BY-3.0)
Dwarfism
The short legs are due to achondroplasia. We know this better as dwarfism. This is a dominant gene that was carried by the cat that was at the cradle of today's munchkin cat. This black cat, named BlackBerry, was "normal". However, as a carrier, her kittens could have dwarfism. This was a natural gene mutation. Since kittens were normally viable, the kittens just grew up with the mother.
It's rare, but the dwarfed cats can also be born with a slightly too short spine. Depending on the extent to which the spine is 'too short', the kitten is then viable or not.
Recognition
Several countries do not recognize this cat as a purebred cat and this is mainly due to the fact that it is actually a deviation. The TICA has officially recognized the breed and has drawn up breed characteristics. This breed is not officially recognized in the Netherlands.
Appearance
For many people, the munchkin cat is a common house cat on short legs, but that's not true. This cat does have specific characteristics.
Coat
This cat's coat can be short-haired or long-haired. They do not have a special undercoat, but an outer coat with an extremely beautiful silky texture. This applies to both the long-haired and the short-haired version. In principle, all colors, as we see them with the different purebred cats, are also allowed for the munchkin cat. These are the classic colors (plain or with pattern), the so-called points in various colors and the shaded versions. The tail is quite thick and tapering. The coat of the tail is strikingly full of texture.
Physique and head
It is a medium-sized cat with an open round chest, compare this to a human who walks with the chest forward and the shoulders back. We sometimes call it a "proud attitude". The shoulders at the front legs can be called robust. The bones and muscles are normal to well developed. The muscles of the short legs, especially the hind legs, seem to be a bit firmer than in other cats. This could be explained by the extra effort they have to put in to jump. Even then it remains difficult for these cats to really jump high. It is stated that this has no influence on quality of life.
The cat has a somewhat triangular shaped head and a flat forehead. The nose is medium for a cat and the chin is firm. The cat has fairly wide triangular ears that are erect. Finally, this cat has large almond-shaped eyes and these are quite far apart. Unlike other breeds, there is no relationship between coat color and eye color.
Character
The munchkin cat is without a doubt an active, lively, playful cat with a lot of energy. The cat prefers to play with everything that is shiny and that means: also with things in the house that it may not be intended to be played with.
The cat's curious character has another nice detail, namely the fact that the moment she detects something, she stands up straight. This attitude is very similar to that of the well-known meerkat.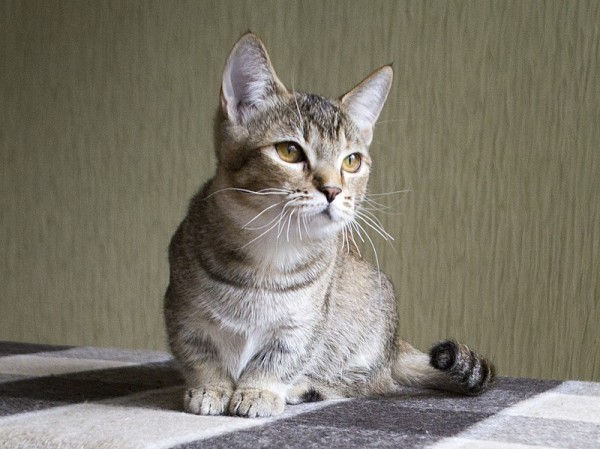 Source: Fedorov078, Wikimedia Commons (CC BY-SA-4.0)
Everyone's friend
This social and cheerful cat likes to be in the immediate vicinity of humans and can then just demand your full attention. That does not alter the fact that she plays with dogs or other cats just as easily. She also does not shy away from (small) children and it can therefore be a great playmate. An additional advantage is that the cat will hardly hit its nails.
Indoor cat
Due to the limitation when jumping, this cat is less suitable for outdoor use. Especially since cats have their own territory outside and they may not be able to defend this if there are hijackers (other cats) on the coast. But also in a practical sense, being outside can be difficult. She will not be able to reach or jump over everything. Of course this does not matter indoors and that makes it an extremely suitable cat to live in the house. If you still want to go outside with the cat, walking on a leash is fine for this cat. You can start with that as a kitten.
Breeders info
While not an officially recognized breed, they are bred separately by certain breeders. On average, you pay like that 600 for a kitten. If you want to buy a kitten, pay attention to the following:
The kitten must be at least twelve weeks, house trained and well fed.
Vaccinations must be completed.
The immediate environment in which the cat grew up must be clean.
Mother cat must walk around and play with kitten (s) and show normal behavior.
Kitten must be socialized, ie not afraid of people and not startled by sounds from the doorbell or vacuum cleaner. These are just examples, they are normal noises that take place in the house.
Finally
The munchkin cat is a funny looking, sweet, sociable and curious cat. A cat that really likes to play with people, but also with other pets, (small) children or if necessary with fun toys. The cat has a lot of energy, but can nevertheless also be kept indoors.