Purebred cats: Peterbald, sweet and intelligent
The Peterbald is a young breed formed from two other official breeds. This cat has the special feature that she can have very short hair, but can also be partially or completely bald. The peterbald has a clear oriental slant in terms of head and physique, and this is an extremely intelligent cat. What kind of breed is this, how is this cat best to keep in the house and what are the typical characteristics for this breed?
Peterbald, the basics
This cat was first bred in Russia in 1994 from a cross between an Oriental Shorthair cat and a Don Spfynx male. We know the latter as one of the nude cat breeds. Because the cat was first bred in St. Petersburg, this cat is sometimes referred to as the petersburg sphynx. The name peterbald is a combination of ?? peter ??, as in St. Petersburg and ?? bald ?? is English for bald. While the furry versions are okay, only the bald version is one that has championship status and is thus show-worthy.
Appearance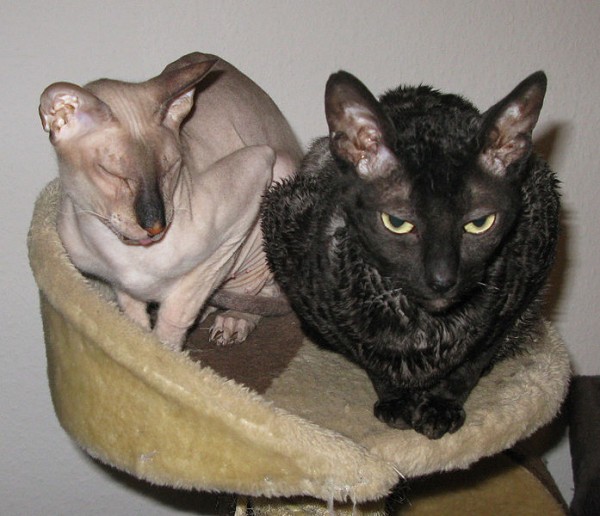 Source: Jiel Beaumadier, Wikimedia Commons (CC BY-SA-4.0)
Coat
This cat's coat is remarkable as some kittens are born bald and others become bald or nearly bald within two years of birth. Officially there are the following variants:
Bald / gummy: The kitten was born completely hairless. The skin feels a bit like rubber or chamois leather.
Flock: This cat is almost naked. You can see very light hair up close, but this is not noticeable at all.
Velor: This cat has a smooth and soft coat, a bit velvety. This is the most popular version of this breed.
Brush: This cat has the longest hair in this breed, which is at least five millimeters. Sometimes the hair is distributed all over the skin and sometimes localized. It can look a bit bushy.
Straight coated: This cat has proportionally the most hair in this breed. This cat lacks the hairless gene. In comparison to other breeds, it is not a huge head of hair.
These cats produce a little more sebum, so washing every now and then is not an unnecessary luxury. If you learn this from a young age, this will work fine. This cat is also extra sensitive to certain weather influences. Think of the sun, but also when it is very cold. If the cat has (some) hair, it could be any color that cats can have. That is to say, the classic colors and their variants.
The quote from Midas Dekkers: "A cat has 40 million hairs: 5 million on the back, 10 million on the stomach and 25 million on your couch." does not apply to this breed.
Physique
This cat has an average build and ranges from a light two pounds to a sturdier five pounds. The cat has strong muscles and flexible legs, with oval feet. The clearly visible toes are striking. The somewhat cylindrical construction clearly shows the oriental background of the cat.
The head also has that typical of the oriental cats, namely an equilateral long triangle. The eyes are medium in size and slightly oval and the ears are extra large, pointed and wide at the base on the head. The cat has a prominent chin and the neck is relatively long and slender (this is more pronounced in the cat than the male). The wrinkles on the head are clearly visible. Finally, the tail is relatively long and straight.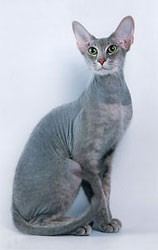 Source: Peterbald, Wikimedia Commons (Public domain)
Character
Buddy
This cat has a social character, is intelligent and likes to be around its owner. Nevertheless, this cat does best with a congener, this can be the same breed but can also be a different breed or mix. The cat is not good at being home alone for a long time or often. Furthermore, the cat also goes well with dogs and (young) children.
If you, as an owner, undertake thorough training with your cat, you will notice that you are dealing with an intelligent cat. The peterbald picks up things quickly and you will notice that first in the mutual communication.
The cat in the house
The peterbald has a very gentle character, is affectionate, curious and likes to play. She continues to do the latter until old age, with other cats as well as with humans. Moreover, in the games you notice that you are dealing with an intelligent cat. The cat quickly sees what your next action is. Furthermore, it is a cat that you preferably do not let outside, so indoors possibly with an outside run or walled garden where the cat cannot leave.
"When I play with my cat, she might spend time with me before I spend time with her." Michel Eyquem de Montaigne (French philosopher)
Due to the limited or completely absent coat, this cat is sure to enjoy nice soft blankets, will crawl around in sweaters lying around and will certainly appreciate a soft fluffy cat bed. Of course the cat also does fine in the warm arms of the owner, this is preferred. The cat can be very frizzy.
Buy a kitten
If you think you can and want to offer what the peterbald needs, it is good to go to one of the official associations for pedigree cats for a cattery in the area. There are also websites where kittens from official catteries are offered for sale, but often kittens are sold before birth and people are on a waiting list.
If you on google buy kitten ?? typing in, multiple websites with catteries come up. Since it is a breed that is not bred extremely much, it may be a bit of a search. Costs can vary because the more a kitten meets the breed standards, the more expensive the kitten becomes. The prices in 2019 can rise to about ?? 3,500.
An adult peterbald is sometimes for sale via relocation, but you hardly find these cats in the Dutch animal shelters.
Finally
For many people who love cats, a cat has to be cuddly and not every peterbald is. The cats with the velvety fur do, but this does not apply to the rest. If you don't care about being cuddly, you have a sweet, intelligent, gentle cat at the peterbald who does well with other cats, dogs and children.