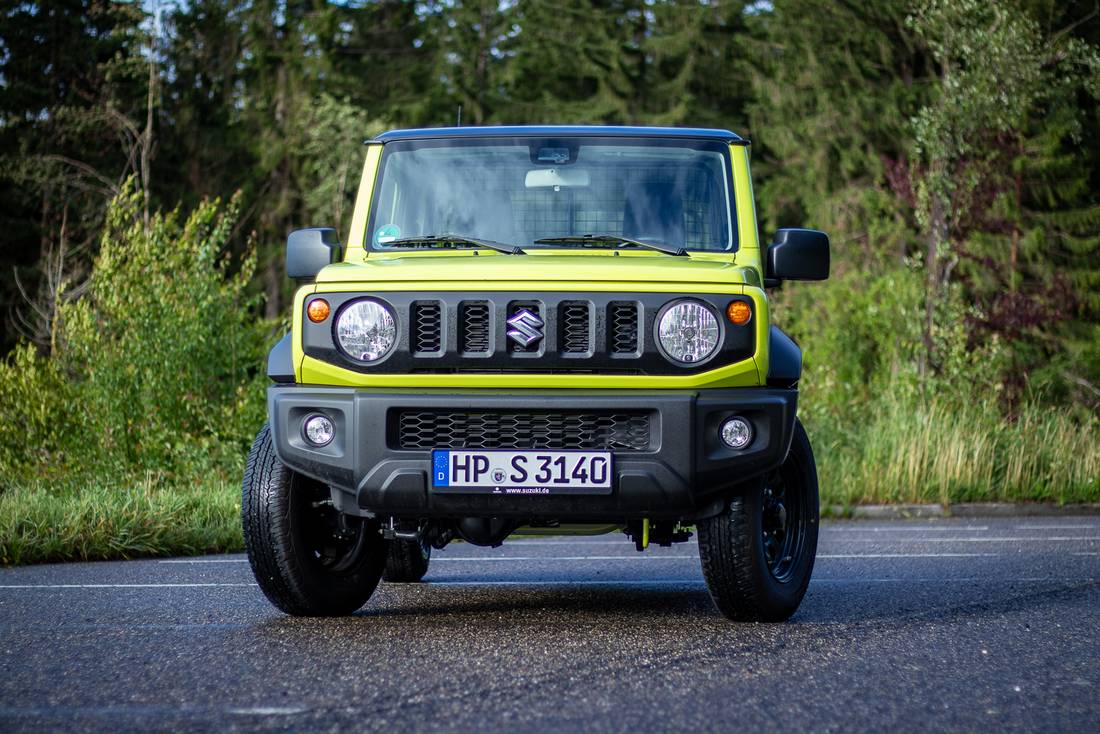 The Suzuki Jimny at a glance
Gnarly off-road vehicle with small dimensions
Outstanding off-road properties
Only two seats and a fixed divider
No long-distance qualities
Selling price from 26,990 euros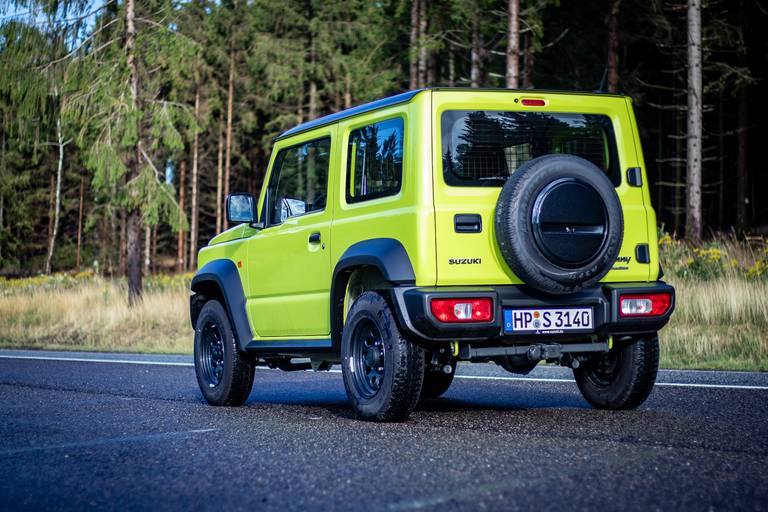 Jimny drivers still greet (and drive) themselves
The first aha effect in the current Suzuki Jimny (combined fuel consumption: 7.7 l/100 km; combined CO2 emissions: 173 g/km)² took place directly after the first long traffic light phase: an oncoming Jimny driver actually said hello with thumb outstretched. Jimny drivers value each other!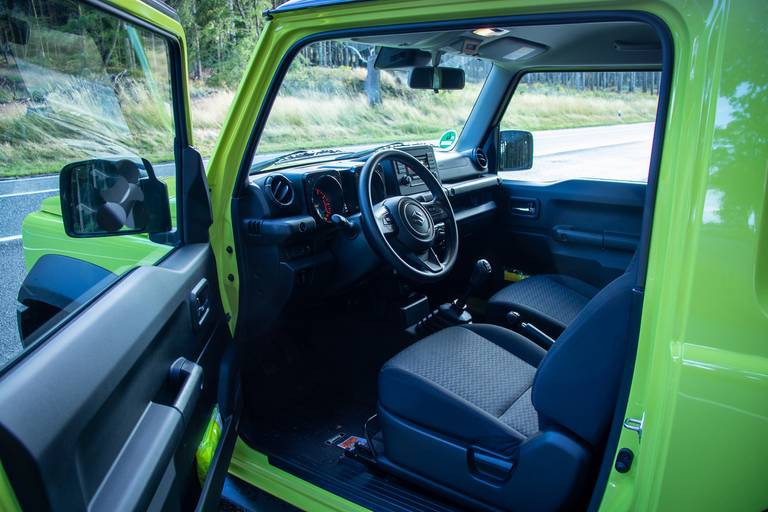 At this point I had successfully boarded the driver's cab of the Jimny, which was registered as a commercial vehicle, and familiarized myself with its peculiarities. Peculiarities? Oh yeah. Apart from the limited space of the pure two-seater – there are very few storage options and the loading protection grille is rigid, so that even reaching into the loading space is not possible – there are quite a few. There is the conventional ignition key, the lack of any conveniences such as Park Distance Control or the radio, which apart from Bluetooth coupling can actually do no more than the function originally conceived by the inventor. What is there? Electric windows, heated seats and cruise control.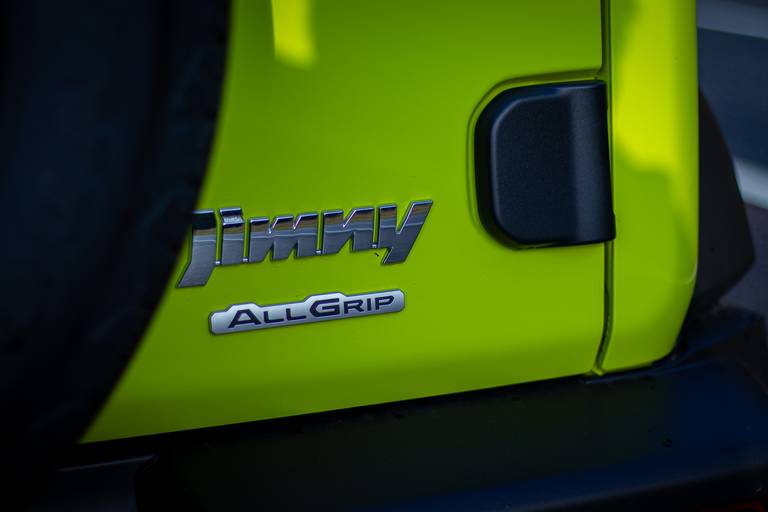 Make the rear wheels spin with 102 hp
The Jimny driver, who greets everyone as usual, usually places as much value on the amenities of modern cars as he does on the ability to order food via smartphone. The priorities here are absolutely unrestricted use of the Jimny for all tasks on all surfaces. It's no surprise that the slim 102 hp and 130 Newton meters of torque cause the unloaded rear axle to spin on wet asphalt. Asphalt and no load is a condition that very few Jimny usually see.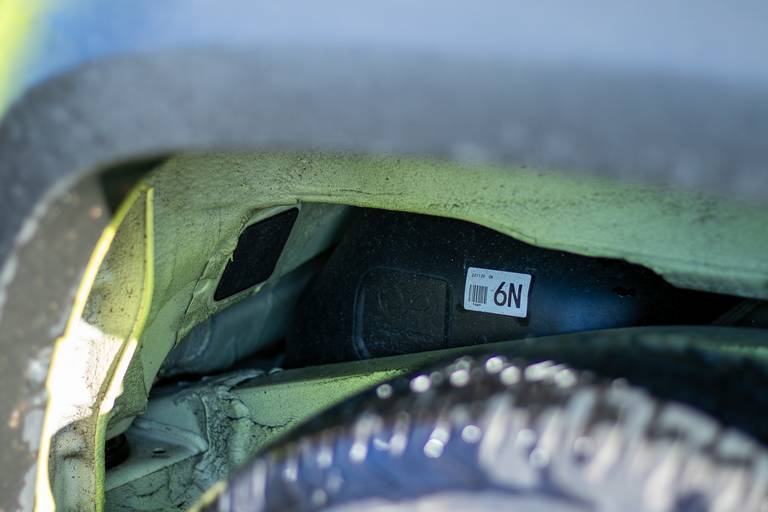 So let's get straight to the point: off-road capability. With our bright yellow Jimny, we often spontaneously turned off the main road onto the next dirt road. Because it was possible – not because we had a reason for it. With the all-wheel drive, which can of course be activated manually using a lever, the Jimny can dig through almost everything – and then you haven't even touched the separate lock yet. Its low weight, small dimensions and narrow studded tires are the recipe for success. Extreme gradients and slope angles are sometimes possible due to the very short overhangs; it is almost frightening how the Jimny climbs even on boulders.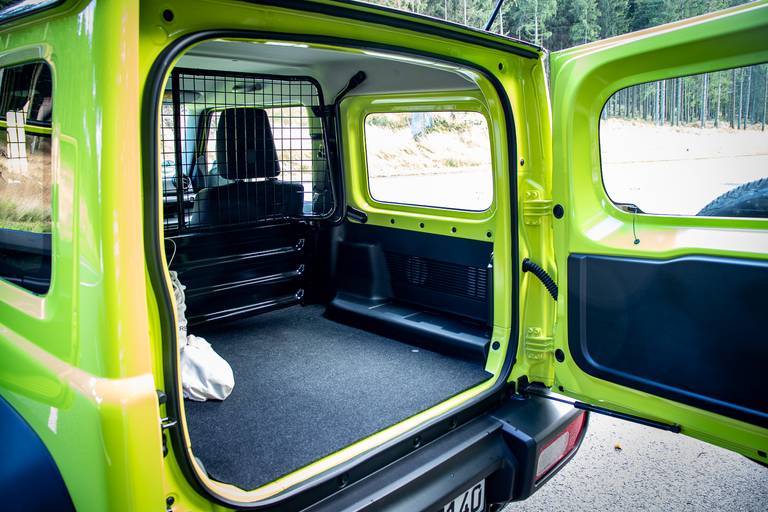 These capabilities do not stand in the way of being used as a city or intercity car. Anyone who enjoys the knobby gearbox and the simple interior will quickly like the outstandingly clear body, the small dimensions and the uncomplicated handling of all types of curbs in city traffic. If in doubt, you can get through anywhere with the Jimny. When parking and loading you should always leave some maneuvering space – this makes the trunk a little easier to access.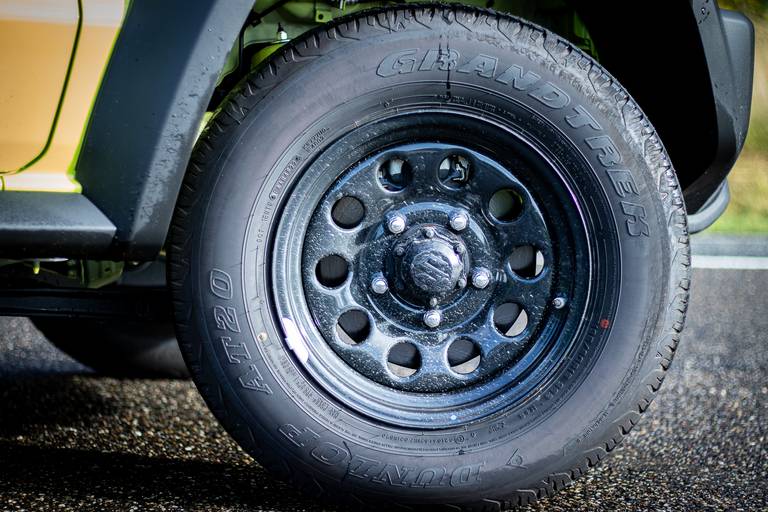 Anyone who tries long-distance driving will probably find the Jimny less enjoyable. The Jimny pays tribute to the uncompromising off-road capabilities on the highway. Strictly speaking, speeds over 140 km/h are not possible, the crosswind sensitivity is high, as is the wind noise.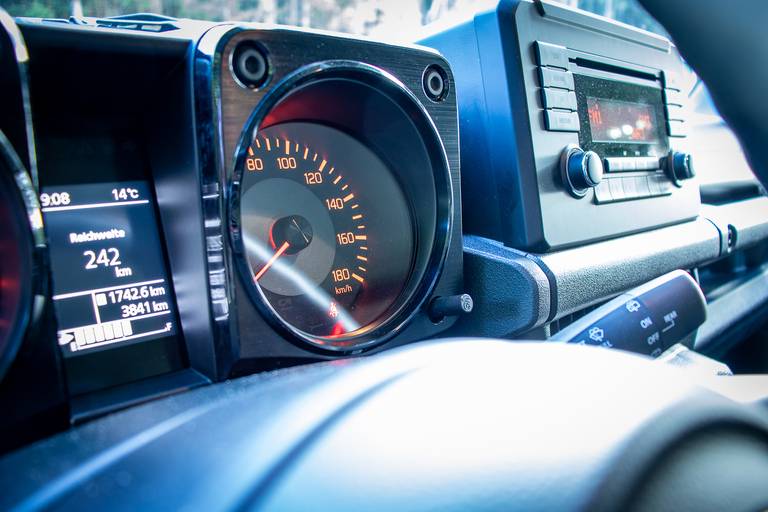 Conclusion
If you have a Jimny in your garage, this probably shouldn't particularly affect you. Because he will usually only use it for shorter journeys. Because he knows what he has and what he has it for. The Jimny has outstanding qualities, as an off-road vehicle, as a lifestyle object, as a commercial vehicle for almost all situations. And it's an old-school car. It is extremely pleasing that Suzuki is still offering something like this in 2023. For the purchase price of 26,990 euros, it is worth every cent. (Text and image: Maximilian Planker)
Technical data Suzuki Jimny*
| | |
| --- | --- |
| Model | Suzuki Jimny commercial vehicle |
| Gasoline engine | 1.5 liter four-cylinder |
| Performance | 75 kW (102 hp) at 6,000 rpm |
| Torque | 130 Nm at 4,000 rpm |
| CO2 emissions combined | 173 g/km² |
| Acceleration (0-100 km/h) | 12.8s |
| Top speed | 145 km/h |
| Dimensions (L/W/H) | 3.65m/1.65m/1.71m |
| wheelbase | 2.25m |
| Weight/payload | approx. 1,165 kg / 270 kg |
| trunk | 863 litres |
| Basic price Suzuki Jimny | from 26,990 euros |
*Manufacturer information