Taking care of the Begonia maculata (dot plant)
The Begonia maculata is a striking plant that originated in Brazil. The leaves have white dots and a red underside. The nickname polkadot plant is therefore quickly explained. This unique appearance is a true showpiece in any interior. With the dot plant you bring a true piece of jungle into your home. Provide moist soil and a place in partial shade. If you take good care of the plant, you can even be rewarded with white flowers! Begonia maculata is also very suitable for cuttings.
Origin Begonia maculata
This striking plant originated in the tropical rainforests of Brazil. This immediately explains that the Begonia maculata likes a warmer environment and moist soil. There are at least a thousand types of begonias, so the polkadot plant comes from a large family. Originally they occurred in warm, humid, wooded environments.
Various nicknames for polkadot plant due to a striking appearance
The leaves have a special look. The back is red / purple and white (almost silver) dots are visible on the front. The contrast of these colors creates a striking appearance. This eye-catcher will undoubtedly steal the show in any room. In addition, this plant has air-purifying properties. Harmful substances are broken down and oxygen is made from CO2.
The official name of this plant is Begonia maculata. However, the names dot plant, polkadot plant and polkadot begonia are also widely used. These nicknames are of course based on the striking leaves.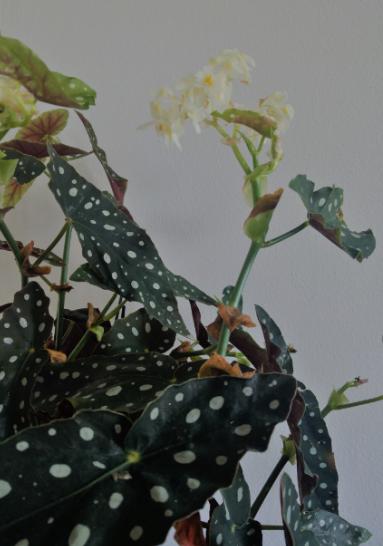 White flowers with good care of the dot plant
As mentioned, this cheerful plant likes moist soil. However, be careful that a layer of water does not remain continuously and do not spray water directly on the leaves. If the soil stays too wet, the leaves will turn yellow and brown and will fall off. By placing an inner pot in a decorative pot, the excess water can drain away. This reduces the risk of root rot.
For the summer months it is advisable to water twice a week. Once a week is sufficient in the winter period. Check every now and then whether the soil has not completely dried up. It is also advisable to regularly add plant food to the water. Once a month should be enough.
If the dot plant is well cared for, it can even produce white flowers!
Best place for the Begonia maculata
When choosing the ideal location for this houseplant, avoid direct sunlight. The leaves can be damaged by this. Choose a partial shade. A distance of one meter from the window should not be a problem. The Begonia maculata likes a little heat and needs a minimum temperature of 15 degrees. The best time to repot is in the spring or immediately after purchase. Use a pot that is at least 15 percent larger.
Begonia maculata cuttings
You can take cuttings from Begonia maculata, which will create new plants. This works best with a thicker stem that already has multiple branches. You cut it off and place it in water. Change this water at least once every two weeks and place the cutting in a light place (but no direct sunlight). At some point roots will emerge. This can take from a month to a month and a half. When there are enough roots, the cutting can be put in the ground to continue growing.