The fox or red fox: a people-shy fortune-seeker
A fox or red fox is found in large areas on the earth. The fox eats whatever gets in his way. He is omnivorous. In addition to prey, it also eats fruits and plants, for example. The crab fox eats crabs. Although a fox sometimes looks very cute, it is not suitable to keep as a pet because it is too shy of people. In the Netherlands and Belgium it is also prohibited to keep them as pets. An important character trait of a fox is that it is a real fortune seeker both when looking for food and when looking for a suitable shelter. The red fox is not an endangered species and has no natural enemies in the Netherlands. He can, however, become a victim of illness, traffic accidents or hunting.
Taxonomic Classification
DNA test fox
Appearance (red) fox
Fox lifestyle
Sounds
Cave or fox castle
Food
Way of hunting
Surplus killing
Distribution (red) fox
Australia
Habitat fox
Reproduction fox
Birth
Cubs
Territory fox
Threat fox
Observing fox
The fox and the culture
Taxonomic Classification
Empire: Animalia (Animals)
Strain: Chordata (Chorda animals)
Class: Mammalia (Mammals)
Order: Carnivora (Predators)
Family: Canidae (canids)
Genus: Vulpes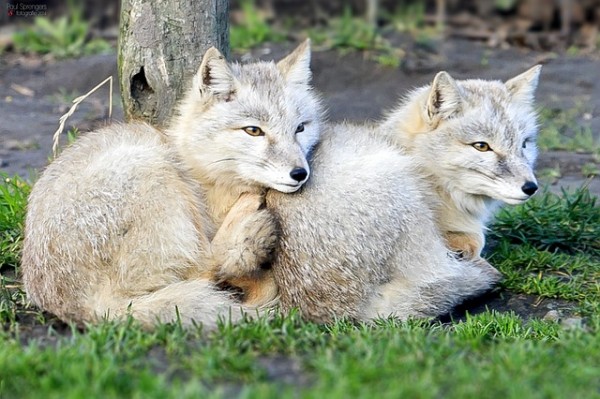 Source: Depaulus, Pixabay
DNA test fox
DNA research has shown that there are twelve species that really belong to the genus Vulpes. In other words, there are twelve species that can really be regarded as foxes. There are also a number of species called fox. The most common fox is the red fox, which can come in as many as forty-seven different variations. Three main groups of canids can be distinguished: the fox-like dog, the wolf-like dog and the South American canid. The (red) fox belongs to the fox-like dog family and is a predator.
Appearance (red) fox
Striking is the black tear drop on the cheek that most foxes have. Their coat is red to reddish brown in color. Silvery to black foxes are found in mountain areas. There are also albinos. The back of the ears is black, as is the lower part of the legs, which are generally short. The upper lip is white and foxes also have white bands. The fox has a pointed snout with a flared end, a kind of snub nose, and upright triangular pointed ears and a flat skull. It has a long, thick tail. It does not grow that big, about 35 to 40 cm high and on average 58 to 90 cm long. The tail can reach about 30 to 50 centimeters long. A fox weighs about 3.5 to 10 kg. A fox does not have good vision but can hear and smell very well.
Fox lifestyle
Foxes are nocturnal animals and prefer to hunt in the early evening or at night, sometimes it hunts during the day. They prefer to sleep above ground in a sheltered spot. The fox has a whole arsenal of sounds, twenty-eight different. In addition, he communicates through body language. This way you can see from the position of the ears and the mouth whether a fox is aggressive or submissive. They only hunt as a family, usually in small groups. A group consists of a male fox called a rekel and a female fox called a nut. Sometimes the group will contain a few more females from previous litters of the pair. They stay to assist the mother fox in raising the new cubs nests.
Sounds
The sounds a fox can make are very varied. For example, there are the following sounds:
Whining crying: this is what young do immediately after birth because they are hungry and it makes the maternal instinct work;
Yapping: when the youngsters are three weeks old they start yapping;
Loud howl: when the youngsters are a month old they can erupt in a loud shrill howl and they do this to deter intruders;
Fighting howls or barks: When foxes are adults, they make this sound to deter intruders;
Cave or fox castle
A fox can dig burrows itself, but because the fox is a real fortune-seeker, he prefers to use burrows that have already been dug by other animals. The original occupant is then shown the door. Besides foxes, badgers and rabbits also dig burrows. A castle is an underground animal enclosure with several entrances, which is dug by small mammals. The castle is used to shelter, sleep, eat and give birth. Likewise, a fox only uses the den when something is wrong or when there is danger or when the weather is bad and so that the female and the young have a safe and sheltered place. During the day, foxes rest between the bushes or in a ditch. Good places to dig a hole are a spot between tree roots or under rocks.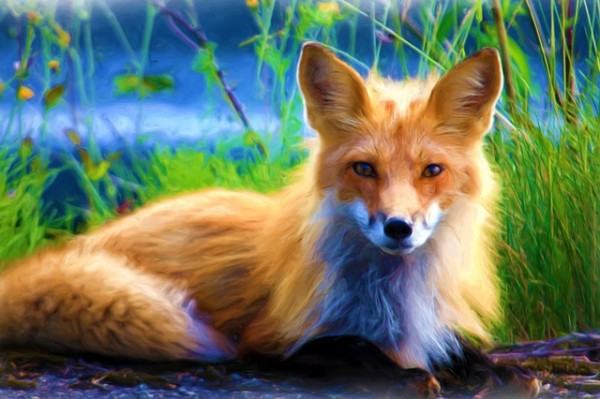 Source: DominikFuchs, Pixabay
Food
Foxes are also real fortune seekers when looking for food. They eat just about anything that is loose and stuck: rabbits, mice, reptiles, birds, insects, eggs, fruits, fruits, plants, crabs and waste. There are exceptions, even for an opportunist like the fox. He really doesn't like moles and shrews. He does not start frogs and toads. A gray fox can even climb a tree to get food.
Way of hunting
A fox has many different ways of hunting. It is just what comes in handy in the situation in question. Sometimes the fox stalks its prey, a fox then jumps with force on its prey and then shakes it back and forth until it is dead or until the intestines are out. Another time, he gives chase and can reach speeds of up to 60 kilometers per hour. It can catch small mammals through its keen sense of hearing. Foxes are so smart they can eat hedgehogs too.
Surplus killing
A fox only needs to eat one kilogram of food per day. Yet he sometimes kills more animals than he needs and causes a real slaughter. We call this phenomenon surplus killing. This often happens in chicken coops because the animals are close together and have nowhere to go. Sometimes it also occurs occasionally in nature when there is no moonlight and when it storms, the fox sometimes strikes a bird breeding colony. The fox does this instinctively because he has to take advantage of the opportunity, which is again the nature of the fortune-seeker. He never knows when the next meal will arrive. If he has too much food, he hides it in various places and covers it with soil, leaves or snow. Even after a long time, the fox knows exactly where to find its hidden loot.
Distribution (red) fox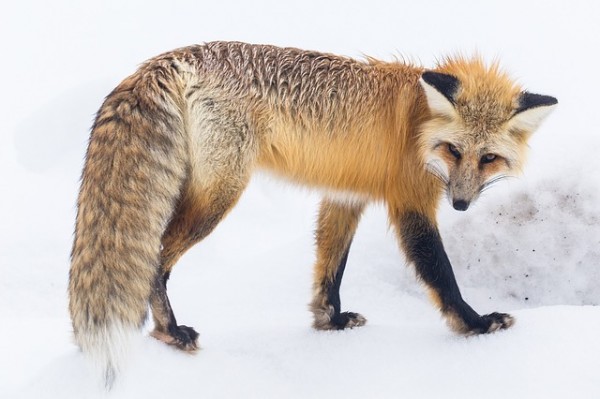 Source: Skeeze, Pixabay
The (red) fox is practically everywhere. Of all predators, the fox has the largest distribution area. It occurs throughout the northern hemisphere, but he does not show up where it is too hot or too cold. It also usually does not occur on islands. The exception to this is the island fox. The fox is found throughout the Netherlands except on the Wadden Islands. He is also not wanted there because he would disturb the bird population.
Australia
In Australia the fox only occurs because it was deliberately released there for fox hunting. Because native animal species have suddenly acquired an enemy that is not natural to them, they are in danger of extinction. In Australia, the fox has become a veritable pest and they also attack livestock.
Habitat fox
The fox can be found almost everywhere because it can adapt well. He lives in forests, parks, gardens, dunes, polders, cities, agricultural areas, deserts and swamps. Basically everywhere where there is enough food and where he can hide well. The fox's favorite are the shrub layers in the forest.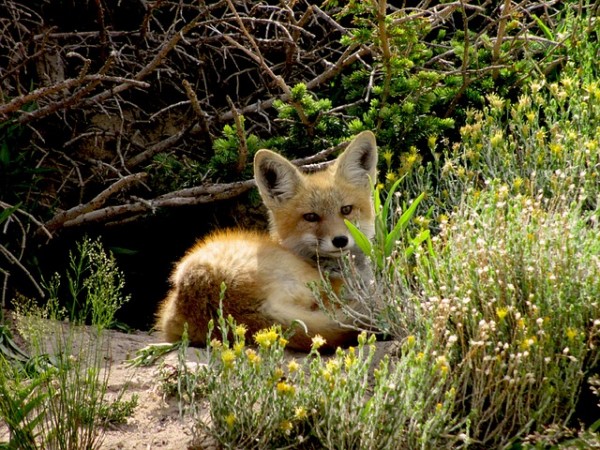 Source: Skeeze, Pixabay
Reproduction fox
The mating season of foxes is from December to February. Females are fertile for only 6 days. Fox pairs often stay together. Mating can take quite a long time because the foxes get stuck together for a while. When the female is pregnant she goes to a hole. The male or the other females of the family then provide the food. The gestation period is approximately 52 days. The period that the cubs are born is at the end of March, April and the beginning of May.
Birth
They often have 4 to 5 young at the same time. Occasionally, the litters are larger, depending on the food available in the area where the fox lives. The young become deaf and blind at birth and have a dark gray-brown soft coat. They weigh about 100 grams. They are completely dependent on the mother for the first few weeks. The mother and the young are taken care of during that period by the male and the helpers.
Cubs
After about 14 days, the fry open their eyes. A young fox has blue eyes that change color permanently after a while. After three or four weeks, they take their first steps outside the cave and are often taken by their mother to a larger cave. They are then finally old enough for solid food. After a month or two, they are old enough to stay above ground with the rest of the family in the undergrowth. In September they are old enough to look for their own territory. This does not always work and then they starve to death.
Territory fox
A male and his female share one territory but sometimes have a number of females living with them, these are daughters from previous litters. These daughters help their mother. Other foxes are not tolerated. Foxes mark their habitat with urine and a secretion from the scent glands of the tail, head and soles of the feet. This secretion is released to trees, shrubs, grass pollen and the like. They also mark their territory with their excrement that can be of all kinds of different colors, depending on what they have eaten. The size of a territory can be very different. The larger the area, the less food is available. A territory can certainly be up to 12 km².
Threat fox
The red fox is not an endangered species according to the IUCN 2016 Red List and it has no natural predators, although there are areas where young foxes fall prey to predators and birds of prey. The fox is threatened by all kinds of diseases and parasites such as rabies and scabies. Foxes are also still victims of traffic. Foxes can live to be ten years old, but in the wild they often don't live to be more than three years old. Fox hunting was introduced to England in the 16th century. Fox hunting using dogs is prohibited. The fox is allowed to be hunted and that is the number one cause of death. Some fox species are an endangered species.
Observing fox
Because the fox is so shy about humans, it is difficult to find one in the wild. A fox only goes out at night when people are around. A fox is not really known for attacking humans.
The fox and the culture
The fox appears in many stories, TV shows and movies. Well-known examples are:
of the fox Reynaerde;
mythical newspaper;
swiper the fox from the cartoon series Dora
The fox is usually a clever thief in the stories, a beast that performs tricks. He is described as such in many cultures. In Asia, the fox is also seen as an animal that does mischief and pranks, but it is also considered a magical creature there.