The ideal living environment for the indoor cat
Some people believe that cats should always be able to stay outside. Other people know for sure that if the cat in the house has enough space and challenge, this is just as good. Either way, the man or woman who buys a cat makes the decision on how to shape the cat's living environment. If you make the choice to keep the cat in the house, this space must meet a number of conditions, at least if you want to have a happy cat. What should you pay attention to?
For every pet that you purchase, you must treat it well and thoughtfully. You take an animal for a longer period of time and that has consequences. Awareness is very important. For a cat, on average, you have the animal at home for about fifteen years. What should you pay attention to when you first start with a cat in the house?
Attention
It may be obvious, but all life thrives on enough attention and that also applies to the cat you bring into the house. You don't have to cuddle the animal all the time, but give the cat regular attention. The moment usually doesn't matter, as long as the attention is there.
The cat that demands attention
Now the cat is pre-eminently an animal that often comes to ask for attention itself. The better you know your cat, the better your language? understands. For example, one cat will emphatically (rather forcefully) keep turning around your legs, the other will sit next to or on your keyboard when you are just at work at your computer and another cat will put its paw on your hand or arm. The talkative cats will again use their voice a little more.
Space
The space that a cat needs cannot be measured directly in m2. An average single-family home or two-room flat is fine. What is important for the cat's space is that she can withdraw somewhere. That can be in a separate room / room. If you don't have that much space in the house, think of a corner where you have, for example, a scratching post with a walk-in tray. After all, you do need a scratching post. Many scratching posts rest on a large square or rectangular tray that is covered with plush and where the cat can nestle in. If it is also in a quieter spot, this is enough for the cat to be able to withdraw.
Scratching post
A scratching post or scratching board is essential for the cat. The cat must be able to sharpen the nails, which is possible outside on a tree. To prevent the cat from getting into your furniture, it is wise that the cat also has its own place inside to sharpen the nails.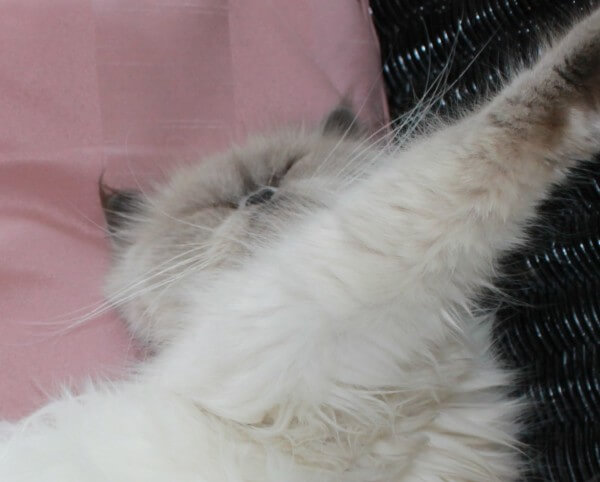 Source: Own cat – Annastaal
To sleep
Some scratching posts have wonderful places to sleep or you buy a small basket for the cat to hide in. Whatever you put down, the cat will eventually decide where to sleep. That is not always the place that you have in mind. Maybe it is too busy / noisy there, she has too little overview or you name it. The back of a sofa, a rug on the floor, the windowsill or the owner's bed, it can all serve as a bed for the cat. If you don't want her to go to certain places, be consistent in your behavior. This does not alter the fact that the cat will certainly try it more often, if it has set its sights on a place.
Food and drink
A cat can be very picky about what it eats. So if you buy food with the best of intentions, the cat can just leave it. So buy some different flavors in the beginning, especially with wet food. What she likes and what she doesn't like is such a part that you will get a picture of over time.
Basic principles
Most cats eat what they need. It is therefore advisable that you always have a container with chunks and a container of water within reach. Change the water once a day. If you also want to give the cat wet food, do this at fixed times (for example when you are going to eat yourself). Most cats like running water and there are plenty of water bowls with running water. A waterfall, an unfolded flower, a real brook with rippling water. A small battery keeps the water moving.
Enter
One gives the food from the supermarket and the other gets food from the specialty store. Organic or not, it is all very personal. As an owner, you should always keep an eye on how your cat is doing on the food that you provide her. That is to say, she has a healthy shiny coat, no continuous diarrhea or dirty eyes. But also think about her behavior and even whether she has a flexible stomach. Nutrition has an effect on the complete well-being of the cat.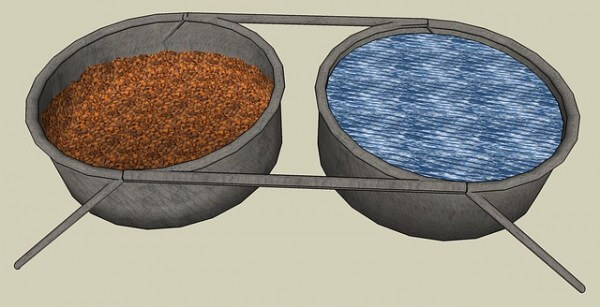 Source: ZinaRae, Pixabay
For example, if your cat is drinking significantly more for a while, something could be wrong with the kidneys. However, it can also be about something else. Therefore, do not draw any conclusions yourself by buying directly adapted food for cats with weak kidneys. Always consult the vet if you notice anything abnormal that does not resolve itself in the foreseeable future.
In some cases you can take action yourself for adapted feed. Think of food that helps the cat with its hairballs. Most cats regurgitate these, but sometimes they don't. In such a case, adapted feed may be a solution. But if you have a papyrus plant or cat grass in the house, then that is also fine for the cat to get rid of the hairballs. It is a myth that only long-haired cats have hairballs, in principle every cat can have hairballs.
Material to be used
Opinions are divided on how good or not good a plastic or metal (usually stainless steel) food bowl is for serving the food. Some people say it contains substances that can affect the food and therefore what gets into the cat's stomach. Other people say this is nonsense. The only material that is not in dispute is the baked / enameled food bowl. Move the drinking and food bowls as little as possible, cats like regularity and fixed places.
"The function of a cat is to sit and be admired" Dorien Kramer (cat lover and former breeder)
Cat toilet
The litter box is a must for the indoor cat and if you have one cat you will need two litter boxes. If you have two cats, you need three litter boxes. The most convenient are the litter boxes that the cat can walk into (looks like a huge snail shell) or the well-known covered boxes with a lid. These bins, in combination with the right cat litter, keep most of the odors out of the room. This does not alter the fact that cats prefer to sit on a litter box without a lid. If you have a separate room where this can be placed, your cat will certainly enjoy it.
Put a good layer of litter in the litter box, at least about two inches. A cat likes to dig! Which cat litter you take is very personal. One prefers wood chips, the other swears by clumping cat litter and someone else wants granules with a fresh scent. Whichever you take, clean the litter box at least once a day, but preferably twice a day. That is to say, remove everything that has been defecated and urinated and, if necessary, fill your tray with fresh cat litter. In addition, it is wise to empty the container completely once a week and soak it well. Cats like to sit in a clean toilet.
Cat urinating in the house
Basically, a cat is an animal that you "raised". takes home. That is, the cat (or kitten) is house trained and once you put her on the toilet, she will continue to find her way. If your cat does pee in the house, it is wise to find out why the cat is doing this. There can be several reasons why the cat does not put her pee in the litter box. For example, some cats have trouble with the smell of rubber in the doormat. In that case, a doormat without rubber would of course be a solution. Also check that the litter box is clean, some cats are demanding on this one. Of course the cat can also have bladder problems, but you can tell when she sits down to urinate. Cats adopt a different attitude with bladder problems. Bladder problems are often quite painful.
However, if the cat really starts spraying, there may be another problem behind it. Spraying is when the cat is simply standing, raising the tail and depositing a few drops straight back. This may be related to dominance, especially when there are more cats in the house, but the cat can also display this behavior when she is under stress. Therefore, coordinate with the vet what you can do best.
In the event of a one-off accident, you can usually get away with good cleaning or a special spray that neutralizes the odor. Think about? Urine off? or ?? Ecodoor urine odor remover ??.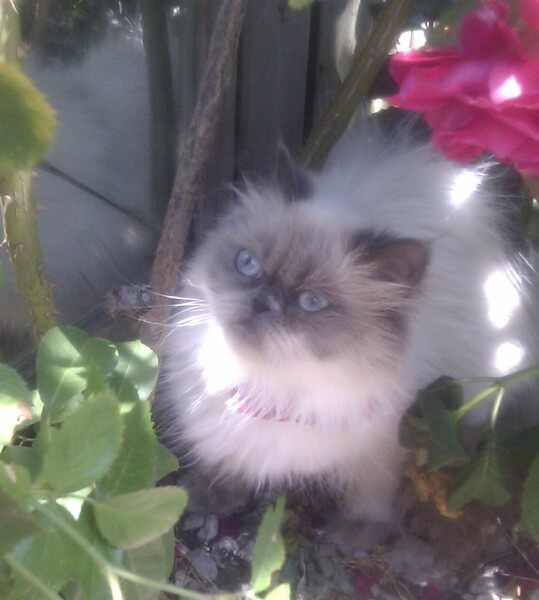 Source: Own cat – Annastaal
Outside
If you have the option to make a spot outside, this is recommended. Most cats like to be able to stick their nose out now and then. This includes:
Covering a balcony with flexible mesh. Possibly to attach to the bottom of the balcony above you.
A separate run at the house that is accessible from the inside (eg through a window that can be opened). A simple wooden construction with tensioned chicken wire is enough.
On existing fence a ?? roller ?? place. If the cat wants to jump on the fence, it rolls off again. This doesn't hurt.
Attach inwardly stretched mesh to the existing fence. By attaching a bar every few meters, the mesh can be stretched tight.
Another option is to put the cat on a harness from an early age and teach her to walk on a leash. With a long line she has sufficient freedom of movement.
Stress
A cat is a highly sensitive animal and receives many stimuli. Stress is certainly lurking in the cat. A cat needs what we also apply with young children, namely rest, regularity and cleanliness. A cat should always acclimate and sense the space in a new space. Everything should be familiar to her, so give her time. Eating at regular intervals gives her clarity and a clean toilet is one of her needs.
Finally
Do you fulfill the conditions for keeping a cat in the house with pleasure and you have a buddy? for life. A domestic cat or a purebred cat, they all have their own peculiarities and that makes it such a nice animal for the cat lover and cannot be compared to any other animal (at most the felines in the wild).