The raccoon dog: welcome or not welcome in the Netherlands?
The raccoon dog, also called marten dog, belongs to the canine family and is native to East Asia. The raccoon dog is very similar to an ordinary raccoon, but is absolutely not a relative. Raccoon dogs are doing well all over the Netherlands and Drenthe in particular seems to be a popular place for raccoon dogs. In the years 2012 to 2016, young were even born every year, so it can be concluded that they are not stray or stray raccoon dogs. The Netherlands has therefore been a mammal richer for a number of years. However, the animals are closely monitored. The dogs are not only dangerous for protected bird species, but also for humans. The raccoon dog is a carrier of tapeworms and can transmit other bacterial diseases. State Secretary Sharon Dijksma of Agriculture has indicated that if the animals cause too much damage, they will be shot or at least part of the current population.
The raccoon dog: not related to the raccoon
A raccoon dog is very similar to an ordinary raccoon and is therefore easily mistaken for an ordinary raccoon. A raccoon dog is the same size as a fox, but with shorter legs. He has a brownish coat and long sideburns. An adult raccoon dog weighs between five and eight pounds and grows to about fifty to seventy centimeters long.
Food
The raccoon dog eats rodents, fish, frogs, insects and birds. Carrots, nuts and berries are also eaten by the raccoon dog. A raccoon dog is therefore a predator, something that according to many experts the Netherlands has been short of in recent decades.
Habitat
Raccoon dogs almost always live around rivers, lakes or swamps, preferably in deciduous forests with dense undergrowth. Raccoon dogs are mainly active in the evenings. They are excellent swimmers and climbers, but prefer not to. A raccoon dog is not territorial. It lives in a hole, preferably sheltered or under trees.
Social animals
Raccoon dogs are extremely social towards each other, but aggressive towards strangers. The canids are monogamous and live in small groups. These groups often consist largely of family members.
Reproduction
The gestation period is approximately 64 days. Usually five to eight cubs are born, although cases of nineteen cubs have been reported. Unfortunately, 55 to 70% of newborn raccoon dogs do not survive. They are blind at birth. Raccoon dogs don't get old: four to six years.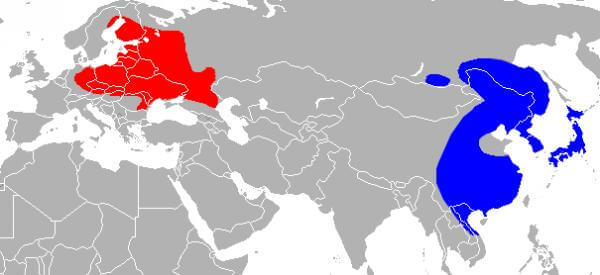 Image 1: distribution of the raccoon dog /
Source: Chermundy, Wikimedia Commons (Public domain)
Spread
The first raccoon dog was spotted in the Netherlands in 1990. There are now dozens of raccoon dogs in the Netherlands, although the number cannot be officially confirmed in 2017. This is because the confusion with a raccoon is easily made. Originally from East Asia (blue color in Figure 1), an unknown number of raccoon dogs managed to escape from breeding farms in Europe in the 1930s. In the 1950s they were deliberately expelled in Western Russia. Raccoon dogs are now common in much of Europe (red color in picture 1), but some cannot be given.
It is known that the animals in Germany are on the rise and are seen as a pest. They cause a lot of damage to nature and disrupt ecosystems. In 1994 and 1995 a total of 407 raccoon dogs were shot in Germany. In 2005 and 2006 more than thirty thousand.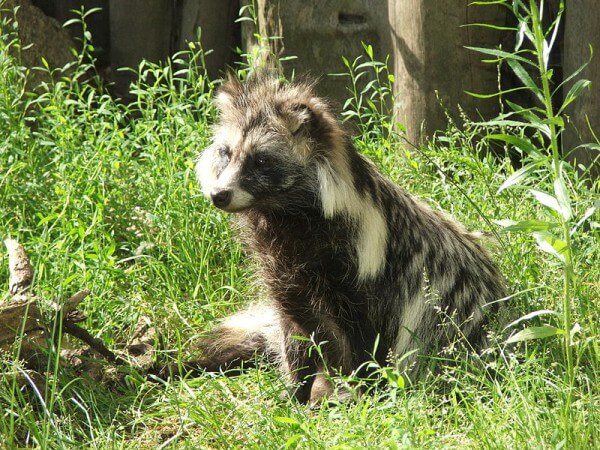 Image 2: a raccoon dog /
Source: Pkuczynski, Wikimedia Commons (CC BY-SA-3.0)
Consequences of the arrival of a raccoon dog
As mentioned, the raccoon dog is an exotic. An exotic is an animal that has settled in a country with the help of humans where it does not come from history and which reproduces exponentially. The consequences of the arrival of the raccoon dog in the Netherlands have been determined by experts as minor. Raccoon dogs are not great hunters. In addition, they adapt their menu to what is available. As a result, animal or plant populations will not decline to a great extent.
The raccoon dog is a potential carrier of rabies, Trichinella spiralis and fox tapeworm. The risk of rabies in the Netherlands is minimal. Trichinella spiralis is a roundworm infestation. The gastrointestinal tract is first affected, followed by nausea and diarrhea. In some cases, the central nervous system is damaged, resulting in respiratory paralysis and death. Wild boars are also carriers of Trichnella in limited quantities. Raccoon dogs could be a new link between humans and the infection.
A raccoon dog's greatest natural enemy is the wolf. The fact that wolves have not (yet) settled in the Netherlands may offer hope for the raccoon dog in the Netherlands.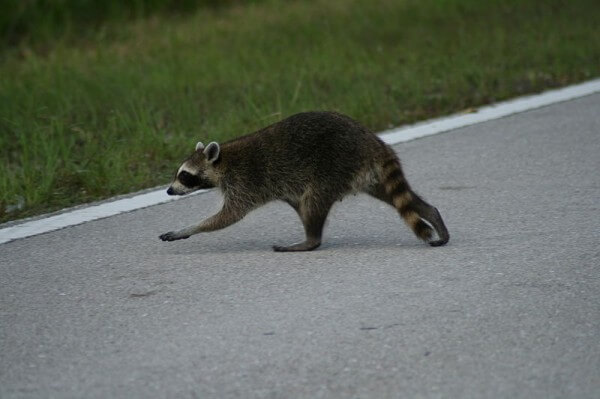 Image 3: a common raccoon /
Source: Korall, Wikimedia Commons (CC BY-SA-3.0)
How do I recognize a raccoon dog?
As indicated, raccoon dogs (image 2) and common raccoons (image 3) are very similar. However, there are a number of differences through which a raccoon dog can be recognized:
A raccoon has pointed ears (shape of a triangle), a raccoon dog does not;
A raccoon has a ring tail (black and white), a raccoon dog has a hairy tail;
A raccoon has a mask (white stripe) that continues uninterruptedly from the eyebrows to the neck. A raccoon dog has a broken mask;
A raccoon has light legs, a raccoon dog has darker legs;
A raccoon dog has whiskers, as it were, a raccoon doesn't.
Whether a raccoon or a raccoon dog is spotted in the Netherlands: both are a unique moment. The two animal species are both rare in the Netherlands.
Trend
Not only the arrival of the raccoon dog is unique. Several animal species that have never inhabited or have ever left our country are coming (again) to the Netherlands. For example, in 2017 there are recent sightings of lynxes and wolves in the Netherlands. The moose is getting closer and has already settled in East Germany. The jackal was spotted for the first time in the history of the Netherlands in 2016 somewhere on the Veluwe. The sea eagle has also been breeding in the Netherlands for a number of years. Which animal species can the Netherlands welcome even more in the coming years?