The scratching post: a handy cat furniture for the indoor cat
Every cat has the need to scratch so that his nails do not grow too long. Cats that live outside will often plant their claws in trees. Indoor cats also feel the need to put their nails to work. The indoor cat will often start scratching on seats, chairs, plants or wallpaper. Something that few cat owners can appreciate. When placing a scratching post, however, it will (partly) be possible to prevent the cat from showing this undesirable behavior.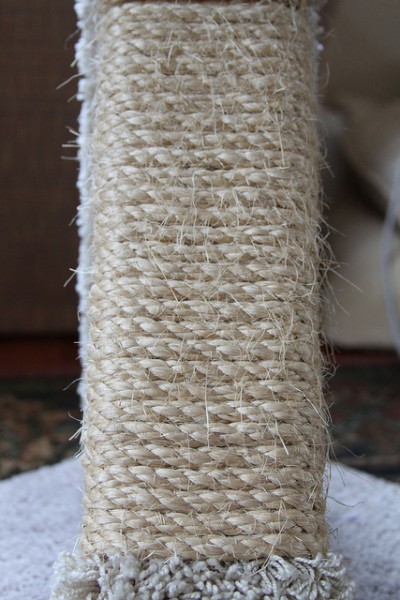 Most scratching posts are wrapped with sisal rope, a material that cats like to plant their nails in /
Source: Gudlyf, Flickr (CC BY-2.0)
What is a scratching post?
A scratching post is a wooden post wrapped with sisal rope or another material that cats like to scratch. The post stands on a sturdy pedestal that prevents the scratching post from falling over when used by the cat. There are scratching posts in various sizes and sizes. Small scratching posts are produced specifically for young kittens, while large ones exist for very large cats. However, where a young cat can make good use of a large scratching post, this is not the case in reverse. A large cat will struggle with a scratching post that is too small and consider it clumsy.
Some scratching posts may also have toys attached to them that can provide additional attraction to the cat. However, this is not necessary and practically every cat will use a scratching post, regardless of whether it has toys or not. A scratching post is preferably not placed in a corner, but in the middle of the room. In this way it is a place where the cat regularly comes by and can spontaneously scratch.
Benefits
A scratching spot is necessary for any indoor cat that does not have the ability to plant its claws in a tree. The cat does this to get rid of the worn ends of its nails and in this way take care of its nails. That is why you may find nail sleeves of the cat on or around the scratching post. Placing a scratching post therefore prevents your interior from being damaged by a natural need of the cat; namely taking care of her nails. In addition, a cat can have a great time with a scratching post. A scratching post is not only used by a cat to take care of its nails, but often also as a climbing post or to hide behind.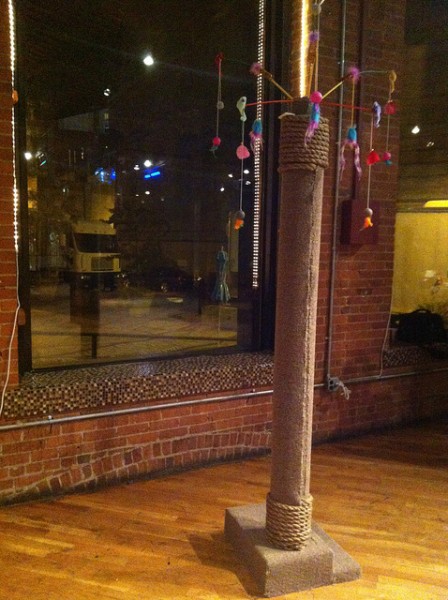 A scratching post with toys can be extra attractive for your cat /
Source: KellyReeves, Flickr (CC BY-ND-2.0)
Cons
There are few drawbacks to scratching posts, other than the fact that they can sometimes get in the way. Another disadvantage is that not every cat has the tendency to visit the scratching post and continue to scratch on your wallpaper, furniture, etc. To solve this, it can sometimes help to use a catnip (catnip in English) spray. Also note that lower quality scratching posts break quickly, especially if you have a heavier cat that puts a lot of force on the scratching post. Therefore, be careful with the purchase of cheaper or smaller scratching posts for this type of cat.
Is a scratching post necessary?
It is not necessarily necessary to buy a scratching post for an indoor cat; However, providing a scratching spot is necessary. You can also choose to purchase a scratching board or scratch mat. These are especially useful for placing over wallpaper or carpets that are consistently scratched by your cat. If you want to combine a play, resting and scratching area in one piece of furniture, a scratching barrel can be a solution. There are also some cat towers where a scratching post is mounted. However, the purchase of one of these cat furniture does not exclude another. It can even be useful to provide several scratching areas in the house, especially if you have several cats. To avoid conflicts between cats, it is best to provide at least one separate scratching area for each cat.
Conclusion
A scratching post is a cat furniture that is useful when you have an indoor cat. The scratching post helps to prevent the destruction of your own furniture. For this reason, a scratching post is definitely recommended. It will benefit both your cat's nails and your interior.