The use of a drinking fountain for your indoor cat
Water is one of the fundamental factors that make life possible. That is why easy access to water for humans and animals is extremely important. This is also the case for our cats who, in addition to a portion of good food, also need a portion of water. Many people invariably give their cats a bowl of water. However, for many indoor cats, water from a drinking fountain would be a much better option.
In nature, cats naturally drink from pools, ponds and rivers. When we keep a cat inside, they logically also provide water, so that our beloved four-legged friends can quench their thirst. In many cases, people do this by preparing a bowl of water. Still, a drinking fountain (in English also cat fountain called) are in many cases a better option for indoor cats.
Why do cats need to drink?
Cats are naturally small drinkers. In nature, they get most of their moisture from their prey and they supplement this for just under 30 percent by drinking. Wet food, which is given by many people, has a similar moisture content to that prey. In both cases they need a little extra water. Cats that are fed dry food, of which the moisture content is much lower, need additional water. These will therefore need additional drinking establishments.
If cats don't drink or drink enough, they will get sick very quickly. If a cat is not drinking enough, her kidneys will not work properly. This can make a cat seriously ill and, for example, cause the cat to develop kidney stones or crystals or cause his / her blood volume to drop. If you are seriously concerned about an extremely high or extremely low fluid intake of a cat, it is best to visit a vet as soon as possible.
What do cats like to drink?
What do cats like to drink when they are thirsty? Contrary to popular belief, cats prefer to drink water and not milk. Many cats will not tolerate the lactose in the milk, resulting in stomach problems. Do not serve your cat milk, unless it would be special cat milk from which the lactose has already been removed.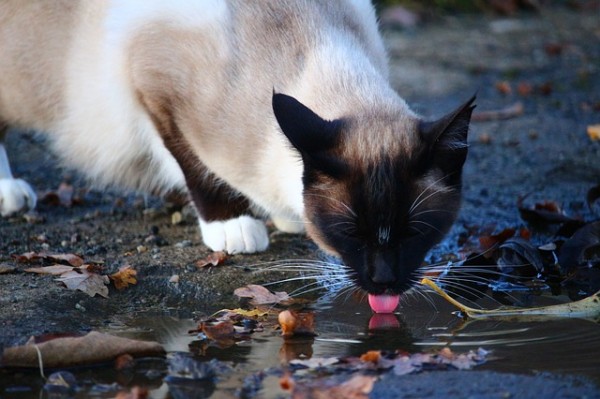 Cats will often drink from puddles when outside /
Source: Rihaij, Pixabay
Cats prefer to drink all water. Now of course you have water in various shapes and sizes. For example, never give your cat distilled water (water that you use for the iron, for example). All minerals have been removed from this water and because of the osmotic effect your cat will quickly become ill and may die. Bottled water and tap water are better suited for the cat. However, people who own an outdoor cat will have noticed that cats prefer to drink water from ponds, pools or clean streams. This has two causes. First and foremost, humans feed cats from very well-cleaned bowls. As a result, these containers will have a detergent smell that smells very chemical. Water from ponds, pools or streams smells much more organic and therefore more attractive. In addition, cats like moving water, because this water is more oxygenated, which cats find more delicious.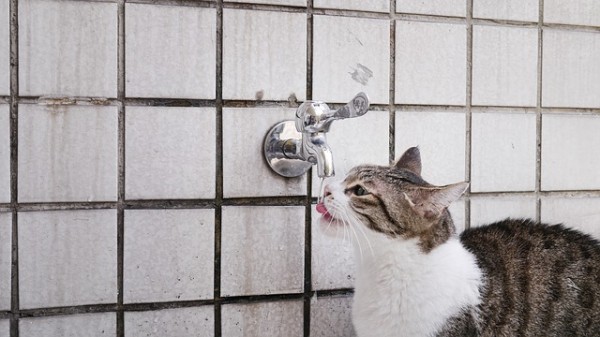 A leaking or running tap will also be used by cats for drinking /
Source: S9234460, Pixabay
A drinking fountain for your indoor cat
A drinking fountain is an ideal way to simulate this situation. A drinking fountain is a small electrical device that will move water through a pump. Often this device will also filter the water from hair or dirt that falls into the reservoir. Such a drinking fountain will make the water move constantly and will absorb more oxygen through its flows. Certainly for cats that drink very rarely, it can be an incentive to drink more. In addition, cats can refresh their paws and snout when a heat wave takes place. In addition, certain cats will be fascinated by the movement of the water, which may prevent this cat from getting bored. Also, if you rinse the basin thoroughly after it has been brushed with detergent, no chemical odor will linger and your cat will not be bothered by this either. This makes a drinking fountain the ideal way to make your indoor cat drink and entertain.