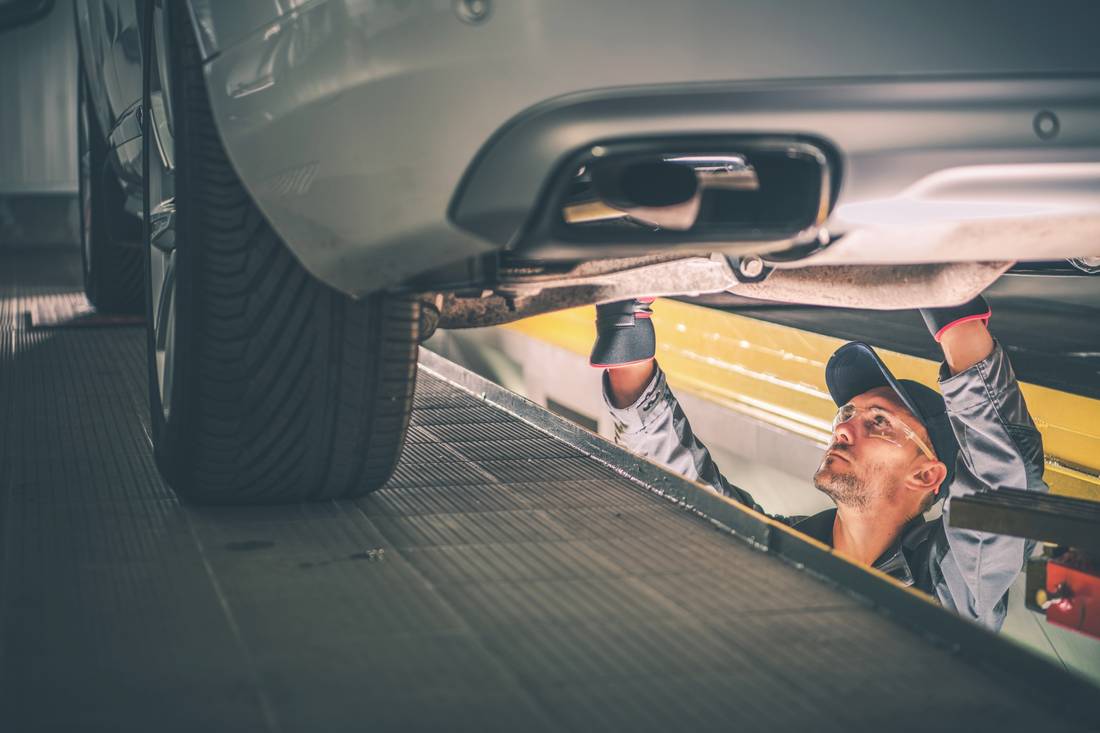 contents
How do I know if a major or minor inspection is due?
What is a longlife service?
What happens if you don't do the inspection?
What does "checkbook maintained" mean?
Which workshop can I go to?
What is the difference between inspection and oil change?
How much does my car service cost?
Conclusion
How do I know if a major or minor inspection is due?
Each manufacturer handles the inspection instructions differently. In many cases will in the on-board computer the need for service is displayed when the engine is started or switched off. It is often even reported what work is required, how many days are left until the workshop visit and how many kilometers can still be driven. Other vehicles, especially cheaper models or modern displays or infotainment systems, often have one Wrench light icon for necessary service measures. Even in many older cars such systems are installed, at BMW there were so-called Service interval displays since the late 1980s.
In any case, a clarifying one helps Look in the manual. This describes exactly how the vehicle draws attention to itself when a routine workshop visit is due.
What is a longlife service?
The Longlife service is a relatively modern invention. Every car always needs its regular maintenance depending on use and stress. A car that is regularly driven over long distances, that is hardly ever forced to do cold starts and is rarely driven at high engine speeds, for example, needs an oil change less frequently than a short-distance car that is only driven in the city or a sports car that is subjected to heavy loads. The manufacturers can through the Use of modern sensors and intelligent control devices can now measure the load very precisely and assess the condition very well.
Not only can the oil level and oil quality be precisely predicted on the basis of the operating hours, the temperature profile, the consumption and the speed driven, even the remaining distance of the brake pads can now be predicted by most manufacturers with an accuracy of almost 1,000 kilometers. become like this no resources wasted and operating costs can be significantly reduced in relation to fixed maintenance intervals.
What happens if you don't do the inspection?
Nothing happens, the car will continue to start. However, an excessive inspection sensitive consequences to have. The service demand analysis and forecasting described above is now very accurate. A due maintenance marks that, so to speak end of expiry date of oil or wearing parts. Of course, every manufacturer works with safety buffers and a delayed service will not immediately lead to damage, but the tolerance of the manufacturer is very low, especially in the event of a later claim. If a component fails at a later point in time, it can at least not be ruled out that it has something to do with the skipped inspection. Guarantee or Goodwill Services quickly recede into the distance.
What does "checkbook maintained" mean?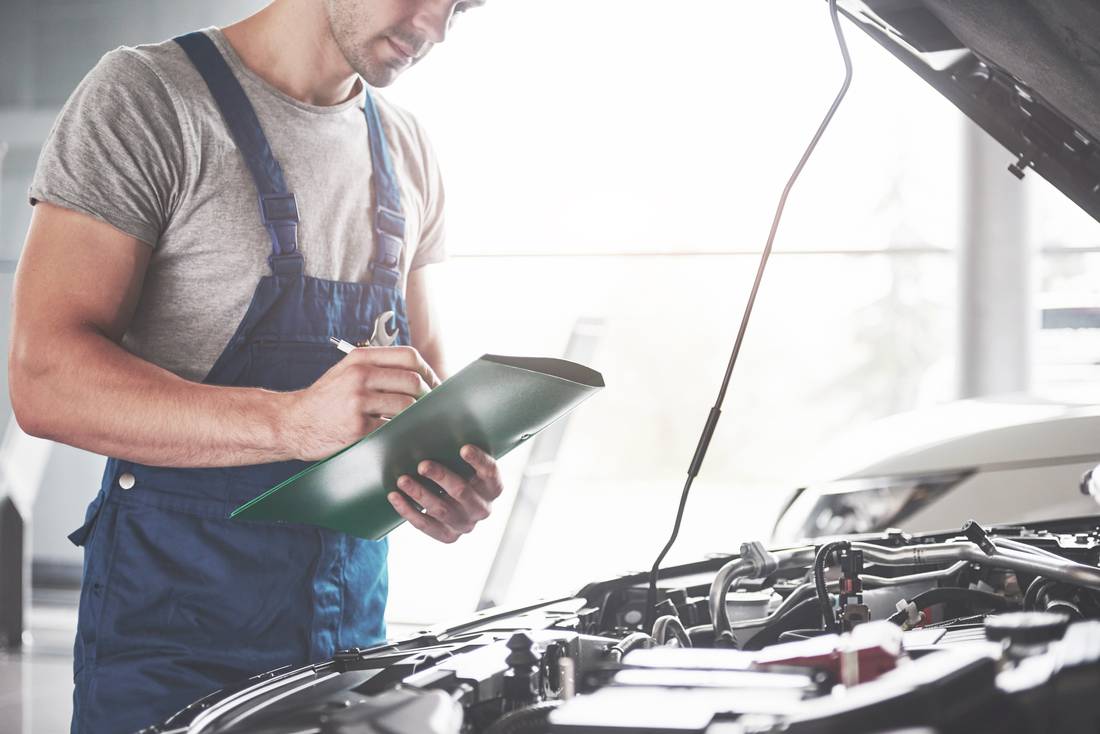 All inspections and maintenance services are entered by the workshop in the service booklet.
One of the first questions people often ask when appraising a used car is whether the car has a full service history. The checkbook – or service book – used to be a book in the on-board documents in which the maintenance intervals were noted and entered and stamped by the workshop. That's how you could Proof of inspections and maintenance services at all times.
However, you have to be careful here in several respects. A completed and well-stamped checkbook does not necessarily indicate a well-maintained car. Excessive maintenance intervals, for example, are only discovered when you look at the data and mileage precisely controlled. The paper service booklets and workshop stamps can also be copied and forged relatively easily. For this reason, many manufacturers now have so-called "digital service records". The maintenance carried out is stored by the workshop in a central server of the manufacturer and is like this forgery-proof filed. Incidentally, most independent workshops also offer this service. You are therefore not dependent on visiting the authorized workshop.
A "checkbook maintained" vehicle is therefore a car that is always without overdoing and skipping any services has received its maintenance in full and this can be proven accordingly.
Which workshop can I go to?
The decision rests entirely with the vehicle owner. Was many years ago as Condition for any warranty services A visit to an authorized workshop is often still required, but the legislation has now put drivers in a much better position. Even independent workshops can now carry out services without the manufacturer withdraw from its warranty obligations can. The only requirement: All work must be carried out according to the manufacturer's specifications and with parts of the prescribed quality. But these conditions are met by most workshops in Germany anyway.
Of course, the market has its own laws here as well. Collector's vehicles, for example, or high-priced models such as Porsche, BMW M or Mercedes-AMG sell particularly well if you all "stamps" in the checkbook from an authorized workshop can prove.
What is the difference between inspection and oil change?
Changing the oil is the smallest form of maintenance. Prices for this service can range from 50 euros to 500 euros (e.g. for sports cars).
The oil change is in principle the smallest form of maintenance. Here, quite literally, only the engine oil and the associated filter are changed. The prices range from fixed price offers from large chains starting at 50 euros to special oils for special sports cars with large filling quantities, which can then cost 500 euros and more just for changing the lubricant.
After the oil change follows small inspection. In addition to the oil change, it includes above all the thorough inspection of all functional components of the vehicle that can be subject to wear. In addition, air filters and cabin filters are often replaced. The small inspection alternates with the major inspection away. In the more complex scope of maintenance, in addition to changing the brake fluid, which must be carried out every two years, the spark plugs often also need to be changed, for example in the case of petrol engines. Here, in addition to wear parts, the exhaust system, transmission, axles, body and electrical systems are checked for correct function and perfect condition.
How much does my car service cost?
Predicting maintenance costs is next to impossible. Although more and more manufacturers are setting fixed prices, these often only apply to maintenance scopes that include precisely defined work. However, wear and tear often occurs during inspections in particular, which must be repaired individually. Accordingly, the costs are very different.
The so-called dialogue acceptance is therefore important. When the vehicle is handed in, the work is discussed with the service advisor or mechanic directly on the car and a rough cost estimate is determined. If further service is required during the later review, the workshop should always wait for the customer to approve the costs. If the bill is unannounced more than 20 percent above the cost estimate, there is a good chance that you can fight for the workshop to assume the costs in court.
Conclusion
An inspection does not have to be expensive, but it can be expensive for vehicle owners. Because the manufacturers react very sensitively to excessive intervals. But you don't always have to drive to the authorized workshop, independent workshops can also carry out oil changes and inspections according to manufacturer specifications. In addition, more and more manufacturers are offering fixed-price maintenance. So it's worth comparing – but you should make an appointment in good time.