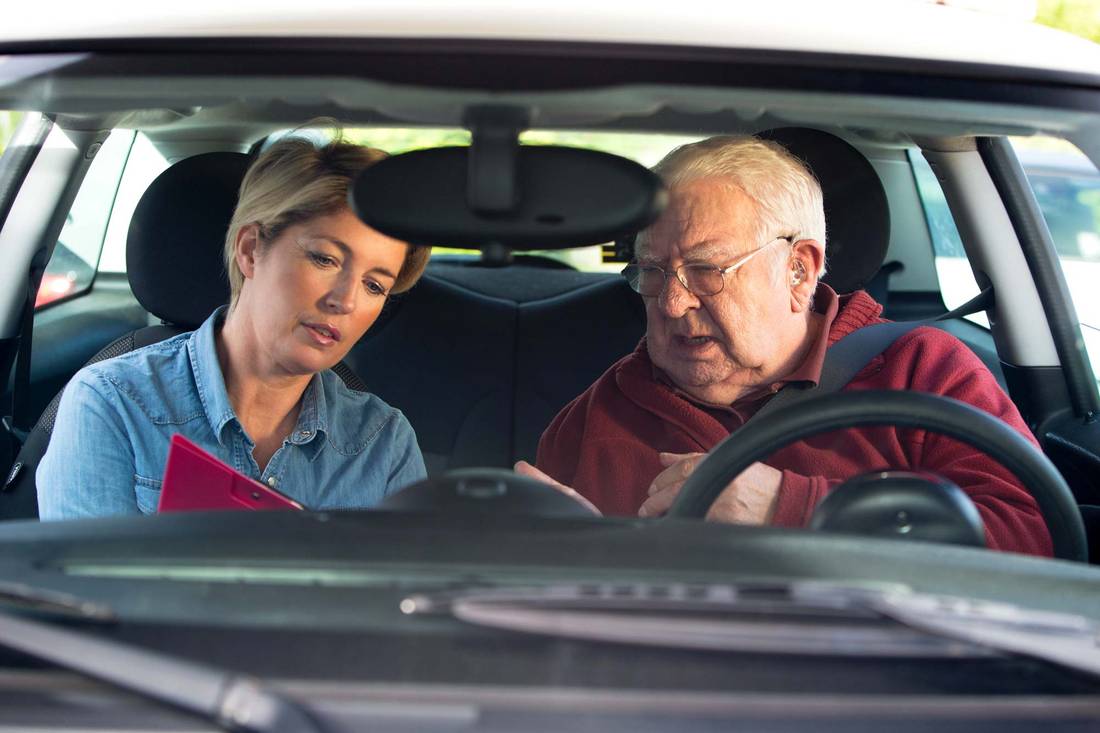 AutoScout24, in collaboration with Innofact, conducted a representative survey of car owners to find out how drivers themselves feel about this issue. The result is clear: 86 percent of those surveyed support the idea of ​​a driving test to reduce accidents, while only 11 percent are against it. Interestingly, this agreement extends across all age groups. Although there is a higher percentage of younger drivers in favor of the tests, three quarters of older car owners are also in favor of it.
Experts repeatedly emphasize that experienced drivers are safe road users. At the same time, however, it is clear that drivers whose eyesight or cognitive abilities decline with age repeatedly cause accidents with serious injuries. In Germany, 86 percent of drivers are in favor of the introduction of regular fitness to drive tests from a certain age limit.
Men and women vote equally for the introduction
Men and women in Germany agree on this question: 87 percent of men and 86 percent of women are in favor of a driving fitness test for older road users.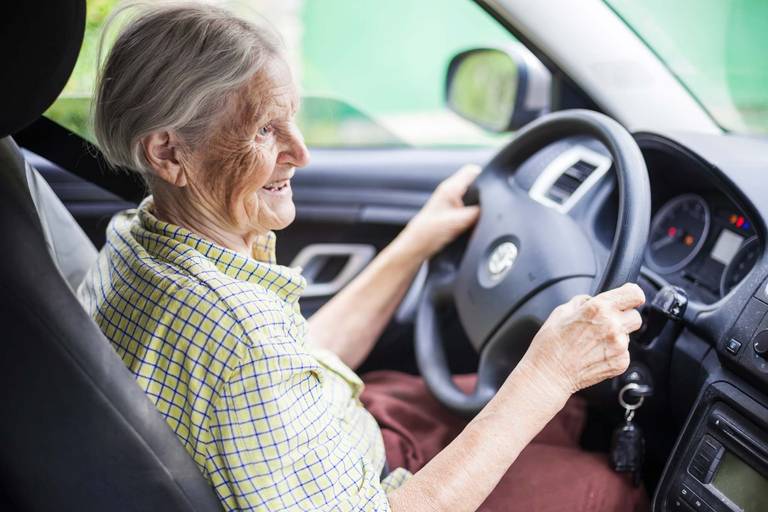 Income has an influence on attitude
What influences the attitude towards the introduction of a corresponding test is one's own income. Because: The higher your own income, the higher the probability that those surveyed will be in favor of a driving test. In the group of those who earn up to €1,500 per month, 79 percent are in favor of introducing a driving test. In the group of those who earn more than €3,000 per month, however, the figure is 89 percent.
Parents are increasingly in favor of a driving ability test
Children's own children also influence the opinion about the introduction of a driving ability test in old age. 92 percent of people with children are in favor of an introduction, compared to only 83 percent of those without children. Conversely, a full 14 percent of people without children are completely against the introduction of a corresponding test. This may be due to the fact that children are often involved in traffic accidents as bystanders and parents are therefore more sensitive to possible sources of danger in traffic.
Your own age determines when you consider a check to be necessary
All age groups support the mandatory introduction of a driving ability test. However, this attitude is for younger drivers more pronounced. For example, 94 percent of drivers under 40 are in favor of such tests, while 88 percent of those aged 40 to 49 are in favor of such tests. Among car owners in the age range of 50 to 65, 78 percent agree. And that's not all: respondents between the ages of 50 and 65 are most likely to be completely against a test: a full 18% are against introducing a driving test for older road users. For comparison: Overall, only 10% of all respondents said that they were fundamentally against the introduction of such a test.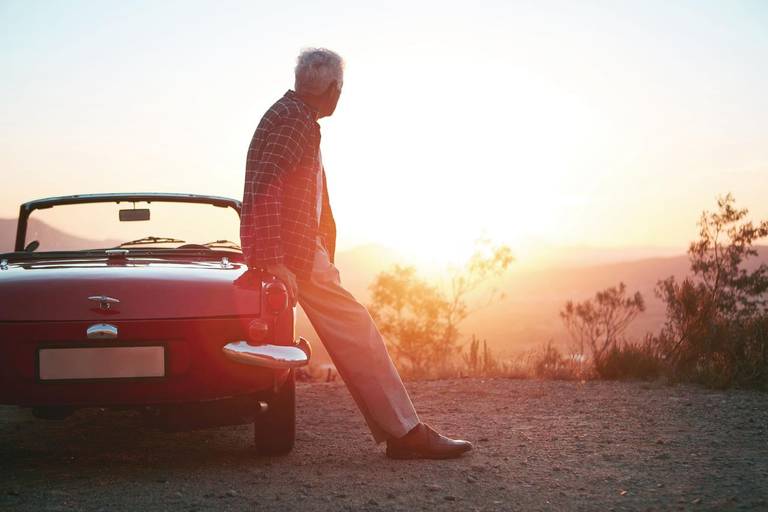 One possible explanation for this could be that those aged 50 to 65 experience what their skills are like in road traffic and therefore assess the situation differently than younger drivers.
Conclusion: Majority of Germans are between 60 and 70 years old for the exam
An age limit of 70 receives the highest approval: almost a quarter of drivers (23 percent) would like to carry out regular driving tests from this point onwards. Overall, 50 percent of those surveyed are in favor of an age range between 60 and 70 years of age.
In contrast, 17 percent would start testing before their 60th birthday, while 8 percent even advocate testing drivers under the age of 50.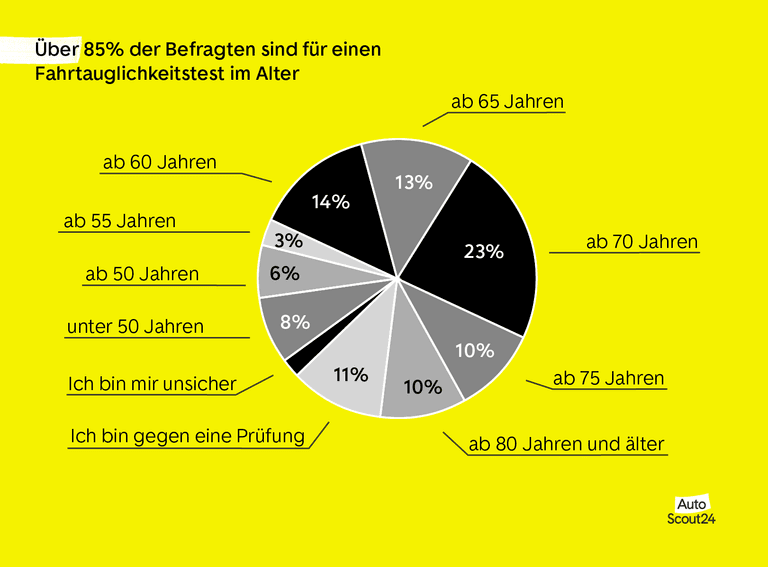 International comparison: This is what it already looks like in other European countries
In contrast to Germany, many other European countries have already introduced a mandatory driving test for older road users.
Denmark: Drivers aged 80 and over must take a test every year.
Italy: People under 50 must have an examination every ten years. From the age of 50, the intervals become shorter and the driving license must be renewed every five years. Every three years is required from age 70 and every two years from age 80.
Netherlands: There is a requirement for a medical certificate, which requires a check of driving ability every five years from the age of 75.
Portugal: An examination is mandatory from the age of 50, initially every five years. From the age of 70, the interval is two years.
Switzerland: Drivers aged 75 and over are required to undergo a medical examination (driving ability test) with their GP every two years.
Spain: From the age of 65 onwards, a mandatory health test is required every five years.
Czech Republic: People aged 60 and over are required to get checked every five years, and the intervals become shorter as they get older.
Survey methodology
Source: www.AutoScout24.de / Innofact; The survey was conducted in autumn 2021 among 1,002 car owners between the ages of 18 and 65 and is representative of the entire population. Question: We often read about serious personal injuries in road traffic caused by older drivers because they lost control of their vehicle. In many countries there is therefore a driving ability test for older road users. Are you in favor of introducing such a test for car owners in Germany?